Ogbono pork ribs at Benne on Eagle in Asheville, North Carolina

| Tim Robison/Thrillist
Ogbono pork ribs at Benne on Eagle in Asheville, NC

| Tim Robison/Thrillist
The New Southern Cuisine: Don't Call It Fusion
If you're heading out to eat somewhere in the South these days, you're in for a good meal, no doubt. But the best new restaurants here are offering so much more. They're feeding you a story of cultural evolution. The chefs and cooks capturing attention right now are taking their own culinary traditions and applying locally grown ingredients from around the South, while incorporating longtime Southern food traditions. But to be clear: This isn't fusion. This is the flavor of the new South.
But let's back up. Not long ago -- think back to 2011 -- we as a region were rejoicing in a frenzy of great barbecue. Various states and regions began raising up their pitmasters, shining a spotlight on all those who toil away at the fire to coax deep flavor. Barbecue became a symbol, not just of excellence hidden in plain view, but of the complexity that lay within Southern food. Ours is a region whose food carries with it the burdens of our past -- a history of slavery and racism, long-lasting, outdated stereotypes of our people, and a tenuous political landscape. Eating and celebrating barbecue has become a way to better understand our fraught past and our hopeful future.
Today, barbecue joints are still some of the South's best tables, and frequently make their way onto best-of lists -- we include a solid new barbecue spot on this list, in fact.
But heading into 2020, the conversation has shifted. Barbecue is now one equal-playing part in a more harmonious chorus of cooking styles and flavors. Today's tune is added to by a broad range of dialects and tempos -- barbecue and biscuits, yes, as well as mofongo, tamales, and Japanese soul food. The restaurants worth visiting in the South right now are cluing us in: Southern food is evolving -- and it's time to recognize how much more of the world has been invited to the table.
As a region, we've long opened our doors to outsiders and other cultures. That's given us a flavor-rich and complex cuisine, one that pulls from Africa, Europe, the Caribbean, and South America, but also the Philippines, Laos, India, and Israel. The most notable new restaurants are layering catfish with Gujrati spices. They're making dukkah from pecans. They're adding Benton's bacon to gyoza. And the overall effect is greater than its parts.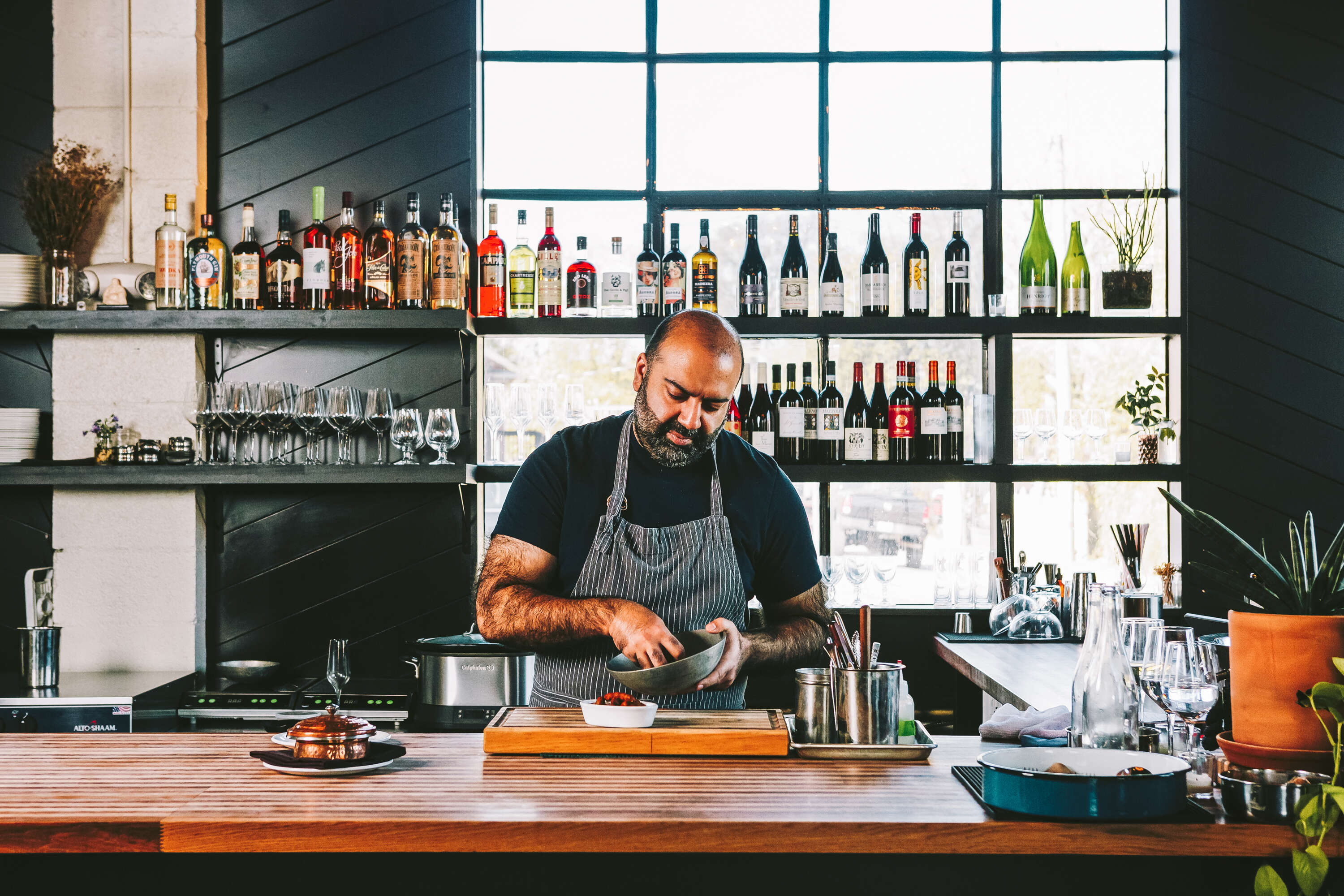 What hasn't changed in Southern restaurants is our constant reverence for the ancestors and family members who have passed down their culinary traditions. That is what makes this crop of restaurants so deeply personal. Chefs here pay tribute to those antecedents -- as Chef Vivek Surti does by reinterpreting generations-old family recipes for his tables at Nashville's Tailor.
Today's Southern restaurants are inviting you in and starting the conversation by asking, "Would you like to get to know my version of the South?" In doing so, they're adding to this region's long and revered tradition of telling stories at the table, and sharing their answers by passing you a plate and inviting you to dig in.
Atlanta, GA
It's "come as you are" at Ross Jones and Chef Zeb Stevenson's new restaurant Redbird, located in the former Bacchanalia space on the Atlanta's West Side. Stevenson, who made a name for himself at the Atlanta institution, Watershed, is a staunch supporter of local Southern farmers, but his food is not Southern -- nor is it pretentious. Instead, he pulls from a wide variety of influences, from Latin America to Europe, for technique-heavy food that's meant to be shared family-style, such as the bubbling garlic shrimp with pull bread for two people. Even the condiments, which range from Lebanese toum garlic dip to sizzling scallion sauce, give hint this hotly anticipated restaurant has a wholly different point of view than its predecessor.
Atlanta, GA
Chef Todd Ginsberg became one of Atlanta's most successful restaurateurs when he partnered with Jenifer and Ben Johnson and Shelley Sweet to open The General Muir, Yalla, Fred's Meat and Bread, The Canteen, and TGM bread. The group's latest offering is a barbecue spot in Atlanta's burgeoning Summer Hill neighborhood, and the restaurant is named after one of the first churches established there after the Civil War. Up until now, Ginsberg's restaurants have been pork-free, but Wood's Chapel goes the whole hog with multiple offerings including chopped pork and St. Louis Style Pork Ribs. Given his classical training and track record, it's no surprise Ginsberg has upped the ante with his sides, which include pork belly fried rice and the beet and jalapeno slaw. Wood's Chapel employs a fun token-based system for their excellent pies, which are homemade, like everything else.
Raleigh, NC
"Italy goes to Japan" sounds as gimmicky as a remake of Frankenstein Vs. Godzilla. But sit down in this minimalist spot and your cynicism melts away into a creamy pool of house-pulled mozzarella sprinkled with togarashi and served with kombu garlic bread. Yes, Japan and Italy belong together. If you need to explain the concept "umami," just order the yakitori mushrooms: fat slices of NC-raised mushrooms swim in a butter sauce flavored with miso and Calabrian chile peppers. Chicken Parm ramen is a bowl of noodles with slices of breaded chicken katsu topped with tomato and mozzarella. It's what your nonna would make you after a night of drinking in Tokyo's Ginza district. Kombu gnocchi are light pillows topped with more of those excellent mushrooms, while Tonkatsu Milanese is a very thin pork chop (NC heritage, of course), crisply breaded, slathered with yuzu vinaigrette and piled with bitter arugula and pickled red onion.
Charlotte, NC
The well-heeled set who summer in the NC mountains have had a best-kept secret for years: Bill and Anita Greene's seasonal restaurant Artisanal in Banner Elk, near the Tennessee border. Now the Greenes have come down from the mountain top with their long-awaited Peppervine in Charlotte's tony SouthPark area. Greene, whose experiences include a turn at Le Cirque in New York, gets playful with both Southern and Asian inspirations, from pillowy pimento cheese scones served with pepper jelly and sorghum butter to Thai-style fried chicken that's like a chef's riff on Trader Joe's beloved Orange Mandarin Chicken. Pappardelle "Carbonara" topped with a 62-degree egg has a lemony acidity that saves it from being cloying. Paired with Anita Greene's skill with a wine list, Peppervine is that clubby place you actually look forward to taking your parents.
Durham, NC
Where do you start with Michael Lee's restaurants? There are eight in Durham, each focused on a specific and mostly Japanese style: M Sushi, M Kokko, M Tempura, M Robatayaki, M Mandoo, M Kaiseki. The newest, M Pocha, takes a turn toward Korea, specifically pojangmacha, late-night street food traditionally cooked under tents. The menu is short and inventive: clams steamed with a dashi egg custard similar to Japanese chawanmushi are sparked with Szechuan chili oil and XO sauce. Crispy dumplings filled with Benton's bacon are served in a pool of jalapeno soy vinaigrette, and the always-popular seared brussels sprouts are a bowl of deliciousness, with garlic bacon butter, fish sauce, and white wine vinegar. The most interesting (and filling) is kimchi soup, a meaty, bubbling "army stew" loaded with things that Korean cooks used to "liberate" from U.S. military bases, like spare ribs, Spam and Vienna sausage cut and curled to look like octopus. Mixed with long slices of rice cake and soft tofu, it's a lesson in culture and make-do cooking in a single bowl.
Nashville, TN
When brick-and-mortar dreams seem impossibly out of reach, you pop up. For Jason Zygmont and his new Setsun, dropping into a temporary location (a kitschy old cafe in a historic neighborhood) four nights a week has been just the right testing ground -- albeit with quirks. Flowery tablecloths under glass table covers may not end fit his end-all aesthetic, but when the food is this good (raw oysters with a black vinegar mignonette; an earthy, jalapeno inflected spaghetti Pomodoro; sliced heirlooms in a pool of fermented green tomato puree) the location matters little. Add an intriguing list of natural and organic wines (buy a bottle, you get to spin a record), and the concept starts to come together.
Lexington, KY
Haitian-born Fida Noel worked in restaurants in the Bahamas in her teens before landing in Lexington. She put her kitchen skills to use cooking for family, friends and church events. Eventually, her son, David Laurinvil, convinced her to make a business out of it. They opened Fida's Cafe in 2017; their second restaurant, Beach House Coffee & Tapas opened this past January. You might miss the narrow yellow house, but inside there's thumping beach beats, original art, and the homey vibe of a cozy café. Tapas come in the form of conch salad, Cuban melts, tacos, and jerk jackfruit sandwiches, plus there's Haitian coffee and house-made ice cream sandwiches -- flavors that fill a void in one of the state's fastest-growing cities.
Sign up here for our daily Thrillist email, get Eatmail for more food coverage, and subscribe here for our YouTube channel to get your fix of the best in food/drink/fun.
Erin Byers Murray is a Nashville-based food writer, author, and the Editor-At-Large at Nashville Lifestyles, where she covers the food, culture, and people of Nashville. Her four books include Shucked: Life on a New England Oyster Farm, the James Beard-nominated The New England Kitchen, and Grits: A Cultural and Culinary Journey Through the South.