Food & Drink
Sponsored By

Spend Your Entire Summer at Food Festivals With This Handy Guide
Sponsored By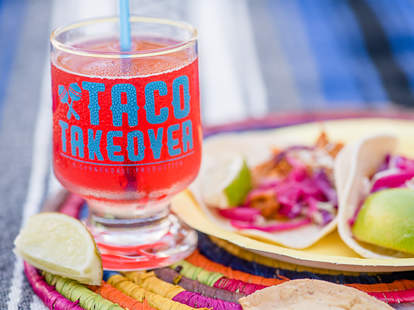 If there's one thing we've learned, it's that you can't go wrong combining a city's best food with drinks, live music, games, and activities. That's why food fests are popping up all over the country. If you're looking for the most delicious way to spend your summer, have we got the list for you. From events celebrating barbecue to some dedicated to the almighty taco, these are the US food fests you can't miss.
THE CUERVO TRADICIONAL TACO TAKEOVER AND COCKTAIL COMPETITION
Phoenix, Seattle, Miami, Los Angeles
July 28, Aug. 18, Sept. 8, and Sept. 15
Tacos: so perfect in their little tortillas, stacked with carnitas, salsa verde, and a million other delectable things. We love them so much, we're teaming up with Jose Cuervo to host
The Taco Takeover
-- an event tasked with finding the best taco and the best cocktail in four cities (Phoenix, Seattle, Miami, and Los Angeles). Here's the best part: You get to the be the judge. It's a pretty sweet gig, actually. You just need to... eat all the tacos and enjoy access to unlimited cocktails made with 100% Agave Jose Cuervo Tradicional, then tell us which one you like best. There will be music, contests, games, and more TBA. The Cuervo Tradicional Taco Takeover and Cocktail Competition kicks off at Phoenix's Clayton House on July 28. Check back on the
website
for information on the restaurant and vendors, other upcoming Taco Takeovers, and tickets.
TASTE OF CHARLOTTE
Tryon Street, Charlotte, NC
June 8 - 10
Spanning three days and six city blocks,
Taste of Charlotte
is massive and free to attend. The event -- complete with live music and over 100 vendors -- uses coins, which you can purchase by the cupful upon entrance and use to pay for food samples, drinks, and even kids activities. Friday kicks off with the Best of the Taste Awards, in which restaurants and vendors are granted the honors of Best Appetizer, Most Unique, and others. Of course, the Best of the Taste 2017 winner
Brazz Carvery & Brazilian Steakhouse
will be back -- and this year they'll be serving up bacon-wrapped filet mignon, scallops, and chicken. If all these bites get you inspired, weekend-long cooking demos are being hosted to help you learn some of those coveted culinary secrets.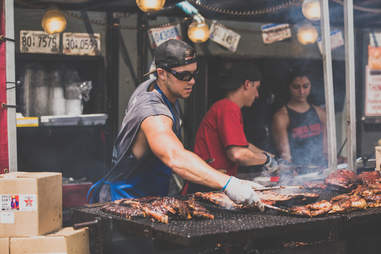 Scott Madore
TASTE OF DALLAS
Gas Monkey Live, Dallas TX
June 22 - 24
After 32 years running, the
Taste of Dallas
has perfected the food festival formula. For example, it has an entire area called "Backyard Bites," dedicated to barbecue, burgers, craft beer, and lawn games. And while that could easily be the entire festival... it's not. There's so much more. Other sections include healthy eats area "Fuel," and Taste Curbside, dedicated to food trucks. General admission tickets start at $20, but for $55 you can kick off the festival at the Foodie Experience, an unlimited tasting of over 30 chefs and restaurants plus drinks. (Texas favorite
Hypnotic Donuts
will be there, so save room for dessert. We're crossing our fingers they serve up their apple fritter.)
TASTE OF MUSIC CITY
Public Square Park, Nashville, TN
June 16
From hot chicken to biscuits, Nashville has so many great food options. Sometimes you don't know where to start. Luckily there's the
Taste of Music City
festival, which promises to take you on a culinary tour of the city. General admission tickets will run you $59 and get you access to the entire festival -- where vendors range from Greek street food favorite
Greko
to elevated Southern eatery
The Honeysuckle
. Taste of Music City is a truly chef-centric event, with a group of handpicked local chefs leading a series of cooking demonstrations. And since you can't call your festival "Taste of Music City" without some sweet live music, make sure to catch local Nashville acts San Rafael Trio and Markey Blue, jamming throughout the day.
Nataniel Susantoputra
BALTIMORE SEAFOOD FEST
Canton Waterfront Park, Baltimore, MD
September 15
Baltimore might be known for its crab cakes, but this Maryland city is a complete seafood paradise -- and there's no better way to sample all of the oysters, crab, and shrimp that it has to offer than at
Baltimore Seafood Fest
. Hosted (where else) at Canton Waterfront Park, the fest overlooks Northwest Harbor (where a lot of that fresh seafood actually comes from). Early bird tickets start at $38, but other ticket options -- that come with a bucket of crabs or bottomless brunch -- are also available. Over 30 local vendors and food trucks will be in attendance, so you'll be able to taste everything from
Mason's Famous Lobster Rolls
to
Papi's Tacos
. Live entertainment and cooking demonstrations haven't been announced yet, so check back for updates.
BOSTON LOCAL FOOD FEST
The Greenway, Boston, MA
September 16
If you've ever wondered where your food comes from, now's your chance to find out. The
Boston Local Food Fest
celebrates all the farms and food-trepreneurs near Boston, and gives you a chance to interact with farmers for yourself. Programming includes the Local Food and Specialty Crop Trade Show, which allows you to interact face-to-face with local food producers. Or you can can spend the day by the Chef Demo Stage for a variety of classes. Like any good celebration of food, there will be plenty of restaurants and food trucks in attendance, with an emphasis on sustainable, healthy, local food. The fest kicks up a notch with Seafood Throwdown, an
Iron Chef
-style competition between two local chefs using a mystery fish. And since the entire festival is free, you could always swing by just for the goat petting zoo….