6 spicy food challenges that will test your limits
People who like spicy food often enjoy pushing their taste buds to the limit, and there's no better way to do that than by participating in a public test of endurance. It's like doing an Ironman race, except in this case, your family and friends will show up solely to laugh at you. These six super-hot challenges provide the strong-of-heart and numb-of-tongue with seemingly impossible contests -- most of which you need to sign a waiver for before even attempting.
Here are the hottest food challenges in America:
PHAAL CHALLENGE
Brick Lane Curry House (New York, NY)
This "excruciatingly hot" curry at downtown NYC Indian restaurant Brick Lane Curry House has defeated around 90% of its challengers -- to the point where people have actually bled from their noses while eating it, and the chef has to wear a gas mask while cooking it due to the powerful, choking fumes. Yeah, it's serious. If you manage to down the entire serving (a dish dotted with green chilies, habaneros, Thai chili peppers, and many more varieties), you get a beer on the house, your picture on their website, and a certificate of completion, which you can proudly display next to your hospital bed.
THE FOUR HORSEMEN CHALLENGE
Chunky's Burgers & More (San Antonio, TX)
This burger joint in San Antonio is committed to grilling up some delicious burgers... one of which will completely destroy you. The aptly named Four Horsemen Challenge burger contains four types of peppers: fresh jalapeños, serranos, habanero sauce, and ghost peppers. If you finish it, it'll net you a spot on their "Wall of Flame". You get 25mins to eat the entire burger, during which you can also eat anything else you want. When the time's up, you have to wait another 5mins to see if you keep everything down. That part sounds like the real challenge.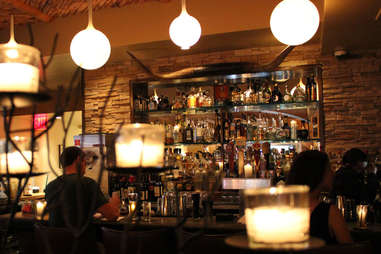 THE PUNISHER SHOT
Mojave (Queens, NY)
OK, OK, so you don't technically have to eat anything in this challenge, but it's still hot as hell -- the folks at Mojave start by mixing 10 bottles of agave tequila together and infusing them with 400 habanero peppers. It's kinda like Sriracha vodka on steroids. They let the peppers and tequila stew for a few weeks, and then unleash the concoction on their customers (who've signed a waiver). To win the challenge, you have to take a shot of the potent elixir and sit for 5mins afterwards without eating or drinking.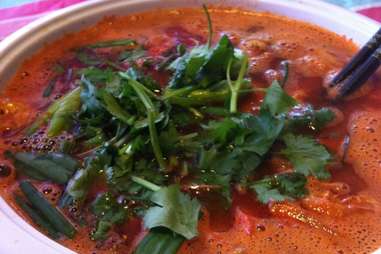 INFERNO SOUP
Nitally's Thai-Mex Cuisine (St. Petersburg, FL)
This doozy of a challenge is comprised of a big ol' bowl of soup that's made with noodles, chicken, bean sprouts, carrots, cabbage, and -- OH YEAH -- crushed ghost peppers and over a dozen other chilies. Participants have to be 18+, "of sound mind and health", and sober, which makes us wonder why they had to stipulate that last one. If you finish the soup without getting up to "relieve" yourself, you get a cash prize -- however, the amount changes depending on how many people before you have failed. The challenge went undefeated until 2012, when a competitor ate all the solids in the soup first and then chugged the remaining liquid... and won $1,500 for his efforts. Study up, padawans.
INFERNO PIZZA CHALLENGE
Pazza Bistro (Pinellas Park, FL)
Usually the presence of dairy in a dish lessens the spicy impact, but the people at Pazza Bistro have accounted for that by making literally every other ingredient in their Inferno Pizza super hot, right down to the tomato sauce. The pizza's topped with fresh habaneros, jalapeños, and ghost peppers, as well as a healthy dose of "fire sauce". Challengers have to finish it in under 20mins with only one drink of water and no use of napkins. And to top it all off, they must lick their fingers and face clean after completing the meal -- no wonder it's only been beaten once. Likely because it's difficult to lick your own face.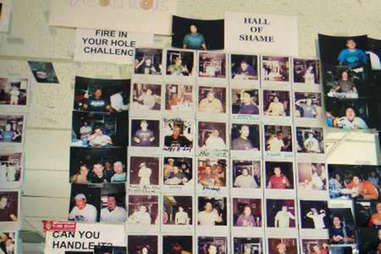 FIRE IN YOUR HOLE WINGS
Munchies 420 Cafe (Sarasota and Gainesville, FL)
The wings at Munchies 420 Cafe in Sarasota were even too much of a challenge for Adam Richman, who couldn't bring himself to finish all 10 in 20mins. The "Fire in Your Hole" wings are doused with ghost pepper extract, habaneros, crushed red pepper, and garlic, and aren't even on the menu at the restaurant. These guys go for the gusto, in that you only get to drink a tiny bit of water during the challenge. But if you do manage to succeed, you get your picture on the "Wall of Pain" rather than the "Hall of Shame" -- and that's a great motivator for any aspiring Chilihead.
Adam Lapetina is a food/drink staff writer at Thrillist, and once ate a hot wing. Read his musings on Twitter at @adamlapetina.