Lavender, bee pollen, and rose petal bar by Spring & Mulberry

| Photo by Leah Verwey
Lavender, bee pollen, and rose petal bar by Spring & Mulberry

| Photo by Leah Verwey
Medjool dates are one of the oldest cultivated fruits. But even an old fruit can get a revamp and be used in new ways. In this case: chocolate bars by Spring & Mulberry. The Raleigh-based brand founded by Kathryn Shah and Sarah Bell launched in March with five different chocolate bars all sweetened by dates.
"The idea behind the brand is to really explore a world of sweet beyond sugar," says Shah, who previously worked for brands like Unilever and Pantone. "I love dates so much. They're jammy, they're caramelly, they're chewy. They're like nature."
Dates likely originated in Iraq and are prevalent in countries throughout the Middle East and North Africa. Usually sold as dried fruit, they're known worldwide for their health benefits and their chewy-sticky texture. On a trip to Dubai, Shah discovered that the fruit in its whole form is actually prized (they'll be given as gifts, for example).
"That really stuck with me, because it made me think for the first time that the way that we present dried fruit and nuts and dates in general in the United States," she says. "Of course no one wants to eat them because they're stuck in the back of a dimly lit natural grocery store in the bulk bins where they look like they've been left to basically shrivel up."
Shah developed an even deeper appreciation for dates when she was diagnosed with breast cancer in 2018. "That just put my whole life on hold because I had to go through nearly a year of treatment, like 20 weeks of chemotherapy alone," she says. She was in her early 30s at the time and, in addition to her medical treatment, made dietary changes like dropping refined sugar and increasing ingredients that are high in antioxidants like cacao, berries, and dates.
While focusing on these ingredients had a good effect on her personally, she says, it made her realize just how one-note most dessert products are. "I thought it would be interesting to explore this world of sweet date sugar and to explore sweetness in all of its facets rather than through the one hit that is sugar," she says.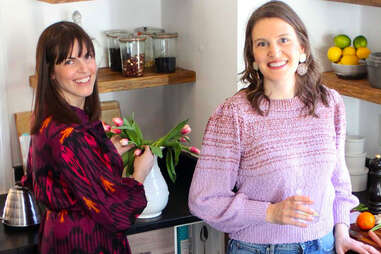 Cacao and dates became the building blocks for Spring & Mulberry. (The name is a reference to the streets in Manhattan where Shah would meet up her husband when they were dating.) After seeking out a United States-based chocolate manufacturer, the resulting chocolate bars are eye-catching and taste delicious, too.
It starts with minimalist packaging—just a bright colored box and bold font. The bar inside is beautiful (the mixed berry flavor, for example, actually has freeze-dried fruit pressed into the bar which is pretty, but also adds an added layer of texture). And when it comes to eating the chocolate bars, they're surprisingly velvety and nuanced, and also happen to have zero grams of added sugar since dates are the only sweetener used.
The chocolate in Spring & Mulberry's bars use West African cacao, which is ethically sourced through a co-op in Ghana. The chocolate itself has a "fudgey, rich classic chocolate flavor," says Shah, who chose it because it pairs so nicely with the jammy-nature of the dates.
While chocolate made by major manufacturers might be cloying and almost artificial tasting (how often have you wondered if there's even chocolate in those bars?), these bars have a mild sweetness thanks to the dates. The flavor combinations are also unique. Take the lavender, bee pollen, and rose petal bar, in which the pollen is sourced from a farm in Oregon and has a slightly sweet flavor.
"Each one tries to use really whole, pristine ingredients in interesting flavor combinations to showcase the depth of flavor and spectrum of sweetness that comes from natural ingredients found in the world," says Shah. "What we were really excited and intrigued by is that the flavor of the bee pollen can change from hour to hour or day to day based on what pollen the bees are collecting."
Looking ahead, Spring & Mulberry hopes to add more seasonally inspired flavors, and already have some fun ideas for the fall. The thought is to hopefully expand beyond chocolate, too. "When you're small and new and cash constrained, you have more ideas than what you can actually execute upon," laughs Shah.
For now, the duo is happy to offer an alternative to the usual sugar-laden chocolate treats. Shah also hopes these treats can allow people to slow down and enjoy a little pleasure in their day. Like her dad says, this isn't your childhood candy bar.
"You don't just eat it all at once without thinking about it," Shah adds. "It's really meant to be for those moments where you want something that allows time to stand still."
Lia Picard is an Atlanta-based journalist writing about food, travel, and a variety of other topics. Her work appears in
The New York Times
,
The Washington Post
,
Wine Enthusiast
, and
CNN Travel
.