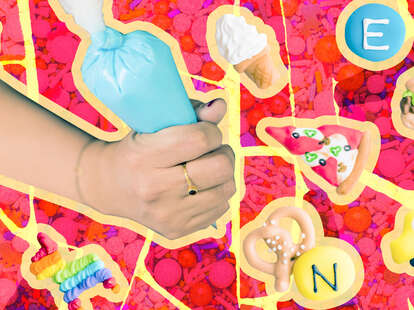 Photo: Courtesy of Sprinkle Robot; Design by Grace Han for Thrillist
Photo: Courtesy of Sprinkle Robot; Design by Grace Han for Thrillist
Jimmies, shots, hundreds-and-thousands, nonpareils—whatever you call them, the confetti-like world of sprinkles has become increasingly couture. What used to be simple colorful spheres baked into funfetti cake or unremarkable brown strands topped on soft serve have evolved into blends that include luxe pearls, shades of rose gold and silver, cartoony shapes, and tons of edible glitter. Sprinkle blends allude to fairies, unicorns, mermaids, and other fantasies.
"Sprinkles have really hit their high point when people started putting sprinkles on Instagram. I hate to say it, but there's a big correlation with having sprinkles on something and the number of likes that you get," says Carmel Hagen, the founder of plant-based baking supply company, Supernatural Kitchen. "I don't want that to be the world that we live in; I wish it wasn't true but I think it is. The whimsicality of something, this new fascination with food styling, is all of the sudden something that everyone is doing."
This includes Hagen herself. Although she worked in tech for a decade before starting her naturally dyed sprinkles brand, Hagen's heart has always been in baking and cake-decorating. She was in a Pillsbury bake-off in the third grade and back then, she didn't care what the cake tasted like (as long as it tasted like sugar), but was enamored with the possibilities of how it could look. As her desire to be in tech ebbed, her passion for baking pointed her to her next endeavor: founding Supernatural Kitchen.
Liz Butts, the founder of Sprinkle Pop, also attributes the popularity of cake-decorating with the explosion of haute sprinkles—a community she too is closely tied to. "I really think there has been a huge, over the past ten years, growth in the cake-decorating industry. It's something that people can do at home on the side like I did."
Before starting Sprinkle Pop in 2017, Butts worked in finance and baked cakes on the side. Although leaping from finance to sprinkle creating seems like a huge stretch, Butts attributes much of her success to the lessons she learned in "corporate America" and applies her math skills to her products.
"I have a mathematical formula to create these mixes from my finance background," she begins. "We have five to six different components that go into every single sprinkle mix and from each one there's a percentage. We only have so many jimmies in a sprinkle mix and so many nonpareils. I have an actual formula built out for those gross percentages and those percentages actually get broken down to how many colors there are in a mix." By relying on a dreamt up formula, Butts ensures the quality of her products are consistent, regardless of the color scheme or theme in her mixes. "If you have too many colors in a mix, they can become muddy if you're using too many small pieces. There is a bit of knowledge that goes behind creating a well-composed sprinkle mix."
There is a sense of intentionality when it comes to the sprinkles creators' offering. The design, palette, and themes of each sprinkle are thoughtfully crafted. At Supernatural Kitchen, the blends may not be as vibrant due to the restrictions of using all-natural dye like hibiscus and turmeric, but a green and yellow flowery blend with a name like "Field Day," evokes a sense of spring while "Ugly Xmas Sweater" has teddy bears, mistletoe leaves, and gaudy golden bells. Sprinkle Pop has mixes for every occasion, including a robin egg-hued blend for Easter and a "Bee Mine" mix of pink spheres; red, black, and yellow jimmies; and heart shaped bees. Their best-seller is "Vintage Rose Gold," a classy and shimmery mix that can be used for bridal showers, birthdays, or just jazzing up cookies and cupcakes.
Melissa Cacha, the founder of Sprinkle Robot and a self-proclaimed sprinkle slayer, makes her own sprinkles, too—but doesn't bother with the blends. Instead, she specializes in decorative and highly detailed royal icing sprinkles sold in sheets on Etsy. There are meta miniature donuts with pink frosting and even tinier sprinkles, pizza sprinkles with globs of cheese and other toppings, and even a raised fist in various shades in support of Black Lives Matter.
"In the fashion world I was a visual merchandiser and display person," Cacha explains about her career before sprinkles. "I feel like merchandising and display have really guided me as far as placement and how I see things. I've always identified as someone who has an incredible eye and attention to detail."
Following her stint in fashion, Cacha, too, was interested in cake decorating and had attended a pastry program before committing to cookie baking and sprinkle piping. Her work is highly creative when dreaming up sprinkle possibilities, but she also says that "it takes a certain type of A personality to do what I'm doing because it's monotonous and you're creating hundreds."
Cacha's sprinkles aren't just used for baked goods—customers have also purchased her items to use in soap blends and beauty products, adding an additional layer to the current fashion-forward allure of sprinkles.
In a world driven by social media and visual content, sprinkles have grown to find their place beyond the grocery store baking aisle. Although the new renditions and fancier blends are pricier than what was previously offered, customers are seeing the value in enhancing the aesthetics of their finished products.
"The most satisfying moment is when you see the sprinkle mix come together for the first time; you get such an adrenaline, dopamine rush," Butts says. "But to take it a step further and see the customers creating something special for their friends or family and they tag you on social media and they're so proud of what they created with your product—it's just really fun to get that feedback and be able to share those experiences with customers."
Hagen echoes Butts. "I kind of think that sprinkles are about dopamine. The more rifts on different sprinkles that you can have and the more happiness that you can generate from making something a little bit cuter or a lot of bit cuter," she says. "It's like sprinklephenalia."
Kat Thompson is a staff writer at Thrillist. Follow her on Twitter @katthompsonn.