Where to Get Free Food and Other Specials on St. Patrick's Day
The St. Paddy's slow-down is inevitable, friends. You will reach a certain age where drinking your weight in green beer at the rowdiest Irish pub -- starting at 7am with green eggs and ham, naturally -- just loses its luster. It's not your fault. Time waits for no one. And neither do hangovers.  
Luckily, there are still ways for you to celebrate Irish heritage (and St. Patrick, the color green... or whatever reason we actually celebrate St. Patrick's day?) on the 17th of March -- and in some cases, all month long. There's cheap stuff, green stuff, boozy stuff, shamrock stuff, beer stuff, and best of all free stuff, all at the end of the chain restaurant rainbow.
Oh, and if you actually do decide to embrace your inner 22-year-old and drink your weight in green beer, anyway: good news! St. Patrick's Day is on a Saturday this year (just line your guts with green donuts, first).
Arby's
No, Arby's isn't dying their roast beef green for one day (exciting as that would be), but they are offering up their version of McDonald's ubiquitous Shamrock Shake: a bright-green mint chocolate shake topped with bits of uber-refreshing Andes candy. It's like being on the top of a mountain in the Swiss Alps with your mouth wide open. And also, it's St. Patrick's Day.
When: All March long
 
Bar Louie
The Texas-based casual sports bar and restaurant chain that you might be able to find at your local strip mall is going all out this St. Patrick's Day with their cheekily named "Get Lucked Up" promotion. The one-day-only event features all-day specials on green beer and Jameson shots, with live entertainment in all locations that are legally able to support live entertainment. This one falls squarely in the "embracing your inner 22-year-old" arena. And that's OK.
When: March 17 only
 
Baskin-Robbins
The ice cream leviathan is stepping outside its 31 flavor comfort zone (if you haven't noticed, they have way more than 31 flavors, by the way) to embrace the spirit of Irish generosity on St. Paddy's Day. From 3pm-7pm, every location will be offering free samples of mint chip 'n Oreo cookies milkshake to every customer, no purchase required. Meaning, you can walk in, get free ice cream, and walk out. It feels illegal. But trust us, it's not.
When: March 17 only, from 3pm to 7pm
Bennigan's
Bennigan's -- which is already an Irish-leaning bar/restaurant -- naturally takes it up a few notches on St. Paddy's Day. They have live music (in select locations!), deals on whiskey-glazed burgers and chicken, and special themed-drinks like the Tears of Joyce, an obvious nod to noted Irish author James Joyce... who certainly would have loved drinking at Bennigan's on St. Patrick's Day, no doubt.
When: March 17 only
 
Bruegger's Bagels
If your morning carb of choice is bagels, not donuts (more on those later, though), Bruegger's has you covered on St. Paddy's with their green (duh) bagel specials. In addition to a little bit of food coloring, they're offering $2 off any Big Bagel Bundles -- which, doesn't really seem like a lot. But consider this: you can use those 2 extra dollars to buy two $1 scratch-off tickets, potentially worth thousands.
When: March 16 and 17 only
 
Chili's
In the classical sense, baby back ribs don't really scream "Luck o' the Irish." But when paired with an extremely traditional (kidding...) Lucky Jameson Margarita, anything and everything becomes slightly more festive. Chili's is serving up this amalgamation of Tex-Mex and Ireland all month long for the ridiculously low price of $5 a pop. Which is actually quite a good deal. Dunder Mifflin approved.
When: All March long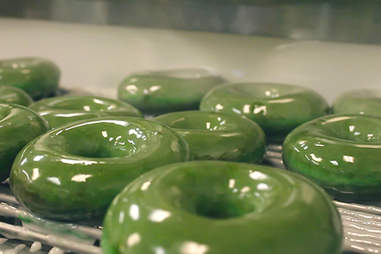 Courtesy of Krispy Kreme
Dunkin Donuts

The coffee-centric chain that America purportedly runs on is only slightly leaning into the festivities this year, with their mint brownie donut, a mint-brownie filled pastry with green mint icing and chunks of brownie on top. It's pretty self-explanatory. And you should know whether or not you want it, right away. My advice? Go for it. St. Paddy's comes but once per year.
When: All March long
 
Krispy Kreme
In accordance with their yearly tradition, Krispy Kreme will yet again be dying their trademark glazed donuts a lovely hue of kelly green. Do they taste any different? Well, no. But if you hold one up to your ear, you can hear the waves lightly crashing off the Cliffs of Moher. Probably.
When: March 17 only
 
IHOP
The International House of Pancakes makes you work for your food discounts. If you wear green to the restaurant between the hours of 7am and 7pm, they'll lay down a short-stack of buttermilk pancakes in front of your emerald-clad visage for a mere $1. That's not luck. That's just a good deal.
When: March 17, between 7am and 7pm.
McDonald's
Like you didn't already know. The Shamrock Shake is the pot of gold(en) standard for St. Patrick's Day specials. It's green. It's minty-ish. And it only happens during one brief, bright portion of the year. The tricky part is figuring when your local Micky D's will start and stop serving them, as it tends to vary per location (essentially, definitely most of March, with part of February in some locations). To help squash the uncertainty, McDonald's has launched an official Shamrock Shake Finder app this year. Proving Black Mirror wrong, yet again: technology is objectively great! And, 25 cents from every Shamrock Shake sold between February 21 and March 19 will be donated to the Ronald McDonald House.
When: It varies per location, so if you want to save yourself a trip -- and disappointment -- get the app.
 
Mrs. Fields
This is the rare offer that you actually don't have to leave your couch to enjoy. The generous Mrs. Fields is offering her St. Paddy's Day treats -- like this massive cookie cake, or the Shamrock Delight box -- at a 17% (get it?) discount by entering the code "Lucky17" upon checkout. Of course, you can use the code on anything on the site, if you want. But it would be decidedly less than festive of you to order anything but a giant green cookie cake. Just saying.
When: Offer ends on March 17
 
TGI Friday's
If you don't have a favorite Irish pub in town... or if you just want to live every day like it's Friday (even if is Saturday, in this case) TGI Friday's has a surprisingly cheap deal on drinks -- $3 green beer and $5 whiskey shots -- to commemorate dear Saint Patrick, the patron saint of Ireland, who cast the snakes out of the Emerald Isle, and is now beckoning imbibers into the flair-covered walls of TGI Friday's.
When: March 17 only
Sign up here for our daily Thrillist email and subscribe here for our YouTube channel to get your fix of the best in food/drink/fun.
Wil Fulton is a staff writer for Thrillist. If you told him he could only eat one food for the rest of his life, he'd be frightened and confused. Follow him: @wilfulton.