"Han Sodelicious" Star Wars dinner includes Boba Fett-ucini, Chewbaklava
All photos by Lee Breslouer
What started as a running joke in the kitchen of a Denver restaurant to see which chef could think of the punniest Star Wars-themed dish, has turned into an actual dinner being held on May 4th. Session Kitchen -- an eatery decked out with art installations from international street artists -- is holding a four-course, five cocktail-filled dinner with more Star Wars puns than you can shake a lightsaber at.

Better than any drink they were serving at Mos Eisley's cantina is the Darth Vader-Aide, with vodka, crème de cassis, lemon, soda, and black walnut bitters.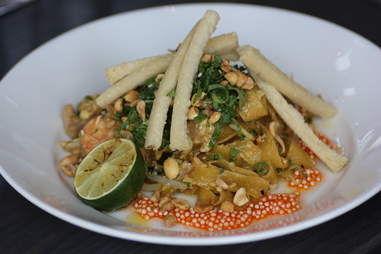 One of the entrees is the Pad Thai Amidala with Boba Fett-ucini, a bizarrely delicious combo of prawns, chicken, lemongrass boba, peanut, ginger, chile, and lime.
Poured tableside, the Droid Bath is an intoxicating mix of bourbon, maraschino liqueur, Cardamaro, and Islay Scotch. Wait, why'd they make a drink named after a phone?
The other main course is the We Have Located the Rebel Bouillabaisse, with mussels, lobster, scallops, and barramundi in an orange-fennel broth.
Wash all that down with a Qui-Gon Gin Fizz, a Jedi masterful mix of gin, apricot, lemon, lime, and egg white. Fun fact: Phantom Menace is the one movie starring Liam Neeson where he isn't looking for his daughter.
Lee Breslouer writes about food and drink for Thrillist, and fell asleep in the theater during Phantom Menace. Follow him at @LeeBreslouer, because you can't make up a name that good.