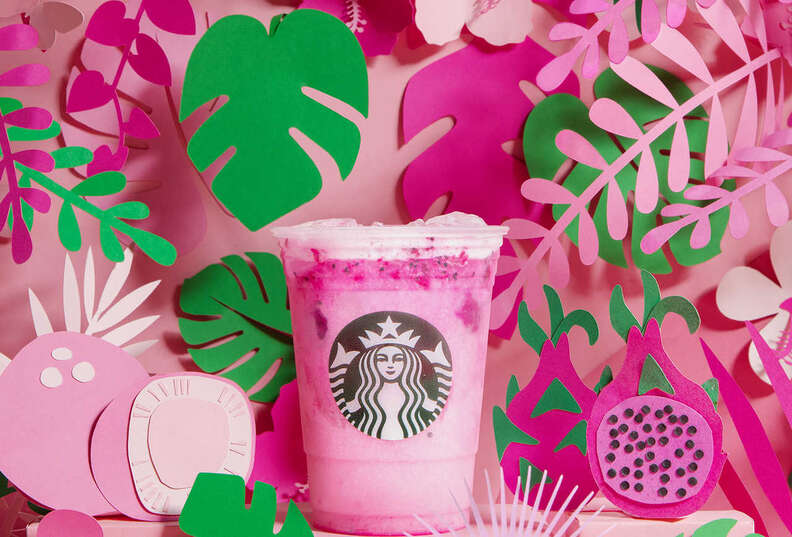 Courtesy of Starbucks
Courtesy of Starbucks
Starbucks' New Dragon Drink Won't Slay Your Taste Buds
The pink drink, which is made with coconut water and dragonfruit, is good, but not great.

It's no secret that certain drinks take off because of Instagram: there's freakshakes, violet-hued cocktails made from butterfly pea tea, bubbling bottles of rosé, and now Starbucks's latest creation, the Dragon Drink: a reinvention of the mango dragon fruit refresher that -- in the same vein as the popular Pink and Violet drinks -- uses coconut milk as a base rather than water.
The Dragon Drink is tropical, refreshing, and undeniably pretty to look at. Though it arrived during the same time that Game of Thrones was ending, the iced drink couldn't be more different than Daenerys's dragons. For one, it's fuchsia colored, with speckles of fresh dragon fruit seeds speckled throughout. It's also cooling; the antithesis of fire-breathing mythical creatures.
The Dragon Drink is made with mango and dragon fruit flavors, but the taste of mango is definitely the most prominent. For those who have never had dragon fruit, the flavor is very mild -- almost like eating a less sweet kiwi. However, the jelly-like texture of the dragon fruit, which is diced and mixed with the coconut milk and fruity syrups, makes for a more playful drink. Slurping up bits of dragon fruit adds to the appeal of the beverage; it's fun to crunch on the small seeds that feel almost like drinking bits of sago or tiny pearls of boba (just be careful because the seeds can, and will, get stuck in your teeth). Additionally, you won't find any artificial colors in your Dragon Drink -- the magenta color is naturally occurring in pitaya, another popular term for dragon fruit.
The coconut milk base makes the drink creamier than expected, yet still light. The tropical flavor also does have some unexpected tanginess to it, which was, to me, reminiscent of yogurt-flavored milk teas you can find at your local bubble tea shop. And for those weary of caffeine, know that the Dragon Drink does contain caffeine, but only about a third of what a latte has. It wouldn't be difficult to down a Venti-sized version of this beverage on a particularly hot day.
That being said, the drink does clock in at 130 calories for a grande size, with 23 grams of sugar. And though mango is the most notable flavor, the listed ingredients for Dragon Drink doesn't include mango or pitaya anywhere (though you can definitely thank white grape juice concentrate for the sweetness). Additionally, the Dragon Drink is a bit pricier than your average iced tea; my grande cup costed me $5.50 in New York City.
The Dragon Drink is not as dessert-like as the chain's Frappucinos, nor is it as simple as shaken iced tea lemonades. Instead, the pink beverage finds a happy medium between refreshment and indulgence, that will please both your taste buds and your Instagram feed.
Sign up here for our daily Thrillist email, get Eatmail for more food coverage, and subscribe here for our YouTube channel to get your fix of the best in food/drink/fun.

Kat Thompson is a staff food writer at Thrillist and loves a solid pink drink. Follow her on Twitter @katthompsonn.