The 9 most insane creations at this year's state and county fairs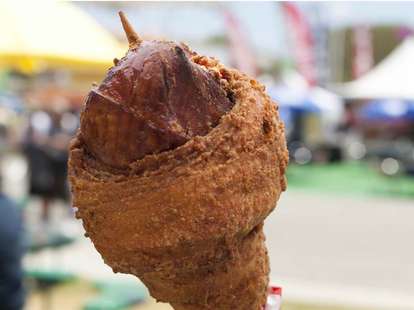 State and county fairs are endurance tests for the stomach, places where you're encouraged to eat pounds and pounds of fried dough, fried meat, and fried, doughy meat, then further punish your stomach as you try to keep it down on some rickety ride run by a dude named Viper. And it's glorious. Every year, fairs take the concept of junk food to stratospheric heights. These are 2014's weirdest and most wonderful offerings from around the country. All get Viper's seal of approval.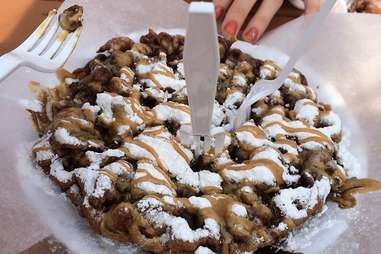 Peanut Butter Chocolate Funnel Cake
Erie County Fair
Listen, we've all had our fill of standard-issue funnel cake, most likely chased with lemonade, cotton candy, and the overwhelming sense that a painful fight with the ol' digestive system is in our future. But this pick from Erie County's concessions adds two crucial ingredients, making this practically a deep-fried Reese's. And nothing's better than a deep-fried Reese's.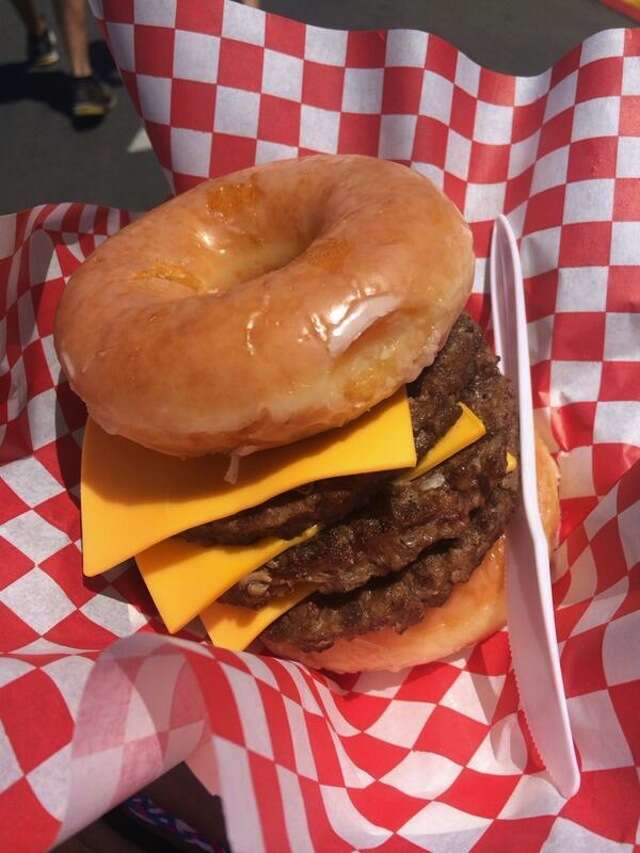 Triple-Decker Krispy Kreme Cheeseburger
San Diego County Fair
Last year, SD captured the public imagination with a Krispy Kreme Sloppy Joe. And since they know better than to screw up a good thing, they returned to the glazed donut well again with a three-patty masterpiece that fixes the problem of Sloppy Joe meat cascading through the hole. Unfortunately, the fair already closed up for '14, but you can always rendezvous with this beauty in your dreams. Or just make one.
Red Velvet Cinnamon Roll
Oklahoma State Fair
The savvy people running the Oklahoma State Fair are already hyping the event with an upcoming item from one of the vendors, Sweet Shop. Come September, you can stuff your face with all the red velvet cinnamon rolls you like, then promptly go win that giant stuffed alligator at ring toss. Or, you know, pass out.
Breakfast Juicy LuLu
Minnesota State Fair
Because fair vendor LuLu's Public House is well aware of the vise-grip Juicy Lucys have on the Minnesotan public, they brilliantly crafted a breakfast version with an English muffin and two cheese-stuffed sausage patties. Your cholesterol won't thank you, but your taste buds will.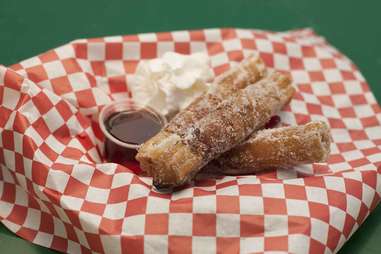 Orange County Fair
Obviously the star attraction at OC is the Cave Man Club -- that deep-fried, bacon-wrapped turkey leg you saw at the top of the article and probably stared at for at least three minutes. But the same saintly vendors making those monsters are also shilling churros loaded with bacon and whiskey. If Ron Swanson actually consumed sweets, he'd definitely binge on these puppies.
Wisconsin State Fair
The Internet lost its mind when this pick from the Wisconsin State Fair hit Reddit earlier this week, and it's easy to see why. Not only does this technology let you cruise the fairgrounds as you devour chicken and waffles, it also features beer-candied bacon. We may never order anything else in a cone again (except we will).
Funnel Cake Ice Cream Sandwich
Indiana State Fair
True geniuses are never appreciated in their time. For reasons we may never comprehend, this Urick Concessions dessert lost out to a "Fruit Twister Shake-up" for the honor of signature food of the Indiana State Fair. Luckily, you can still show it some love until the fair closes on August 17 -- make sure to give that Shake-up a good glare while you're there.
Kristin Hunt is a food/drink staff writer for Thrillist, and used to get a school-sanctioned day off from school every year for "Fair Day". Follow her at @kristin_hunt.