Dear panic-shopping sissies:
Hi. My name is Dave. You may remember me from one of my many illustrious & professional journalism projects, such as getting fat with grace, or banging pies for sport. I know, I know -- you're impressed. But enough about me! We're here to discuss you, Mister/Miss Young Able Resident of a Large Metropolitan Area in America. Specifically, your batty insistence on raiding the grocery store for assorted nonperishables and a cubic yard of distilled water at the earliest hint of inclement weather. This is neurotic, nonsensical behavior, my dears. It's the behavior, quite frankly, of a city-living sissy. Is that what you are?
Probably. Let's investigate together, shall we?
We begin with the facts. It's 2015. You are smart, because you're reading: both words, generally, and this website, specifically. Food is relatively plentiful in the Western Hemisphere, especially in big American cities like NYC, Frisco, and Dallas/Fort Worth. Snowstorms (or really, any storm that doesn't have its own fear-inspiring name like "hurricane" or "tornado" or "Kristen") exist in these places. Sometimes, they temporarily limit or -- gasp! -- sever entirely your access to basic utilities, such as electricity, hot water, and Netflix. Though this sucks, it doesn't threaten your ability to procure the requisite foodstuffs to sustain human existence. These are all facts, yes?
You're crazier than a doomsday prepper.
Yes. The answer is yes. And yet, here you are, scouring Trader Joe's for another canned ham to "stock up on" because "who knows how long this will last." You already have two canned hams in your basket. That's two canned hams too many for most people, but it's not nearly enough for a colossal wimp who pales at the merest suggestion of prolonged precipitation. Savvy?
So the forecast called for a few inches of snow this week. Let's say we get more. Like, 30 inches. You live in a population-dense urban burgh positively brimming with supermarkets. They have farm-to-table leeks and halibut that studied at Haverford. Frankly, they should probably be called ÜBERMARKITZ, because they house more edibles than the English language has umlauts. And yet, there you are: fear in your eyes, sweat on your brow, and 16 cans of soup in your arms. You're doomsday-prepping without even being on a minimally scripted reality show about it. You're even crazier than a doomsday prepper.
What's the endgame here, you pansy? How much chicken-noodle can you possibly force down your gullet before the fire department arrives to shovel you out of this big-not-huge blizzard? Scarier question: what if they don't arrive at all? You'd have to switch to your supply of chicken & rice, which is a vastly inferior option. After that... jeez, well I guess the only thing left is human flesh, right?
There's a difference between "discomfort" and "peril."
NO. WRONG. You have a magical combination of winning traits that all but guarantee your ability to survive this tempest cannibalism-free. Firstly, you are in the middle of one of the most well-developed places that, itself, is in the middle of one of the most well-developed places in the world. "Western civilization," as it's called in hardcover books. Secondly, your legs work. Thirdly, I bet you can scrounge up enough cash for something from a dollar menu somewhere. Many people in this world -- in your very ZIP code! -- are not lucky enough to possess even two out of three, and even they rarely end up eating their friends for dinner. You're going to make it through this.
But that's assuming the forecast is right. Do you know how often these things are wrong? Me either, but it's a lot! Seriously, the slightest shift can turn the scariest forecast into a silly fiction, one that stars you sheepishly wondering what on God's green, not-coming-to-an-end Earth you're going to do with $40 worth of kale. Guess what? Despite occasionally being good, kale eventually goes bad. If you weren't an enormously gullible yellow-belly, you wouldn't be in such a pickle. In fact, you might even be eating a pickle, because you would've had the levity to spend money on stuff you wanted to eat instead of this amateurish array of survivalist whatnot.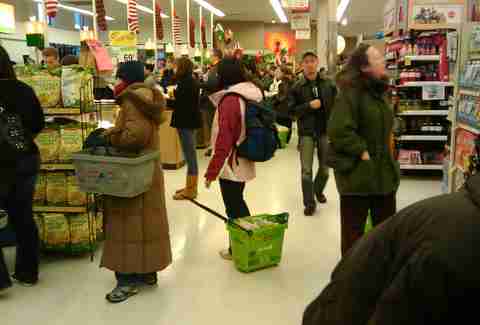 Please note that if you Instagrammed yourself with an alcoholic beverage and a hashtag like #Stocked4TheStorm, you are a nonsense human and a snivelling milksop and I hate you.
Look, I'm not saying don't be safe, or that storms aren't occasionally dangerous, or that the elderly, remote, and disadvantaged of society aren't at risk. I'm not saying those things.
I'm saying that you're overestimating how close to the brink of extinction this snowstorm is going to push your cosmopolitan, able cohort of humanity. That you're about to buy more D batteries than the Energizer Bunny headed to a Rabbit party. That years of living with/amongst considerable means have blinded you to the gaping chasm between "moderate discomfort" and "life-threatening peril."
In other words, kiddo, I'm saying that you're a panic-shopping, city-living sissy. You're making the grocery store an unpleasant experience for the rest of us, who are here to buy food to eat and pies to bang. Calm. Down.
 
Love,
Dave.
Dave Infante is a senior writer for Thrillist Food & Drink, and is a panic-shopping, city-living sissy. Follow @dinfontay on Twitter, Instagram, and Snapchat.