Weekend Project: Make The Perfect Strawberry Rhubarb Pie
Maggie McDowell of Magpies on Pink Street shares her summer recipe.
Needless to say, pie is perfect. Even though you can find pie everywhere and its history can be traced back as far as Ancient Egypt, pie is constantly mythologized as the quintessential American treat, a perfect circle on a checkered tablecloth, a "slice of home" in a spinning diner display, a dessert that is just as delightful being slammed into someone's face at a county fair as it is being nibbled after dinner.
There are countless pie references in all kinds of modern media. There's a scene that still haunts me from the 1996 Nora Ephron-directed road trip comedy Michael about John Travolta visiting the Midwest as a hard-partying angel, in which Andie McDowell's character sings a song she wrote about pie that goes, "Pie, pie, me-oh-my,/Nothing tastes better, wet, salty and dry…." I doubt I need to remind you what Jason Biggs did to an apple pie in the teen sex comedy American Pie.
Even the word "pie" has an onomatopoeic effect. "Pie" is an exhale, a surrender to the buttery crust and delicious filling of life. Pies are fun, pies are silly, pies are naive. Pies are as sensual as they are spiritual, conceptual as they are straightforward, and dare I say, complicated as they are innocent. A pie has a crusty shell and an interior life.
Yes, for all of pie's down-to-earth PR, I have to ask, how simple is pie, actually? How simple is making a pie? Not as simple as you might think, and no one knows this better than Maggie McDowell of Magpie's on Pinkstreet in Bovina, New York. She makes all her pies herself and sells them at Russell's General Store in the Catskills, where she's turned a passion for pies into a thriving local business. McDowell moved to Bovina a few years ago from New York City where she worked in restaurants and as an actress. In Bovina she has found a community of people who are committed to locally grown ingredients and creative country cooking and baking.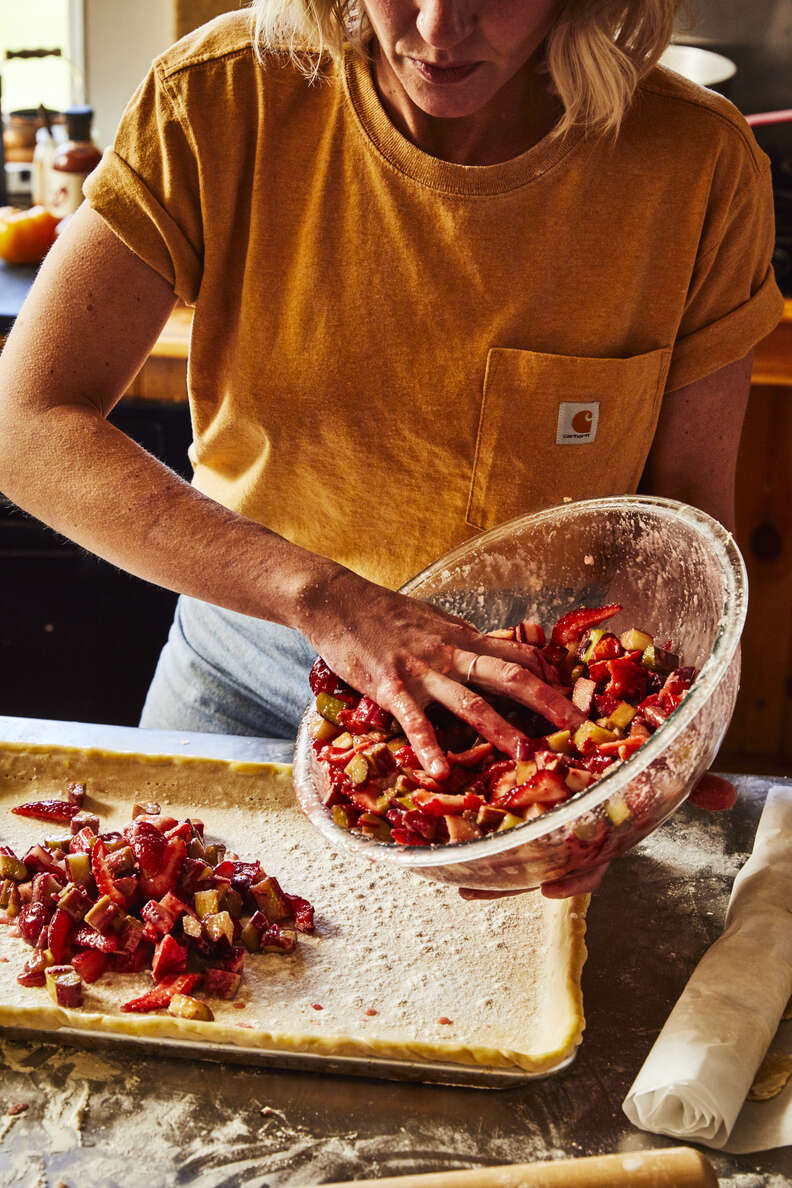 When we talk to McDowell, she is chasing cell phone service and enjoying a quick cig behind the wheel of an '89 F250 she just bought that day. Sure, time works differently out of the city, but baking upwards of 80 pies a week by yourself can call for a smoke break and a big-ass truck. The upstate ethic around food has informed McDowell's practice as a baker.
"In New York City, unless you're getting something from a rooftop garden, that notion of 'local' is kind of abstract," McDowell says. "While I'm no expert forager, the fact that here you can take a walk and pick ramps and get three pounds of knotweed, or that, on my favorite hike, there are hundreds of blackberry bushes—connecting physically to the land and making something out of it—feels like a part of the culture up here and it's a really nice way to connect to place."
McDowell's artistic sensibilities translate to pie making, and she brings a playful, creative, and liberating approach to her baking, often posting amusing shots of the flour that has accumulated on her brow from a full day of baking, or a picture of the handle of whiskey she is drinking from while she rolls out her crust on her Instagram. (Speaking of playful, please check out her merch.)
She tells me that she was drawn to pies because they're difficult to master, and even when the pressure's on, she embraces the mess of it all with a sense of humor and a smile. She describes the "thrill of pie-making" as "meditative, time-consuming, and a bit fussy," and it is her embrace of these contradictions that make her such a skilled baker. Her advice to me on making a strawberry-rhubarb pie (rhubarb is in season), was to keep everything cold as possible while constructing it.
"The name of the game in pie-dough making is to keep it cold!" she says. "Work as quickly as you can, chill often, and don't over-handle dough with your warm-ass hands. This part is really important if you want flakiness. Cold bits of butter, when they hit a super hot oven, cause evaporation, and that gives way to that sought-after flake."
I have never made a pie, but her recipe carried me along the way to buttery, flakey, fruity goodness. I'll let her explain the rest.
Magpies' Ginger Strawberry-Rhubarb Crumble Pie
Ingredients:

Crust:
1¼ cups all-purpose flour (plus more for sprinkling)

1 stick chilled unsalted butter

1½ teaspoon sugar (plus more for sprinkling)

½ tsp salt

8 ounces ice water

2 Tablespoons cider vinegar (vodka or lemon juice work here too—whatever acid you've got on hand!)
Filling:
1 pound rhubarb (if stalks are thick, slice into ½-inch thick pieces, lengthwise), trimmed and cut into ½-inch pieces horizontally (think celery in a crunchy potato salad!)

1 pound strawberries, hulled and quartered

1 cup (+ ¼ cup extra if you like it super sweet)

¼ cup cornstarch (arrowroot works great here, too!)

1 inch piece of ginger, peeled and finely grated (I like to use a microplane here)

Zest of 1 lemon (Meyer lemon if you can)

Juice of half a lemon (1-2 Tablespoons)

Generous pinch of salt
Crumble:
1 cup flour

heaping ½ cup dark brown sugar

6 Tablespoons melted butter

½ teaspoon cinnamon

⅓ teaspoon ground ginger

a pinch of cardamom

big pinch salt

(optional 2 Tablespoons finely chopped candied ginger)
Directions:
For the dough:
1. Cut your butter into 16 small pieces, place back in fridge
2. Get your water and acid mixture nice and cold (dump some ice in there, or toss the mixture in your freezer for 20 minutes)
3. Whisk together flour, sugar, and salt.
4. Cut small pieces of butter into dry ingredient blend using a pastry blender, a fork or two, or your fingertips. What you're ultimately looking for is a consistency somewhere between coarse cornmeal and oatmeal. cut, chop, smash between your fingers—whatever you have to do to incorporate that butter. Neat consistency is not important here--and whatever you do--don't over-blend. You want to see those wee butter pieces in the finished product!
5. Once things are mostly on their way to blended, grab your cold water and acid mixture, and drizzle, a few Tablespoons at a time, into your dough, combing the liquid into the dry stuff with your fingers. You should use about 5-7 Tablespoons of water mixture in the end. Continue to work briskly and smash as you go. You're looking for a dough that holds together when you pinch a bit in your hand. If it's wildly crumbly and dry, add a few drops of water mixture at a time. if it's glue-y and sticky, you've gone too far.
6. Dump this chunky clump onto your counter, and, using. a large piece of saran, form into 1 disk ¾-inch thick. Use the saran to help you, don't be afraid to muscle the loose bits into place, and wrap tightly. Chill for at least two hours in the fridge, but more ideally for 12-24 hours. The more hydrated the dough, the easier it will be to roll!)
For the bake:
1. Preheat your oven to 425 degrees F and place a foil-covered baking sheet on the bottom rack of your oven to preheat.
2. Toss you rhubarb and strawberries together with the lemon, zest, sugar, salt, and cornstarch until well-mixed and set aside.
3. Sprinkle a small handful of flour onto your work surface and remove the dough from the fridge with floured hands. Give it a few brief squeezes around the edges so you've got a good, even circle of dough to work with.
4. Flour your rolling pin (or wine bottle, or whatever cylindrical thing you've got), and, rotating the dough about 45 degrees each time, roll outwards from center of dough to edge, using even pressure, turning after each roll. Go twice around like this. Once things are getting pleasantly thin, give a final roll anywhere you think is necessary to make the best circle of even thickness you can. Hold your pie-dish upside down over your disk and make sure you've got 1-2 inches of excess dough round the edges to play with.
5. Fold dough round in half and place carefully in your pie tin, then unfold. Gently encourage the dough into the bottom corners of your tin, then trim any excess overhang that exceeds 1 ½ inches beyond the edge of your tin. (You want the excess to just graze your counter.)
6. Gently roll/fold this edge underneath itself like a little cigar, so it sits in a little snake on the pie pan edge (make sure no stretching is happening here. you want your little roll to sit very comfortably, without pulling, squarely on the edge). Crimp with your thumbs, or a fork, or leave as is!
7. Poke 5-6 fork holes in the bottom of the pan, and then 4-5 times around the sides. chill this dough for 10+ minutes.
8. Meanwhile, melt butter for crumble topping. while it melts, whisk together dry crumble ingredients. Add melted butter, and toss together until chunks easily form between pinched fingers. set aside.
9. Remove chilled dough from the fridge. generously sprinkle a large pinch of both flour and sugar across the bottom of the crust (this acts as a barrier against the dreaded soggy bottom!)
10. Stir your fruit mixture, and carefully ladle fruit mixture into pie dough (I usually leave about two-thirds of the liquid in the bowl behind—again, no soggy bottoms here!)
11. Roughly sprinkle crumble over top of the pie in a generous, even layer, and place on a half baking sheet on the bottom rack of your oven.
12. Bake for 22-26 minutes (get the pie bottom nice and crisp!)
13. After 25 or so minutes, turn down the heat to 370, move the half-sheet to the top rack of the oven, and continue baking another 20-30 mins.
14. Pie is done with fruit filling that is bubbling up around crumble (cornstarch won't activate its sticky magic until it boils) and the crumble and crust edges are a deep golden brown. I love the smell test—the moment you can smell this baby, it's close to done!
15. This bit is important and is just another step on the "pie as patience" journey: Let the pie cool completely on a wire rack, otherwise, you'll have a runny drippy mess, as opposed to a clean, satisfying slice.
Pie will keep at room temp for 3 days, or, in the freezer, wrapped well, for 3 months. (Defrost in fridge overnight, then heat at 325 for 15-20 mins to warm through!)