Southern Food Is Actually the Worst Food for Your Health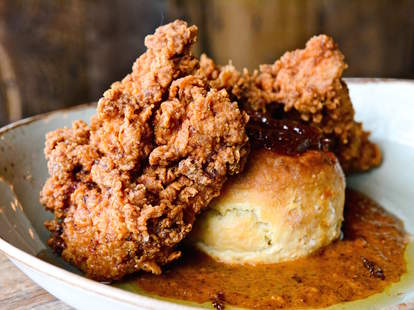 Today we bid a sad farewell to a loved one: fried chicken & biscuits. It's been so good to us, but it's also apparently been out to break our hearts... by way of heart disease.
According to a study published in the American Heart Journal, a "Southern"-style diet is the worst diet for your heart. The study looked at dietary patterns and heart risk, and those who regularly eat Southern food -- like fried chicken, fried okra, biscuits, and gravy -- saw a 56% increased risk of cardiovascular disease, more than any other "unhealthy" diet.
It's not like anyone previously thought gravy-soaked biscuits were the key to a long and healthy life, but researcher James Shikany, DrPH, of the University of Alabama at Birmingham notes that it's surprising how much worse Southern food is for your heart than, say, a diet full of "convenience" food (ie. pizza, Mexican, Chinese) or sweets (sugary breakfast foods, candy, desserts).
So... we'll just assume that means a diet rich in pizza and Chinese is still okay. We can't just go ahead and give everything up!
Shikany told MedPage Today, "Of the five dietary patterns we looked at, the Southern-style diet was the only one that showed an association with heart disease, either positive or negative."
As James Blunt once sang to an actual plate of fried chicken & biscuits, "goodbye my lover, goodbye my friend."
Lucy Meilus is a staff writer for Thrillist and has very little respect for her heart. Follow her on Twitter at @Lucymeilus and send news tips to news@thrillist.com