Presented By

A Field Guide to Regional BBQ Styles in America
From East Texas to South Carolina, we break down all the different types of BBQ in the country.
Presented By

Say the word barbecue to anyone in America and a different image will pop into nearly everyone's heads. Sadly for some people, the closest thing they've had to a BBQ experience is when McRib season rolls around, but we all know that pressed patty of sadness falls desperately short of the ways true barbecue feeds the soul.
What can be found across the nation are the very best BBQ joints, representing the heart of several southern states, the years of skill and artistry passed down from generation to generation. There are decades (if not centuries) of deep tradition in barbecue preparation techniques, from Tennessee to Texas and every other state in between, so it's definitely not a flash-in-the-smoker trend
However, that's not to say you won't find trendy takes on BBQ, even in otherwise traditional spots. (Case in point: using high-dollar Prime beef or Japanese Wagyu to cater to fans of the very best a cow has to offer—or pigs in instances where pitmasters use heritage cuts of pork.) To better make sense of what each BBQ Utopia's known for, here's a handy guide to smoked meats from coast to coast. Perhaps a culinary road trip's in your future—and hopefully a trip to the salad bar.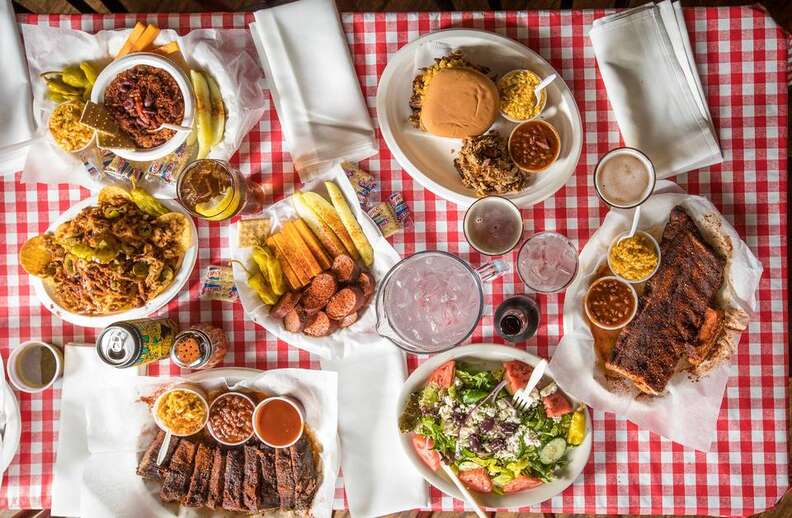 Memphis
What it is: This town's big on pork, whether it's in rib or pulled form, and usually uses a dry rub that includes garlic, paprika, and other spices. The meat's cooked in a big pit, and it's typically served with a tangy, thin, tomato-based sauce. How Marc Cohn still managed to sing that song about this city between bites of BBQ is truly remarkable.
Signature dish: Pulled pork
Try these out: Rendezvous (Memphis), Germantown Commissary (Germantown), A&R BBQ (Memphis)
There's truly no place like Texas when it comes to barbecue. You'll find various styles of its signature slow-smoked, pit-style brisket, pulled pork, and ribs at festivals, food trucks, and restaurants across the state — which means you're going to need to stay awhile to try them all. Plan your Texas vacation now and travel when you're ready to have a barbecue experience that'll blow your mind (or at least your taste buds).
North Carolina
What it is: Divided between Lexington-style and Eastern-style, both camps agree that the meat (also typically pork) should be brushed with a spice-and-vinegar mixture during cooking then served with a ketchup-based sauce. Eastern proponents use the entire pig when barbecuing, while Lexington tends to use just the pork shoulder or ribs.
Signature dish: Pork shoulder or pork ribs
Try these out:B's Barbecue (Greenville), Wilber's Barbecue (East Goldsboro), Lexington Barbecue (Lexington)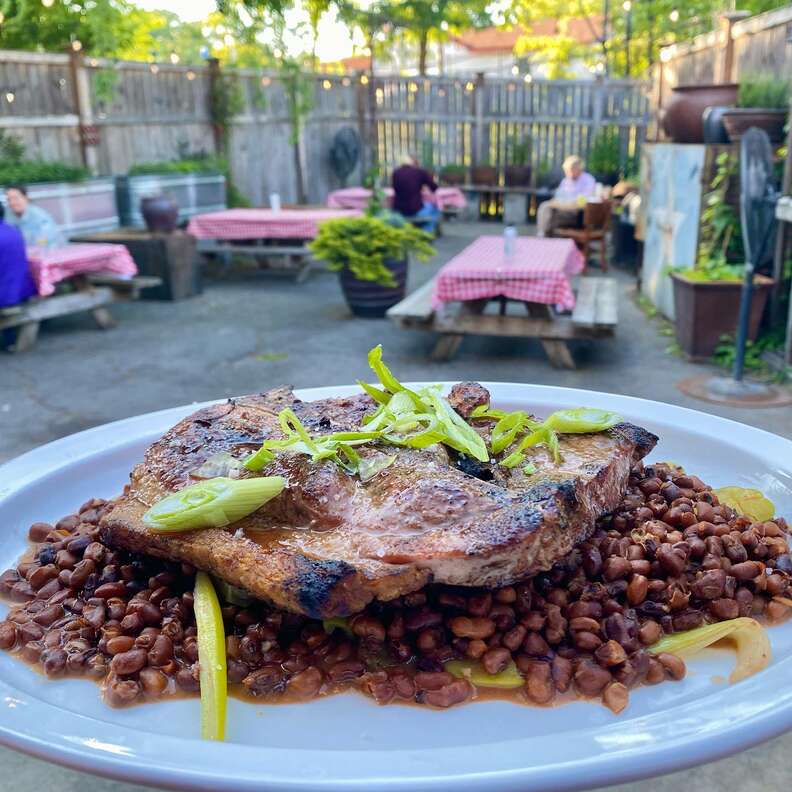 South Carolina
What it is: Pretty similar to the North Carolina style in terms of the meat used, except, in mid-state, the sauce is usually mustard-based with brown sugar and vinegar.
Signature dish: Ham or pork butt
Try these out: Scott's Bar-B-Que (Hemingway), The War Mouth (Columbia), Shealy's Bar-B-Que (Batesburg-Leesville)
Kansas City
What it is: Kansas City goes for the gusto—no meat is off-limits (owing to the city's status as a meatpacking hub), and it's all cooked super-slow and super-low, preferably over hickory wood. The sauce is most commonly a thick, sweet molasses-and-tomato concoction that sticks to ribs.
Signature dish: Burnt ends, the end of a cut of brisket that has a high fat content
Try these out: Joe's Kansas City Bar-B-Que (Kansas City), Gates Bar-B-Q (Multiple Locations), Arthur Bryant's Barbeque (Kansas City)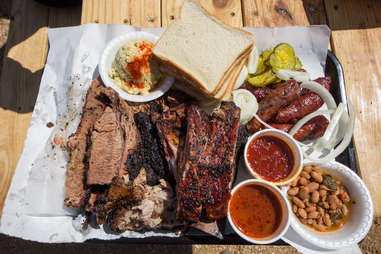 Central Texas
What it is: Highly influenced by Czech and German immigrants, Central Texas has a huge number of meat markets that serve heaping portions of brisket and ribs smoked over pecan or oak wood. Meat is king here, and sauce and sides are treated as secondary elements. Also, Kreuz Market popularized its sausage, which is considered the gold standard of sausage around the country.
Signature dish: Moist brisket
Try these out:Franklin Barbecue (Austin), Kreuz Market (Lockhart), Louie Mueller BBQ (Taylor), Truth BBQ (Houston)
East Texas
What it is: Beef and pork get ordered almost equally, but East Texas BBQ is typically chopped instead of sliced and served between two buns. It has more in common with other Southern BBQ styles than with Central Texas. Many people add healthy dashes of hot sauce, too, to give their sandwiches a kick.
Signature dish: Chopped brisket sandwich
Try these out:Stanley's Famous Pit Bar-B-Que (Tyler), Pat Gee's (Tyler), Carter's Bar-B-Que (Longview)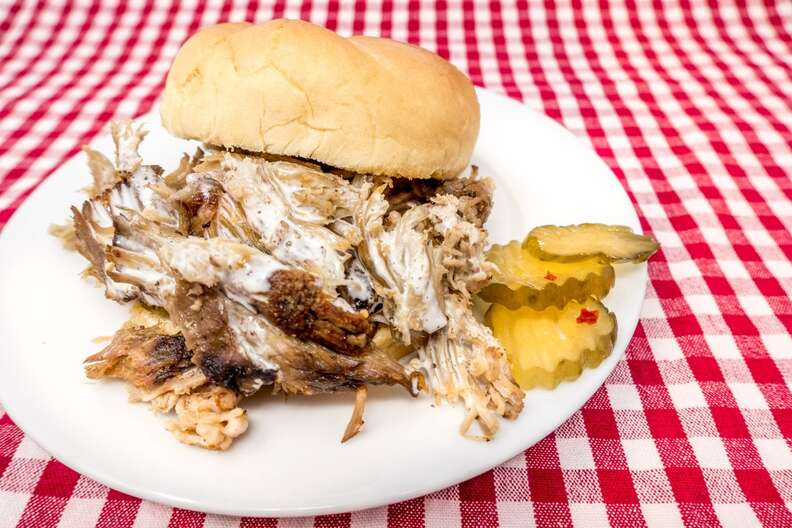 Alabama
What it is: A kind of between-the-extremes barbecue style influenced by both Texas and Carolina, Alabama tends to skew toward meaty sandwiches filled with pulled pork (or chicken) and cole slaw. The one true emblem of this style is the white sauce, a mayonnaise-and-vinegar mixture that can be found all over the state, and probably all over everyone's faces, too.
Signature dish: Pulled pork sandwich with white sauce
Try these out:Big Bob Gibson Bar-B-Q (Decatur), Bob Sykes Bar-B-Q (Bessemer), Local Joe's (Multiple Locations)

Steven Lindsey is a Thrillist contributor.
Adam Lapetina is a food/drink staff writer at Thrillist, and was totally the person who introduced Pizza to Bagels back in the day. Read his musings on Twitter at @adamlapetina.