The Perfect Recipes for Your Super Bowl Party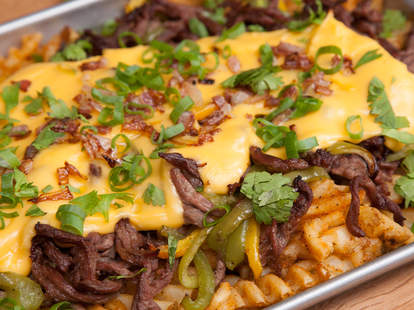 Americans spend an average of $227 million on potato chips on Super Bowl Sunday. And while potato chips are great (transcendent even), you don't want to be the sixth person to show up at your buddy's pigskin bacchanal packing a can of Pringles. And if you're hosting, you definitely want to give your treasured guests an experience that will make them feel inadequate about all future gatherings they may or may not host. It's what friends are for. 
Since you may not be culinary-inclined -- or creative, at all -- we put together a list of (actually good) themed snacks and drinks, based around the teams that smashed their way to victory this season: the Patriots of New England, and the Eagles of Philadelphia. Most of you probably don't know who to root for, so the least you can do is shove copious amounts of cheese and liquor down your gullet for three-and-a-half hours. It's basically your duty as an American.
Food for Patriots 
1. Bill Belichicken Fries
If Bill Belichick hadn't sold his soul 18 years ago in return for unprecedented, sustained football success, he would probably give it up for these homemade chicken fries with nacho cheese.
2. Tom Brady's Forbidden Eggplant Parm
TB12's draconian, peak performance diet precludes him from eating eggplants... for some reason. But that shouldn't stop you, right?
3. Gronk-tastic Yo Soy Fiesta Enchilada Cups
Noted fun-enthusiast and amateur Spanish attempter Rob Gronkowski may not make it out of concussion protocol this Sunday... but you can still celebrate his greatest locker room quip with these handheld enchilada cups. It's like a party in your mouth, and only you are invited. 
4. Masshole Ramen Lobster Rolls
Park the cah. Hit up Dunkin'. Then whip up this trashy, totally Mass-hole riff on a New England classic for some wicked tasty treats while living vicariously through Tom and Co. on yet another Sunday. 
5. Malcom Butler's Perfectly Timed (Apple) Turnovers
The only thing better than a Butler INT in crunch-time is a crunchy apple turnover anytime.
6. Semi-Deflated Grilled Cheese Dumplings
Just get a toothpick, and take out approximately/allegedly 2 pounds per square feet of air from these suckers to fully complete the theme. 
7. New England Pâtériots
If your Super Bowl party doesn't have a big ol' bowl of pâté, is it even a Super Bowl party at all?
8. Five-layer dip... or six-layer dip (depending on how confident you are)
You can either opt for a dip with as many layers as New England has Lombardi Trophies, OR you can go for as many layers as New England will (statistically, probably) have by Monday morning. The choice is yours!
9. Double-Dynasty Grilled Cheese Dogs
As the Pats propel towards what can reasonably be considered their SECOND dynasty this century, they deserve a double serving of this extreme, artery-busting grilled cheese hot dog. 
10. GOAT Stew
Do it for Tom. 
Drinks for Patriots
Sign up here for our daily Thrillist email and subscribe here for our YouTube channel to get your fix of the best in food/drink/fun.
Wil Fulton is a staff writer for Thrillist. Frankly, he hates both of these dumb teams. Follow him @wilfulton.