Whether you're rooting for the 'Niners or Ravens or Saskatchewan Roughriders, the only team that inarguably deserve a win on Sunday is your taste buds, so to guarantee that outcome we've put together a roundup of nearly 50 easy-to-execute Super Bowl snack recipes submitted by rockstar chefs from 'round the country. With gorgeworthy goodness that ranges from pizza nachos and fried bacon balls, to grilled mac & cheese sammies and Buffalo bacon tots, the only possible upset is if the Roughriders are beat by the Toronto Argonauts in your arteries.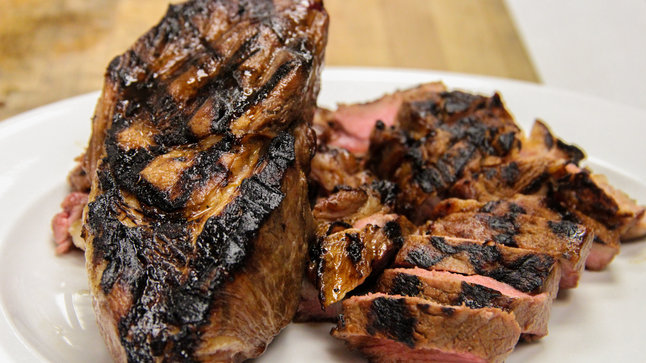 BBQ'd Country-Style Pork Ribs Mat Clouser, Swift's Attic Impress the crap outta everyone at your "Oh! Oh! Oh! The Commericals Are On, Everyone Shut The Hell Up" party with this easy-grilling recipe for thick pork shoulder ribs (which're closer to T-bones than baby backs) smothered in a dude-proof marinade that Swift's Attic chef Mat Clouser uses in his home kitchen.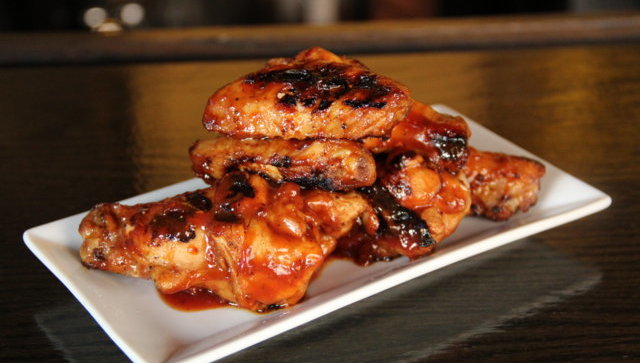 Espresso BBQ Hot Wings Jon Bohn, MilkBoy Don't look like a total loser at your buddy's Puppy Bowl party Super Bowl party this Sunday. instead spend less than 30mins firing up these insanely easy-to-make/delicious-to-taste Espresso BBQ Hot Wings from Jon Bohn of Midtown Village bar MilkBoy, which also produced the soundtrack to one of Sunday's game-debuting commercials. No really, they did.
Baller Pulled Pork Jun Robles, Wafu Add a little pig shoulder and belly to your pigskin with this Super Bowl recipe courtesy of Wafu sous chef Jun Robles, who we got to break down just how easy it is to serve your party a bucket of shredded hog you can plop down on nachos or sliders.
Dorito Viche Khanh Nguyen, DaLat Whether you're rooting for the 'Niners, the Browns Ravens, or simply an epic Destiny's Child reunion, you're gonna need something to snack on, so we teamed up with DaLat's owner/tastemaster Khanh Nguyen, who shows you how to make a Doritos-aided Asian-style slaw dubbed Dorito Viche. Say its name!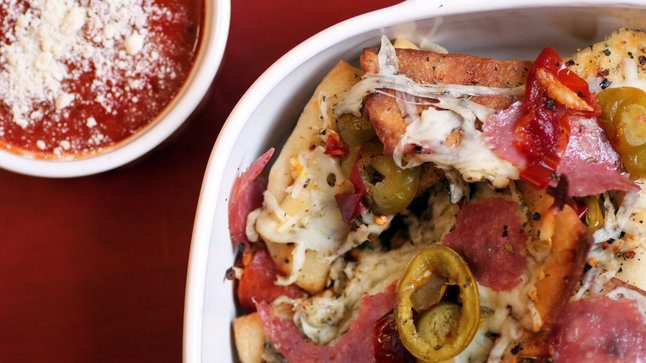 Pizza Nachos Italiano Philip Frattaroli, Ducali Pizzeria & Bar Because apparently the Super Bowl does actually still take place even when the Pats aren't in it, we didn't want you to show up at your anti-Ravens party empty handed, so we asked Ducali's Philip Frattaroli for a peek at the recipe for his popular Pizza Nachos Italiano, then turned it into a delicious step-by-step picture guide Ray Lewis would kill for, except, like, he doesn't do that or whatever.
Sea-Deviled Eggs Shaun Whitmer, The Albert Sure, the Falcons missed the Super Bowl in pretty horrendous fashion. But you should stop licking your wounds, because that's something animals do and you weren't even personally injured. Instead, start licking your chops once you read about Albert exec chef Shaun Whitmer's amazingly delicious Super Bowl recipe for deviled eggs with a shrimpy surprise.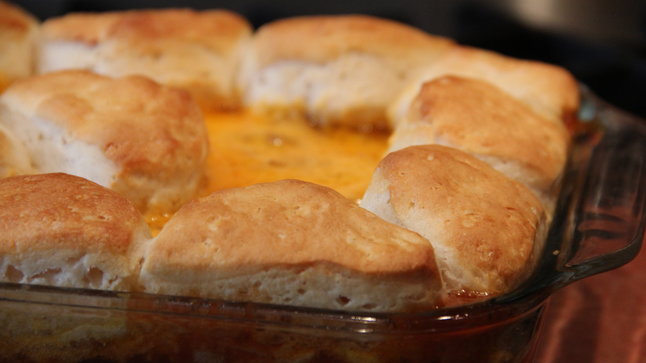 Cheddar Cheese, Sausage, & Biscuit Dip Jet Tila, The Charleston Not just what Billy Corgan said to Tequila when they broke up, Jet Tila's also the Iron Chef-approved Charleston guy who's gonna make your Super Bowl the superest, thanks to this ultra-simple recipe that blends cheese, pork & beans, sausage, and more into a nutso, biscuit-based party-dip.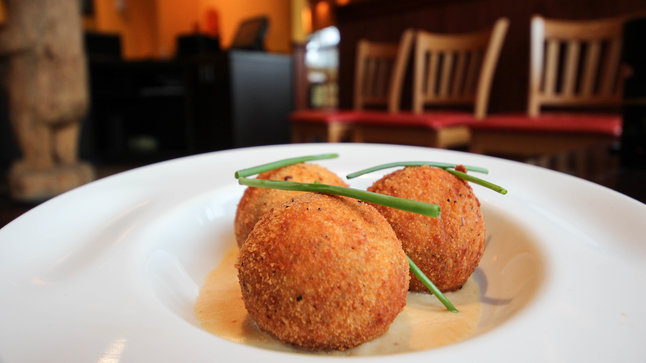 Fried Bacon Balls Will Artley, Pizzeria Orso Mitt Romney insists there's some manner of sport being played Sunday, so just tell people you're inviting "the guys" over for "the game", and then cook up Pizzeria Orso's exec chef Will Artley's supes tasty bacon balls for yourself. Pigskin? More like pigout!!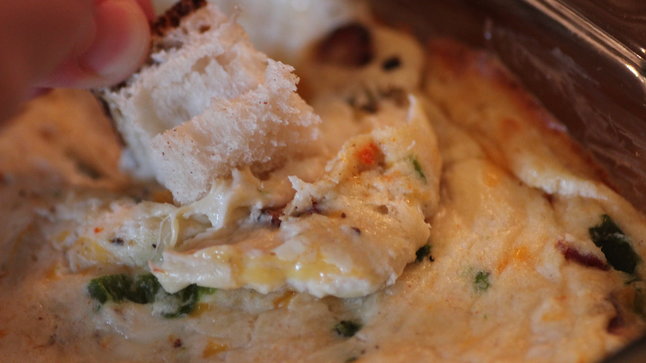 Jalapeno Bacon Crab Dip Tim Luym, Eastern Addition The Super Bowl is on Sunday. The Niners are in it. Which means you need to up your snack game. And you need Timothy Luym of Eastern Addition to help you do it (just go with it), which's why we sexted him to put together a ridiculously simple recipe that would double as a preview of his forthcoming menu at soon-to-open B Street Bar. He did. It's Jalapeno Bacon Crab Dip. You're welcome.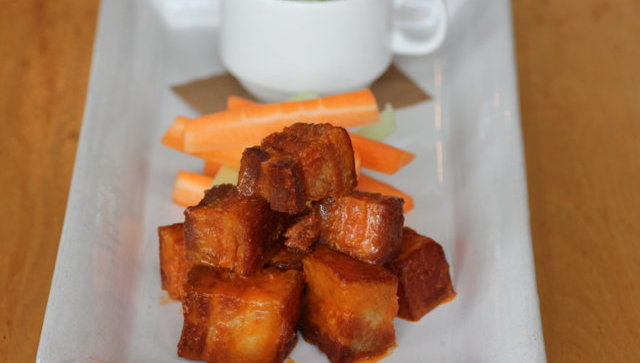 Pigskin-Worthy Pork Wings Justin Brunson, Masterpiece Deli/Old Major After we threatened to introduce him to Ray Lewis, Justin Brunson of the highly anticipated Old Major agreed to create a pork belly "wings" recipe so good you'll be Raven about it to everyone.
I Would Do Anything For Love But I Won't Do That PB & Bacon Meatloaf Sliders Jay Carlson, Awesome Eats Food Truck Because neither ravens nor crotchety old prospectors are particularly tasty, we asked the food Frankensteins at Awesome Eats Food Truck (check 'em out at Northeast Palace!) to help you stave off Super Bowl hunger with something special: the flavor-bursting, actually-makeable I Would Do Anything for Love But I Won't Do That PB & Bacon Meatloaf Sliders.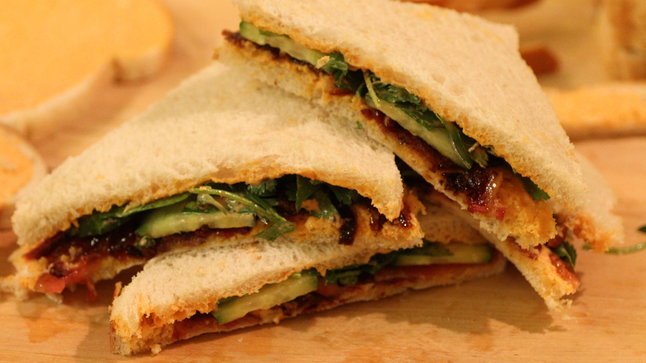 Sour Bacon Sandwiches George Morris, Beaumont's Eatery Stop pouring chili into little bags of Fritos, or better yet, keep pouring chili into little bags of Fritos, but also make this much sweeter, super-simple recipe from Beaumont's exec chef George Morris. So click on through to check out the five meager steps that separate you from deliciously sticky/sour/sweet/spicy sandwiches that are so good you'll likely eat 'em all, and leave those little bags of Fritos out for your friends.
Grilled (Mac &) Cheese Sandwiches Emran Chowdhury, Cantinetta This Super Bowl Sunday, make fun of all those losers who just bring single, boring, standard food items to the party by working up this Frankenstein'd combination grilled mac & cheese sandwich from Emran Chowdhury of Cantinetta, which we've politely broken down in a handy step-by-step photo guide.
Sausage, Beer & Blue Cheese Mussels Danny Serfer, Blue Collar This Super Bowl, forget the seven-layer dip, because it's really gross to mix multi-flavored Trident gum with beans and stuff. Do this instead: listen to Blue Collar head honcho Danny Serfer, and make his crazily easy recipe for show-stopping Sausage, Beer & Blue Cheese Mussels.
Nacho Daddy's Lasagna Glenn Harris, The Smith When it's not for sparking a heated discussion about how much Colin Kaepernick looks like Milo from 24, the Super Bowl is about eating. This year, wow your party guests with Hint of Lime Tostitos this beautiful Frankenfood: Nacho Lasagna from Chef Glen Smith of... The Smith.
Cheesy Buffalo Pigskin Tots Scott Brooker, Edzo's Burger Shop The Bears postseason dreams may have died in Detroit (pretty much a regular thing there), but that doesn't mean you can't soak up your sorrows and with booze you're drowning them in on Super Bowl Sunday with these cheesy buffalo pigskin tots courtesy of Edzo's Burger Shop's Scott Brooker.
Bacon & Blue Cheese Dip David Guas, Bayou Bakery Lest the opportunity for great dip slip Bayou (TM!), stir up Southern master Guas's chip dip, which mixes its namesake ingredients with sour cream, mayo, and "Crystal's hot sauce".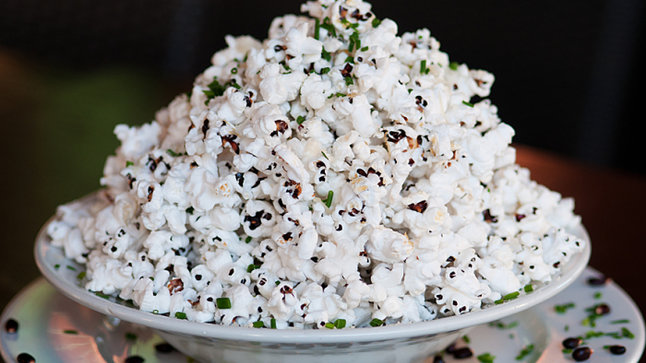 Heirloom Wisconsin Black Seed Popcorn w/ Truffle Salt and Parmigiano Reggiano Wade Hagemen, Blue Ribbon Artisan Pizzeria No longer a lower caste junk food, this upscale corn's blinged out with two types of truffle seasonings, and looks so damn good it doesn't have to be Smartfood.
BBQ Beef Puffs Chef Jordan "Red" Sauter, Philadelphia Bar & Restaurant Boasting an easy three-ingredient-list, these toasty, savory pockets of meat mix heaps of barbecue and cheese better than a quarter episode of Down Home With The Neely's.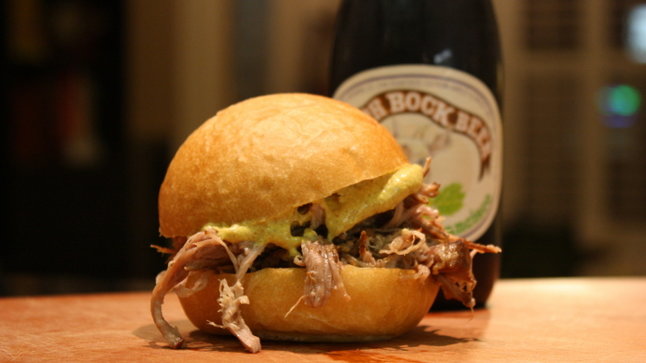 Beer Braised Sliders Justin Simoneaux, Boxing Room Sip your way through this recipe, which specifically sets aside two beers "for the chef" and four for dousing 3lbs of pork butt, guaranteed to turn out so juicy you'll swear that -- like John Daly's front nine -- it's pre-sauced.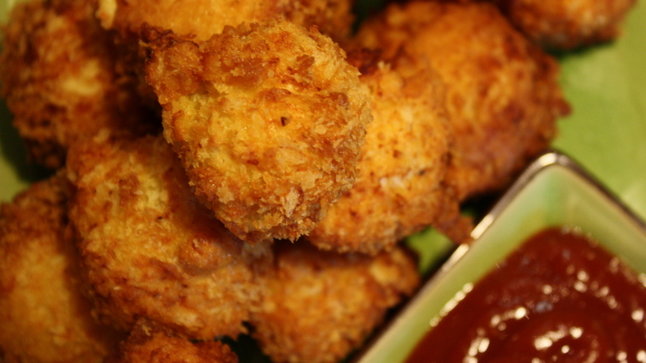 Fried Chicken Bacon Nuggets Huw Thornton, Bacon Bacon Truck This stomach-pleasuring creation combines everything you love about nuggets (they're crispy, tasty, and definitely probably chicken) with everything you love about bacon (bacon) for the ultimate Google-imaging-Vince-Wilfork's-wife-during-timeouts snack.
Buffalo Billy's Boboli Dan Parrot, Old School BBQ & Grill The school-bus smoke-master's shared a no-holds-barred pizza-like-thing that includes shredded chicken, refried beans, cream cheese, pecans, and Frank's wing sauce, all spread over a Boboli pizza crust, whose "Get Creative Tonight" slogan clearly inspired the NFL's choice of halftime entertainment. "Let's get creative. Let's get creative IN HERE!"
Border Dog Rodolfo Cardoso, Taco Ocho The Richardson taco-toque's devised the ultimate in hands-eating fusion: a tortilla stuffed with Mexican cheese, sauerkraut, mayo, and a beef frank, but not a beef with Frank Reich, because if you're still holding a grudge from XXVII, you're over the line.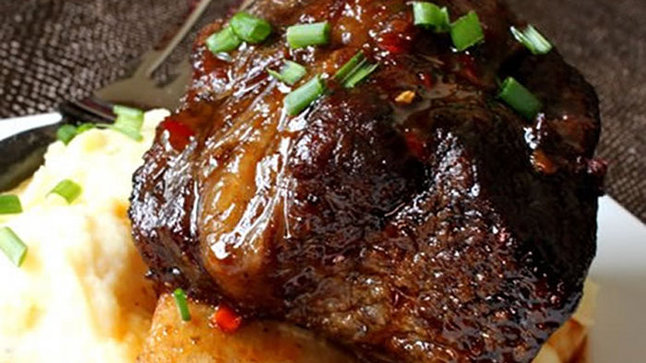 Bourbon BBQ Ribs Chef Tim Williams, Dantanna's You'll sauté, slow-cook, then sauce these meat-racks with a mix of whiskey, brown sugar, and apple juice boiled down "until it has lost approximately 2/3 of its volume", which will likely also describe your voice after the first quarter.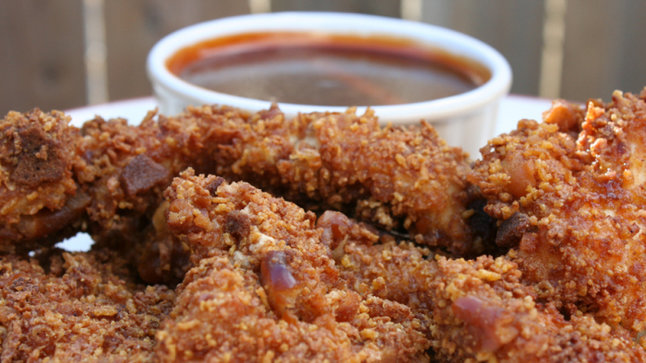 Chex Mix-Encrusted Chicken Fingers (with Dr. Pepper BBQ Sauce) Rene Caceres, Forum Make everyone Men In Black-style misremember last year's French Onion disaster by breading chicken tenders in Chex Mix and dipping 'em in a BBQ sauce laden with the good Dr. Pepper, or Dr. Pepper Ten, if you don't want girls eating it.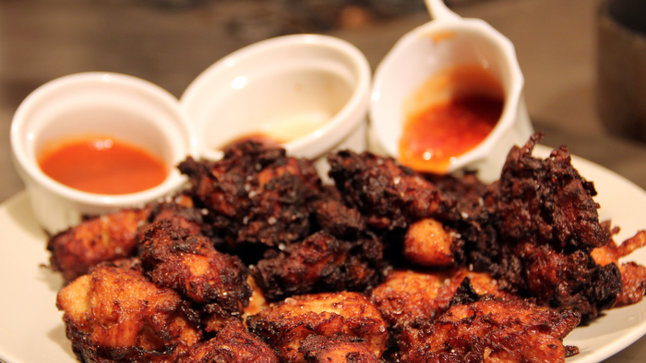 Spicy Nuts and Chicken Kakiage Moto Utsunomiya, East Side King One of the masterminds behind the ATX's most lauded food trailer has contributed a trick to level-up the most basic of snacks, as well as a simple strategy for deep-frying Asian chicken bites, as Charlie Fryeing them would lead to you discovering they were terrible and never trying them again.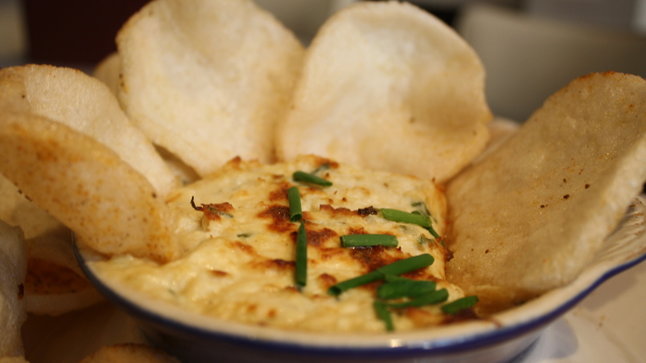 Crab Dip Executive Chef Dave Morel, Legal Seafood The top man at the District incarnation of the New England favorite has magic-up'd a dippable concoction you're to bake until bubbly, or what Miley Cyrus calls "preparing for a show".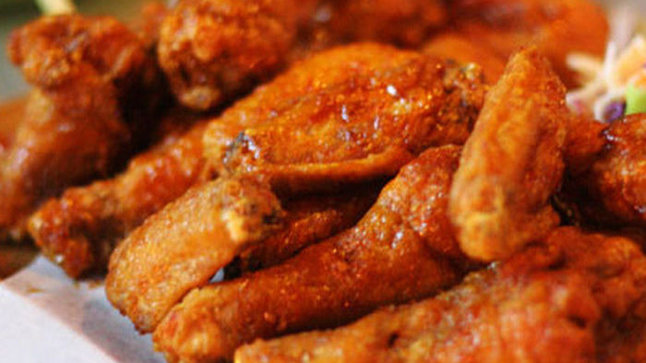 Dorito-Encrusted Wings Jeff McCarthy, TenTop/ Kitchen Cru Considering you were probably going to eat Doritos and wings anyway, the dude behind one of PDX's most creative dinner series has combined the two in one amazing deep-fried dish where chicken meets the Dorito of your choice, like Nacho Cheese or Cool Ranch, hopefully the one from Hey Dude. Damn that place was cool.
Tempura Fried Bacon Bill McDaniel, The Red Cat Because the physical act of leaving your apartment could possibly counteract the artery obliteration of eating battered bacon, stay home and still enjoy the best strips since the conference championships. Kyle Williams double burn!
Super Crabby Balls Tommy Fraioli, Sea Rocket Bistro Not just what happens when you refuse to use Gold Bond for several days, these sea-laden mac 'n cheesy beauties from Chad White's righthand man should be no problem to fry up, even if you're doing it while wearing really tight, uncomfortable jeans.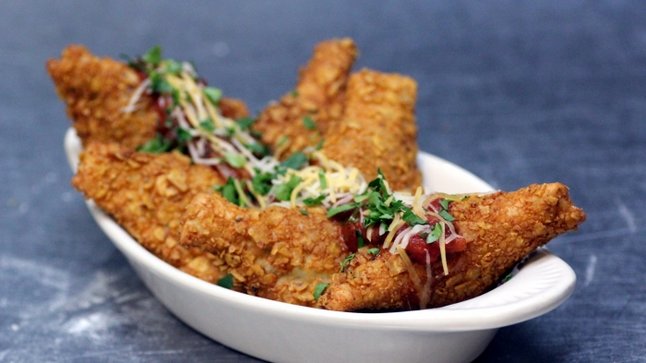 Fried Taco Ravioli Max and Able Borthwick, Primo Primo's Max and Able Borthwick are lending their Ital-ents to your game day festivities with their significantly less boring take on nachos, Fried Taco Ravioli... with freakin' Doritos!
Frito-Fried Bacon Dogs Matt Levin, Square Peg From the mad genius who gave you Kandy Kake burgers & Four Loko'd everything comes this batter-of-Fritos-fried, bacon-wrapped dog, also Randy Jackson's answer to the question "how did you like all your food before you got that gastric bypass?".
Bacon-Wrapped/Shrimp-Stuffed Grilled Jalapeno Poppers Justin Haynie, Diesel Filling Station These skewered, stuffed peppers get enveloped by everyone's favorite pig candy before being cooked over hot coals for 15mins; the Diesel chef/owner even suggests that since "1 beer = 7mins", you should use your beer as a timer, so just stop when it starts to buzz.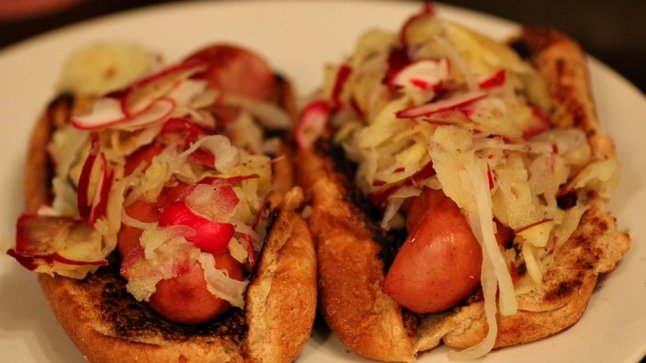 Charred Kobe Dogs with Apple-Radish Sauerkraut and Fried Mustard Jamie DeRosa, Tudor House You'll cover dogs with a sweet/salty kraut after frying up mustard on toasted buns, as per the directions of the exec chef at the Iron Chef's resto, who considers himself a "serious football fan", and therefore has obviously spent considerable time on stadium sidelines trying to cool off Vince Wilfork's giant sweaty face.
The Honey Shack's Grilled Lemon Pepper Wings with Spicy Ranch Sauce Ozzy Samano, Honey Shack With a little oil and lemon pepper seasoning, these tangy little flappers favor Sriracha's bite over Buffalo's kick -- so your party can call itself a winner, instead of spending two decades telling everyone it was the better team.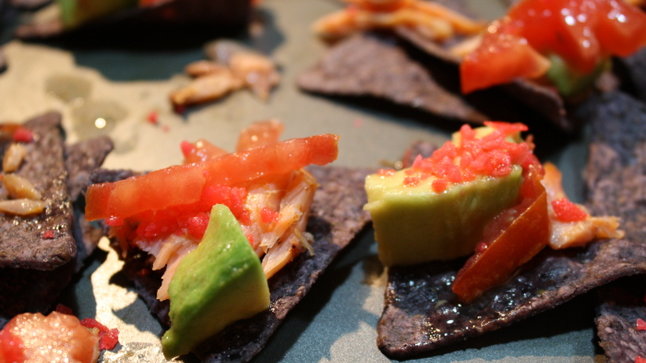 "Nachos" Chef Ian Kleinman, The Inventing Room The liquid-nitrogen-happy chef's whipped up a recipe for the most unconventional nachos ever, topping them with chipotle-lime smoked salmon, avocado, tomato, and watermelon Pop Rocks, which provide an "unexpected note", much like so many national anthem performers.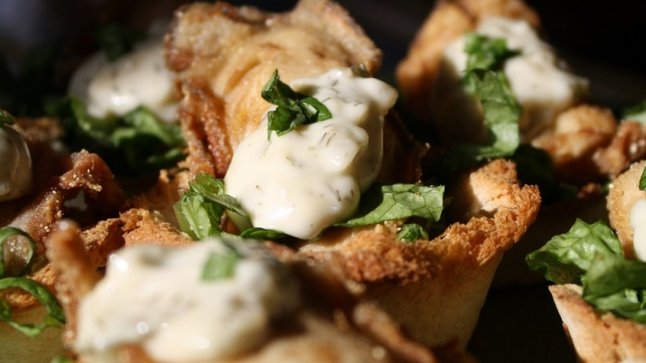 Crispy Fried Oyster Po' Boy Sandwich Cups Adam Sappington, Country Cat This riff on the Louisiana staple adds lowbrow white bread to create a crispy single-hand-able savory snack cup, because even if they're not the Rocky Mountain variety, you gotta keep your oysters protected on game day.
New Orleans BBQ Shrimp Jason Santos, Gargoyles on the Square Just try to find a better combo -- other than Pizzeria Pretzel Combos, of course -- than these spicy Southern-spun shrimp jazzed up w/ Creole seasoning, your favorite suds, and a healthy dose of Louisiana hot sauce.
Jalapeno Popper Sliders Allen Sternweiler, Butcher & The Burger The meat mecca has combined two game-day staples, essentially turning a jalapeno popper inside-out, then stuffing it between two buns.
Pickled Sausages Carlo Espinas, Comstock Saloon Make cocktail franks actually edible by following these extremely simple steps (boil + chop + jar) to jalapeno-brine two packages of Lit'l Smokies, which you can then use to prevent lit'l forest fires.
Pizza Cubano Julian Medina, Toloache This "over-the-top" taco/pizza hybrid deconstructs the classic sandwich, heaping individual tortillas with BBQ pork, Swiss, ham, pickles & mustard, though no salsa, cause Victor's gonna need all of that.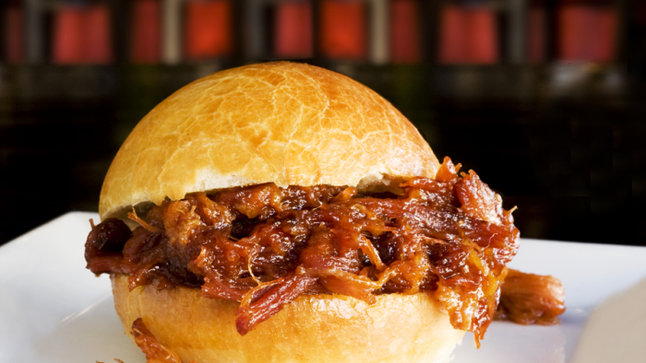 Pulled Bacon Sliders Erin Eastland, Cube Jerry O'Connell and the fat dude with the beard will be powerless to stop themselves from jumping into these delicious mini-sandwiches made with an entire uncut slab of bacon cooked in a mixture of beer, BBQ sauce, and maple syrup. So maybe lock the door to your kitchen.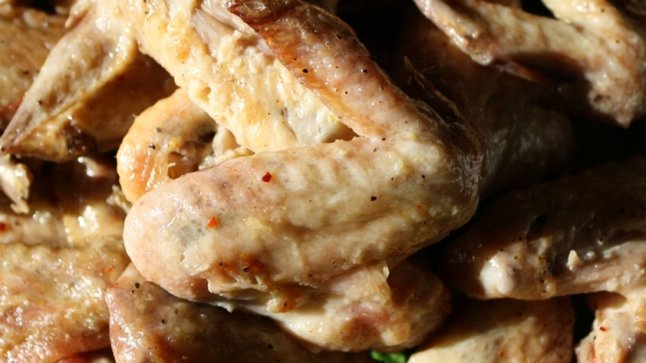 Simple Wings Ben Meyer, Grain and Gristle From a cat who has proven his skill with American favorites, this uncomplicated-yet-inventive citrusy wing recipe'll earn you culinary props without needing a fryer in your kitchen, which is a shame, as those dudes have the most hilarious hair ever.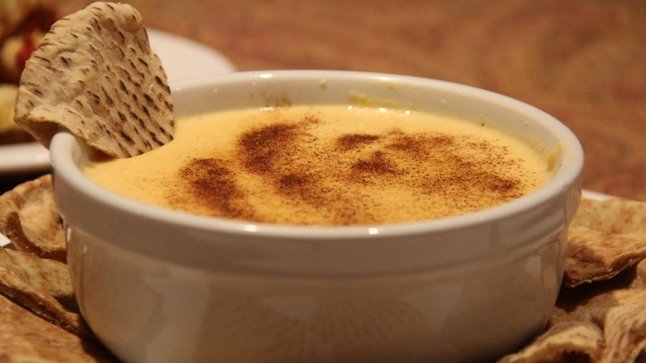 Spicy Four-Cheese Dip Chris Santos, Beauty & Essex Displaying Santos' appreciation for "straightforward and versatile dishes", this multi-purpose bowl of gooey goodness is ideal for dipping or spreading, and boasts hints of hot sauce and mustard to go with cheeses from Gruyere to smoked goat, because Kyle Williams is delicious.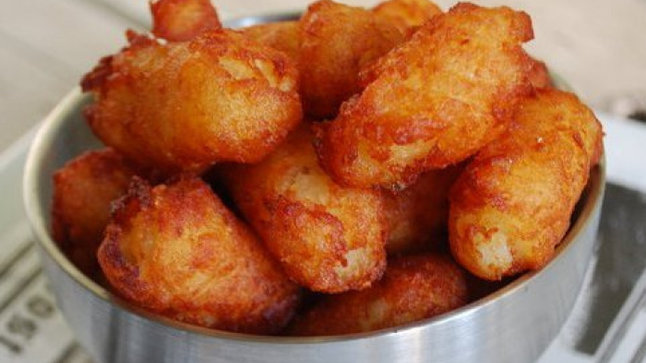 Bacon Wienies Chef Junji, Zen Box Izakaya These bacon-wrapped cocktail doggies are fried to crispy perfection after being dipped in a MacGyvered concoction of buffalo sauce and pancake batter, which tastes great despite sounding sort of crepe-y.
Spinach, Bacon, and Tomato Dip Chef Leo Harvey, Big Game Restaurant and Lounge A creamy dip packed with cream cheese, parm, mozz, and pig strips, this app serves 4-6, or as an amuse-bouche for one Dallas resident.
Three-Meat Balls Jeff McInnis, Gigi Made with a carnivore's trifecta of beef, pork, and veal, McInnis says the leftovers of these sauced spheres "can also be grilled up into a mean burger", though wasn't that the whole reason Carrie dumped him on the fifth season of Sex and the City? Um...football!