Whether you're rooting for the Seahawks or the Pats or that one puppy in the Puppy Bowl, you know, the one with THOSE PRECIOUS EYES, the only team that inarguably deserves a win on Sunday is your taste buds. So, to guarantee that outcome, we've put together a round-up of 12 easy-to-execute Super Bowl snack recipes submitted by rockstar chefs from 'round the country. With gorge-worthy goodness that ranges from pizza nachos and fried bacon balls, to grilled mac & cheese sammies and BBQ hot wings, the only thing getting upset will be your arteries. And your heart doctor.
Recommended Video
$1,000 Pizza Slice: Worth It?
Mat Clouser, chef, Swift's Attic (Austin, TX)
Impress the crap outta everyone at your "Oh! Oh! Oh! The Commercials Are On, Everyone Shut The Hell Up" party with this easy-grilling recipe for thick pork-shoulder ribs (which're closer to T-bones than baby backs) smothered in a dude-proof marinade that Swift's Attic chef Mat Clouser uses in his home kitchen.
Click here for a photo walk-through of the recipe...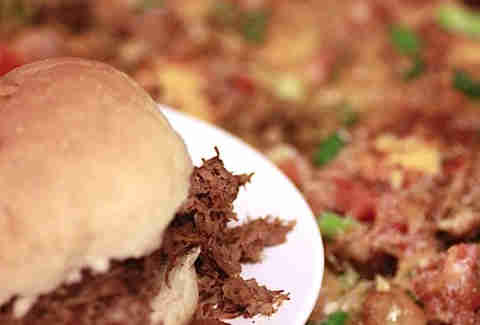 Jun Robles, chef de cuisine, Oven and Shaker (Portland, OR)
Add a little pig shoulder and belly to your pigskin with this Super Bowl recipe courtesy of Oven and Shaker's chef de cuisine Jun Robles, who we got to break down just how easy it is to serve your party a bucket of shredded hog you can plop down on nachos or sliders.
Click here for a photo walk-through of the recipe...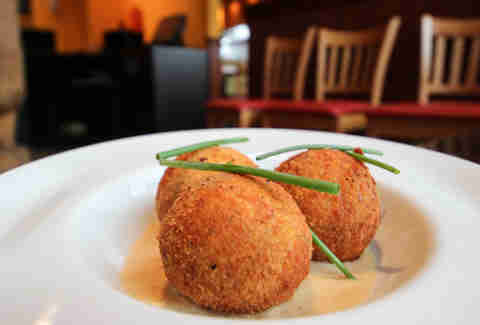 Will Artley, former executive chef at Pizzeria Orso (Washington, DC)
Mitt Romney insists there's some manner of sport being played Sunday, so just tell people you're inviting "the guys" over for "the game," and then cook up Will Artley's super-tasty mashed potato & bacon balls for yourself. Pigskin? More like pig out!!
Click here for a photo walk-through of the recipe...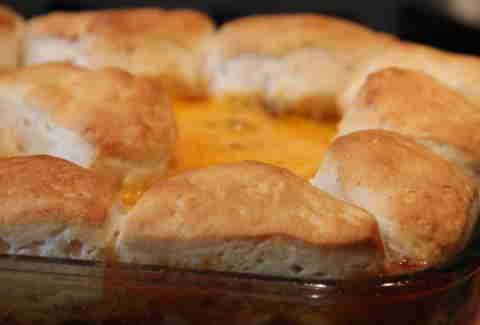 Jet Tila, chef/partner, Stir Market (Los Angeles, CA)
Not just what Billy Corgan said to Tequila when they broke up, Jet Tila's also the Iron Chef-approved Stir Market guy who's gonna make your Super Bowl the superest, thanks to this ultra-simple recipe that blends cheese, pork & beans, sausage, and more into a nutso, biscuit-based party dip.
Click here for a photo walk-through of the recipe...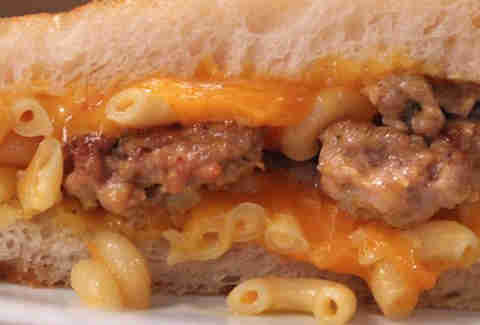 Emran Chowdhury, chef, Cantinetta (Seattle, WA)
This Super Bowl Sunday, make fun of all those losers who just bring single, boring, standard food items to the party by working up these Frankenstein'd grilled mac & cheese sandwiches from Emran Chowdhury of Cantinetta, which we've politely broken down in a handy step-by-step photo guide.
Click here for a photo walk-through of the recipe...
Danny Serfer, owner/executive chef, Blue Collar (Miami, FL)
This Super Bowl, forget the seven-layer dip, because it's really gross to mix multi-flavored Trident gum with beans and stuff. Do this instead: listen to Blue Collar head honcho Danny Serfer, and make his crazy-easy recipe for show-stopping sausage, beer & blue cheese mussels.
Click here for a photo walk-through of the recipe...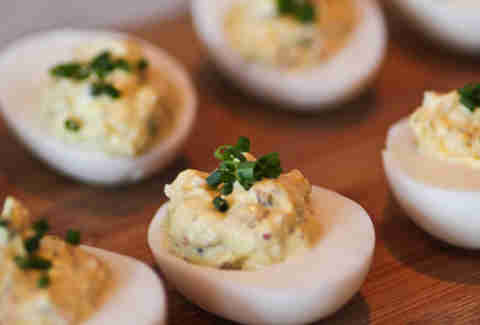 Justin Brunson, owner/executive chef, Old Major (Denver, CO)
Old Major's J. Brunson agreed to create a pork belly "wings" recipe so good you'll be Raven about it to everyone. Even though the Ravens aren't in the Super Bowl. But still, you get it, right?
Click here for a photo walk-through of the recipe...
Rachel Freeman and Liz Childers are on Thrillist's National Eat and Drink team. Rachel knows nothing about football, but is extremely passionate about dip, while Liz is from Alabama, so she thinks only college football matters and everyone can ignore Nick Saban's pro record. Follow them on Twitter at @rachelifreeman and @lizchilders1.