We tried KFC's secret Chick-fil-A knockoff
All photos by Jason Moore
While you were going about your everyday life working and spending gift certificates at Party City, KFC -- in true ninja fashion -- opened up a restaurant dubbed "Super Chix".  This (semi)-secret chicken shack is some sort of combination of Chick-fil-A, Five Guys, and Chipotle. The Chick-fil-A vibe comes from the menu, they only have two real "entrée" items (chicken sandwich and tenders); Five Guys comes into play because, at the entrance, you'll see the products they use in their food -- the pickles, buns, and fresh potatoes for their hand-cut fries; and their Chipotle-ness is all thanks to their fresh products and ingredients. On their site, one of the founders said, "We left out the junk, we used ingredients everyone can pronounce, and we decided every order would be cooked to order."
So yes, they talk a big game, but is it legit? Let's find out:

The sandwich
The bun has a nice semi-homemade vibe going on, they give you plenty o' options for toppings, and they're all FREE, so you can unashamedly stack your sandwich high with bacon, cheese, jalapeños, haystack onion strings, three types of pickles (hot, sweet, and kosher), and four types of sauce (signature, honey mustard, smoky honey pepper, and Sriracha sweet and sour).

The French fries
The fries were hand-cut, which you would know even if they didn't tell you, because, when they were running low on potatoes, it sounded like a murder was going down in the back while they chopped them up. But, anyway, after the potato murder, they came one of three ways: regular, sweet, or rosemary and black pepper, which were silly good.
The chicken strips
The strips were mostly meat with a thin, not too crisp, but flavorful batter. Not too much grease. Definitely dip them in that smoky honey pepper sauce. DO IT.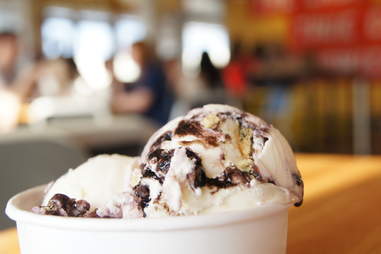 The custard
Then came the custard... it was like frozen, golden, velvety crack. They have a rotating daily flavor that they make on-site that's there until they sell out. But you can also get vanilla and add in toppings like you would with a Blizzard at DQ.
Salads
They also have a few salads...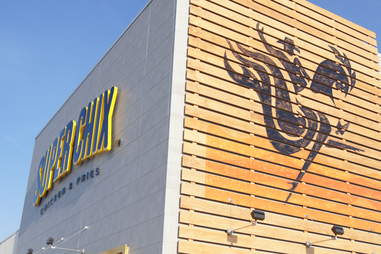 Bottom line: It is indeed very legit. Be wary, Chick-fil-A. Be very wary.