The Best-Rated Mexican Chain in America Isn't Chipotle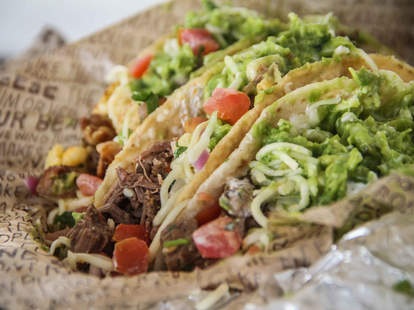 Chipotle enjoys a rabid fandom that includes plebeians and presidents, but shockingly, it's not the people's choice for Mexican food. In a recent Consumer Reports survey, Rubio's Fresh Mexican Grill actually emerged as the top-rated Mexican chain in America -- and that place doesn't even have four-meat treats.
Consumer Reports polled 32,400 subscribers about their favorite chain restaurants in the nation. The competition in the Mexican category was stiff, but California-based Rubio's edged Chipotle out by a point for the highest customer rating. Third place then went to Qdoba, fourth to Baja Fresh, and fifth to Moe's Southwest Grill. (Taco Bell also made an appearance, albeit at the less-impressive #8 slot.)
So how did Rubio's take down a giant? As Seattlepi.com points out, while Rubio's only has 190 locations to Chipotle's 1,700, they've been in the game for 10 years longer. And more importantly, they've cultivated a serious rep around their fish tacos, an item that Chipotle doesn't even offer. Here's hoping Chipotle corrects that glaring mistake in 2015, or that Rubio's finally expands past Colorado. The East Coast is hurting for some lime-tinged Alaska pollock.
Kristin Hunt is a Food/Drink staff writer for Thrillist, and loves her some fish tacos. Follow her at @kristin_hunt.