We Tried the New Swedish Fish-Flavored Oreo Cookies
Lee Breslouer/Thrillist
Lee Breslouer/Thrillist
Oreo with Swedish Fish creme filling might not be an obvious flavor combo like Oreo and Reese's, but maybe that's because one is a Swedish-ish food and the other is American as Oreo Pie. Just kidding: they're both owned by the Deerfield, IL-based Mondelez, and this new cookie is pure American corporate synergy.
Thing is, sometimes corporate synergy can be delicious -- the Doritos Locos Tacos at Taco Bell proves that -- and sometimes it can be... not delicious. Let's see how these new Oreo cookies fare.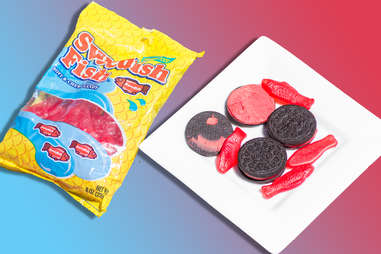 What it tastes like
Smell is an important factor in our enjoyment of food -- along with whether or not people look at our Instagrams of it -- and this Oreo lost a ton of points straight out of the gate. The smell was overpowering, and not in a good way; instead, it was like I accidentally spilled a bottle of cherry Benadryl on my kitchen counter.
Taking a bite of the cookie, the Swedish Fish flavor wasn't front and center. I only got chocolate in the finish. And if I thought it smelled like cough syrup in my kitchen a minute ago, after I ate a cookie, I couldn't get the cough syrup taste out of my mouth. On the plus side, it reminded me of that fantastic Young the Giant song "Cough Syrup."
Oreo Swedish Fish vs. actual Swedish Fish
If you're saying to yourself, "This guy is a hater who hates Swedish Fish, and therefore that's why he hates this cookie," well, I've got news for you, my fake friend: I don't hate the fish, and to prove it I bought a bag to compare to the cookie counterparts.
The cough syrup flavors are not present in Swedish Fish -- it's like eating a mellow, fruit-flavored gummy bear that looks like a fish. It's a taste and sensory experience that makes you want to eat them slowly while watching a crappy superhero movie. The Oreo cookie does not deliver on the Swedish-Fish promise, and they'd be super-annoying to eat at the movies. So many crumbs!
Are the Swedish Fish Oreos worth buying?
No. No, they are not. And they might be difficult to track down -- you can only buy them at the Kroger family of supermarkets (I found mine at a King Soopers). If you're still jonesing for an Oreo or Swedish Fish, I recommend buying a box of Oreo Minis and a bag of Swedish Fish. You're welcome.
Sign up here for our daily Thrillist email, and get your fix of the best in food/drink/fun.