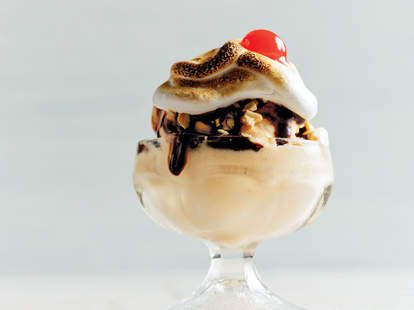 To Make the Perfect Ice Cream Sundae, Grab This Vegetable
This is Cookbook Club, a place where we flip through the best new cookbooks to find the recipes and stories that you need in your life.
When it comes to sweet potatoes, most people think of eating it just three different ways: roasted, fried, or in a pie. But Mary-Frances Heck, a recipe developer who has spent years in the test kitchens of many prestigious magazines, is hoping to change all of that with her new cookbook. Called, well, Sweet Potatoes, the book is an ode to the underrated versatility of the orange root vegetable. 
"Sweet potatoes are the perfect food," Heck says. "You can cook them pretty much any way. You can do everything with a sweet potato and I wanted to explore that." And explore it she did. The book is filled with recipes that transform the humble, nutrient-dense sweet potato into everything from a creamy cacio e pepe to fluffy biscuits to hearty, meat-free tacos.
"Sweet potatoes are the perfect food."
"I didn't need to tell people how to make a better sweet potato pie -- their grandma already has the best recipe," Heck says with a laugh. "This book is the 2.0, a modern exploration of what the sweet potato can do and be." The orange tuber is also one of the most affordable "superfoods" on the market, which is important to Heck. "They are super accessible and nutritious," she adds. "Anyone can find them and eat them and get the benefits. It's not a superfood that most people can't afford."
Heck, who cooked through "600 to 700 pounds" of sweet potatoes to create the book, says one of her favorite uses for the sweet potato is in ice cream. While there is half a pound of the orange stuff in the mix, the ice cream doesn't taste like pureed vegetables (nor is it particularly orange). Instead, the sweet potato is there to act like a thickener while also offering a pleasant, mild sweet potato flavor that's reminiscent of Thanksgiving but delicious during any time of the year.
Heck likes to top off the ice cream with a hefty dollop of torched marshmallow fluff -- a step we highly recommend following. Save the whipped cream for a less exciting sundae. Get the recipe for Sweet Potato Ice Cream below.
Sweet Potato Ice Cream

Yield: Makes about 1 quart
INGREDIENTS:
1 medium sweet potato (about ½ pound), peeled and chopped
1 cup whole milk
2 cups heavy cream
½ cup honey
½ cup packed light brown sugar
1 teaspoon vanilla extract
½ teaspoon kosher salt
½ teaspoon ground cardamom (optional)
½ cup toasted, chopped cashews (optional)
Marshmallow crème
Maraschino cherries
DIRECTIONS:
Make the ice cream base: Combine the sweet potato, milk, and cream in a medium saucepan. Set over medium heat and bring to a simmer. Cook until the sweet potato is very tender, about 15 minutes. Pour the mixture into a blender and add the honey, brown sugar, vanilla, salt, and cardamom, if using. Process until very smooth, about 30 seconds. Refrigerate the ice cream base until it is very cold and there are no visible bubbles in it, at least 4 hours but preferably overnight.

Churn the ice cream in an ice cream maker according to the manufacturer's instructions.

When the ice cream is frozen, scoop it into a loaf pan and smooth the surface. Cover with plastic wrap and freeze until solid, at least 2 hours.

With a warmed scoop, dip scoops of ice cream into serving dishes. Top with hot fudge, cashews, and marshmallow crème and toast with a kitchen torch. Finish with a cherry.
Sign up here for our daily Thrillist email and subscribe here for our YouTube channel to get your fix of the best in food/drink/fun.
Khushbu Shah is a Senior Food Features Editor and would extremely love some sweet potato fries right now. Follow her cravings on Instagram.