Taco Bell is FINALLY rolling out Waffle Tacos nationwide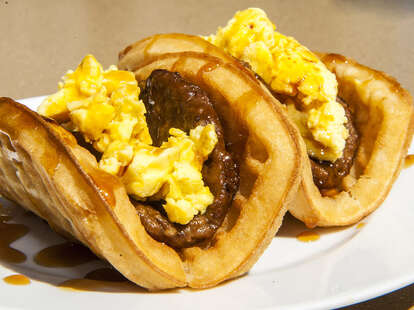 First we watched as the Waffle Taco hit LA. Then Fresno, Chattanooga, and Omaha. With every new city, our hunger grew as we anticipated the moment when our fingers would become sticky with Taco Bell in the morning. That moment is soon upon us: T-Bell is rolling out breakfast across the entire country starting March 27th, meaning you can get the Waffle Taco, the A.M. Crunchwrap, and Cinnabon Delights from 7-11am ANYWHERE IN THE UNITED STATES (sometimes even earlier, depending on the franchisee!). Get ready for Firstmeal.
The Waffle Taco is a straightforward offering, but for those not familiar with the A.M. Crunchwrap, it's like a typical grilled tortilla Crunchwrap, except for the fact that it's stuffed with fluffy scrambled eggs, a hash brown, melted cheese, and your choice of bacon, sausage, or thick-cut steak. We could get used to this.
Also available will be breakfast burritos, tacos, hash browns, premium coffee, and orange juice. The nation asked, and T-Bell delivered. Now if only they'd actually start a delivery service.
Adam Lapetina is a food/drink staff writer at Thrillist, and wholeheartedly believes that the best things in life are fried. Read his musings on Twitter at @adamlapetina.