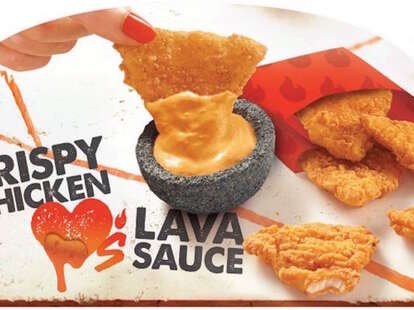 Taco Bell is intent on taking chicken to limits no fast-food purveyor has ever reached. Aside from the obvious choice of putting it inside of its tacos, the chain has also gone the more unusual route of using it as a taco shell -- similar in vein to, um, creative dishes we've seen from KFC in the past. Now, Taco Bell has gone and warped chicken into... chips. Yes, the kind that you dip into questionably yellow nacho cheese.
The new creation, called the Crispy Lava Chicken Chip, was first spotted (and immediately uploaded to the internet) back in August. But it looks like Taco Bell is currently testing the product in Knoxville, Tennessee and possibly gearing up for an imminent nationwide rollout, according to Brand Eating.
The original uploaded menu screenshot signaled that the already spicy chicken chips would be paired with Lava Sauce, a discontinued (but beloved) fiery dip from Taco Bell's defunct Volcano Menu -- which in itself is big news for fans of the fast-food Tex-Mex chain.
In addition to being sold solo, they'll also come inside a Volcano Chickstar -- which is just a Crunchwrap loaded with the chips and Lava Sauce.
What will Taco Bell chicken-fy next? My money is on the ice cubes in the soda machine. Imagine: a cup of Mountain Dew, chock-full of ice-cold fried chicken cubes.
OK, that might be a little too much.
Sign up here for our daily Thrillist email, and get your fix of the best in food/drink/fun.
Wil Fulton is a staff writer for Thrillist. He actually blames Gwyneth Paltrow for most of the world's problems. Follow him @wilfulton.