The 7 best Twitter reactions to the Taco Bell Grilled Stuft Nacho's demise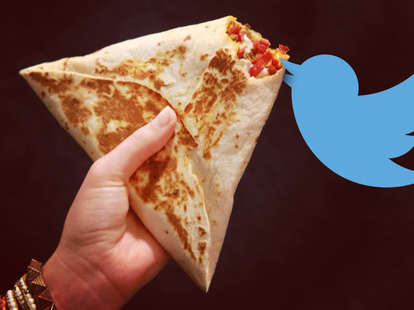 Taco Bell
Taco Bell
Though it remains the object of affection for desperate, snowed-in Craigslisters everywhere, Taco Bell inspired some serious outrage when it announced the end of the Grilled Stuft Nacho. Stuft supporters took to Twitter to voice their displeasure, alternately breaking their caps lock and prompting concerned calls from family members. Check out seven of their best reactions right here, then go give your grieving friends a hug.
7. They made serious threats.


6. They preemptively billed Taco Bell for their shrink sessions.


5. They cried out for IMMEDIATE shrink sessions.


4. They consoled their even more distraught friends.


3. They worked through their emotions with illustrations.


2. They tried to find the silver lining.


1. They invoked the Illuminati, obviously.

Kristin Hunt is a food/drink staff writer for Thrillist. Some of her strongest friendships are built on cheeseburg ers. Follow her at @kristin_hunt.