Is Taco Bell making a Fritos Locos Taco?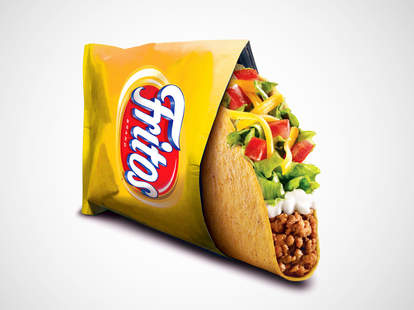 Taco Bell has a way of making everything more exciting -- even stuffy investors presentations. At one such meeting this Thursday, TBell parent company Yum! let it drop that a Fritos taco could be on the horizon, in the form of a sneaky PowerPoint slide.
As Business Insider pointed out, a slide on "innovation" from the presentation featured a hardshell taco cryptically packaged in a Fritos bag. The picture is identical to the promotional images Taco Bell uses for the DLTs, so it's heavily implied a Fritos spin is up next. When asked about the slide, all a spokeswoman offered was that Taco Bell is "constantly innovating and testing new concepts". But considering the A.M. Crunchwraps, Quesaritos, and Biscuit Tacos they tested this past year alone, trying out a FLT isn't much of a stretch. Stay tuned for updates in 2015, which is already shaping up to be quite the chaotic year for fast food.
Kristin Hunt is a Food/Drink staff writer for Thrillist, and expects a Funyuns taco by 2016. Follow her at @kristin_hunt.