Since October 2016, I've been subjecting my innards to the gastrointestinal equivalent of an American Ninja Warrior obstacle course. The challenge: to order and eat at least three bites of every food item available on Taco Bell's gargantuan menu.
I'm doing this for you, dear readers. And also, in remembrance of that Taco Bell Chihuahua, which, along with the cast of canines featured in Homeward Bound, Wishbone, and Beethoven, has almost certainly passed away by now. Yes, life is sad. At least we have Taco Bell.
I'll be updating this ranking whenever Taco Bell adds or subtracts from its official menu, which is surprisingly often.
Recommended Video
RIP to 9 of Taco Bell's Fan Favorites on the Menu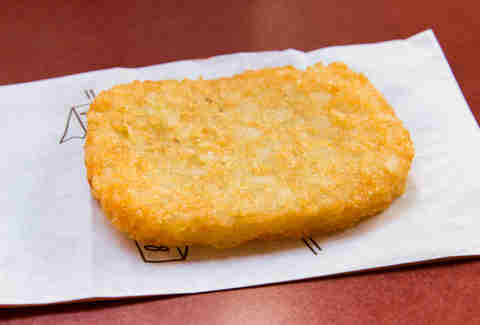 54. Hash Browns
It's Taco Bell. You didn't come here for potatoes.
53. Caramel Apple Empanada
Taco Bell's riff on the fast-food apple pie comes up a little flat. And by flat, I mean rounded, and glazed with melted Jolly Ranchers.
52. Sausage Flatbread
I don't take my sausage lightly. This is the only sausage-based dish on the menu, which means The Bell doesn't have the true sausage focus that I require from my sausage-sellers, personally. Plus, there are just so many other meats to consume -- focus on those.
51. Cheesy Roll-Up
This really reminded me of when I used to put a bunch of cheese in a tortilla and microwave it for three minutes when I was home alone as a kid. Kevin McCallister probably made these when he finished that lovely cheese pizza, just for him.
49. Black Bean Burrito
A vegetarian dish of black beans, rice, and a three-cheese blend that's not the least bit bad at all, it's just pretty boring -- and way too cheesy. So, it's hard to care about it. It's like the Mexican fast-food equivalent of How I Met Your Mother. 
48. Nacho Fries
The much-hyped debut of Taco Bell's first foray into the fried potato game wasn't so much a letdown as a curveball. Remember what I said all the way back at No. 54? You don't come to Taco Bell for taters. The fries are... fine. They aren't the best fast food spuds, and certainly not the worst. But they don't have anything truly Taco Bell-ian about them. I wish they were spicier. I wish they were caked in Dorito crumbs. I wish... well, I wish a lot of things. There are better sides to be had here. Leave the fries to the burger guys. 
47. Nacho Fries Supreme/BellGrande
The Supreme designation means copious amounts of melted cheese and ground beef atop the aforementioned nacho fries. BellGrande takes all this fast food Mexican hedonism, and delivers it in a larger, more loaded portion. Better than the standard, still not better than 46 other menu items. Which is good and bad news, I guess.
46. Rattlesnake Fries
Truth be told, the distinguishing line between the nacho fries and its more recently released spicy sibling mostly comes down to how you feel about copious amounts of jalapeño. We feel good about them, but not so good that these are about to overtake the other classics below, even if you order them in burrito form, which you can!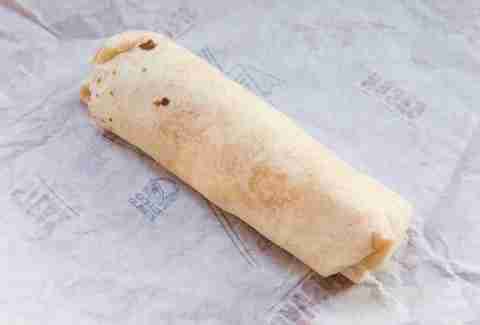 45. Grilled Breakfast Burrito
Somehow, what should have been the flagship of the Bell's breakfast menu doesn't quite get me like the rest of the AM offerings.
It's eggs, nacho cheese, other cheese, and breakfast meat -- sounds great, right? But overall it just doesn't sing to me. Luckily, Taco Bell is not a fixed menu! So you can choose! God bless America! And Mexico, too, I guess.
44. Bean Burrito
This is just a burrito filled with beans. It's like the "slappers only mode" (GoldenEye reference!) of the Taco Bell menu.
43. Cheese Quesadilla
And this is the bean burrito of the quesadilla quadrant.
42. Cheesy Potato Burrito
Though potatoes aren't TB's main game, they mix well with egg and cheese. But, there's a very similar item -- with a little more oomph -- later on in the rankings.
41. Shredded Chicken Burrito
This is one of those rare Taco Bell items that seemingly could appear on the menu of a more upscale Mexican restaurant. But... it almost seems like it's trying too hard to be "authentic," and missing what makes Taco Bell great in the first place: loading variations of Mexican food with literally anything that would make it taste better. When The Bell purposefully shows restraint, or tries to get fancy, it loses that magic.
40. Combo Burrito
This begins what I like to refer to as "Burrito Limbo," where a glut of remarkably similar burritos glut up the middle of the rankings. They are good enough to be enjoyable, for sure -- but not special enough to stand out from the tortilla-wrapped pack. 
This one, for example, is just like a beef Burrito Supreme, with red sauce, and no lettuce or tomatoes. It's like the Grillers (more on them later) in burrito form. I'm not sure why you would choose this over a regular burrito, unless you maybe thought there would be Combos in it.
39. Cinnabon Delights
There are malls/airports for these.
38. Beefy Fritos Burrito
After a solid-gold partnership with Doritos, Taco Bell is taking its snack food/fast food alchemy to Fritos -- the corn-based chip-thing that you may recognize from the floor of your mom's minivan -- with this burrito loaded with (you guessed it!) Fritos. Obviously, this isn't bad. But it's certainly not a game-changer like the Doritos Locos Taco. And it seems like, overall, the Dorito's flavor just works better with what Taco Bell is putting out there. The Fritos make the burrito extremely salty, almost unpleasantly so. In fact, I need a tall glass of Baha Blast just thinking about it...
37. Breakfast Crunchwrap California
This item is 100% dependent on the promise of TB's guac. Which isn't exactly handmade table-side in one of those cool volcanic-rock bowls. So alas, this is as far as it can go.
36. Beefy 5-Layer Burrito
It's like the Taco Bell lab made this specifically to cater to people who swore off vegetables because they lost a bet in middle school. It's so dense, you can hammer a nail with it. 
Still, it's worth at least one order. Just don't make plans for the upcoming week.
35. Power Menu Bowl
This bowl version of the Power Burrito comes off a little more well-rounded... and for some reason it feels healthier. So if you really want to go to Taco Bell and strive to indulge in health, this is your best bet.
34. Chipotle Chicken Loaded Griller
These Grillers are super-cheap, scaled-down versions of the grilled burrito -- with only meat, sour cream, and chipotle sauce, in this case -- but they ended up being one of the biggest surprises on the list. I had never thought to order one (frankly, I didn't know what the fuck they were) but they are like little Taco Bell Twinkies, which, to paraphrase Martha Stewart, is a good thing.
33. Breakfast Soft Taco
This is where Taco Bell's certainly underrated, upstart breakfast menu starts to shine. Where the breakfast burrito somehow falters, the other Mexi-breakfast stalwart shines.
I'm not sure why the taco fares better -- it's just eggs, bacon, and cheese -- but I think it lends its relative success to the beauty of the soft shell. Which will obviously be further addressed, soon.
32. Cheesy Fiesta Potatoes
Taco Bell's new vegetarian-but-still-wildly-unhealthy side translates directly to "Cheesy Party Potatoes." And, to be frank, it was a like fiesta in my mouth... but only I was invited. Which was fine, because I didn't want to share these thick-cut taters covered in cheese and sour cream with anyone. Yes, they are super basic -- they're pretty much something that a latchkey kid would make in the microwave after school. But as a Mexican fast food equivalent to french fries, it gives the entire menu a facet it was sorely lacking.
31. Beefy Mini Quesadilla
This new Dollar Cravings item is a wee little quesadilla, stuffed with a three-cheese blend, chipotle sauce, and -- in this case -- beef. It's only a dollar, and ultimately it tastes exactly how you imagine it. Which is to say, a little bit spicy, definitely messy, and overall very satisfying -- especially at this price point. It's a great alternative to a soft taco if you want the same taste in a friskier package.
30. Spicy Tostada
For the wholly uninitiated, the Spicy Tostada is kind of like a mini Mexican Pizza, sans meat. But good news! You can add as much meat as you like (for a small fee -- again, Taco Bell's menu is infinitely customizable). This is another new addition to the Dollar Cravings menu, it totally nails the basic-but-great overall charm of their revamped budget menu. If you want something with a Mexican Pizza vibe but don't want that much food, Taco Bell has answered your fast-food prayers.
29. Quesarito
The Quesarito is an unholy blend of a quesadilla and a burrito (I literally just got that name this second) that isn't half bad. But in my opinion, it's better to do one thing fully right, than two things halfway.
28. Burrito Supreme
This is your basic Taco Bell burrito. And it is just that. Basic. Never settle, in life, love, or fast food.
27. Meximelt
What would be the perfect name of a Lucha Libre-themed ice cream parlor ends up being a pretty solid purchase from Taco Bell. It's like a steamrolled taco, with massive amounts of cheese. And it almost packed enough melty punch to squeeze into the top 25.
26. 7-Layer Burrito
Right here -- at 25! That's saying something -- is where it gets hard to rank because things start to get really good. The 7-Layer Burrito is a hedonistic fast-food classic. Taco Bell describes it "... like that 7-floor city apartment you lived in right after college."
And it's true. It's pungent, cheap, noisy. It's the most fun you never want to have again. It's loaded with almost everything found on any burrito variety -- but it's just a little too much.
25. Mini Skillet Bowl
This is just a lil' guy. It's super cheap, full of eggs and potatoes and a meat of your choice. Inexplicably, the taste gets amplified once it escapes its soft shell -- much like the Power Bowl. If you are looking for a bread-free option (aside from nachos, of course) this is your safest wager. 
And I'm really not sure why. This is one of life's great mysteries. Like, how microwaves work. Or how James Franco keeps getting acting jobs.
24. Beefy Nacho Griller
Beef is the better Griller, but still not the bestest.
23. Grande Scrambler
This. This is what that breakfast burrito should be. It's eggs, steak, cheddar cheese, cheddar, pico, and sour cream. It's loaded to the burrito-brim. If you close your eyes and hum some acoustic Santana, you can almost picture yourself in a San Diego cafe. Or maybe just a fancier Taco Bell. They exist, you know.
22. Gordita
In Spanish, the word "gordita" translates directly to "chubby girl." Truth be told, that's what you feel like after eating one. And that's a good thing. The only problem here is that this Gordita is remarkably similar -- but inferior -- to our next entry. 
21. Chalupa
The Gordita is like a taco, except with a big, fluffy outer shell. 
The Chalupa is exactly the same, except the shell is fried, giving off a distinctly donut-y taste. Obviously, you can see why I opted for the Chalupa here.
20. XXL Grilled Stuft Burrito
The only thing more interesting would be a XXX burrito, but then children wouldn't be allowed in Taco Bell. Which makes me also ask: why doesn't Taco Bell have a kids menu? Maybe because all the food is kid's food?
At any rate, this burrito is pretty good. It's also massive. In fact, it's too massive. The extra X is for the x-ray you'll need to get on your heart, post burrito.
19. Loaded Potato Griller
In a shocking upset, reminiscent of Super Bowl 42 (Giants v. Patriots, 2008), the ultimate Griller (the underdog, already) ended up being the Loaded Potato Griller -- abundance of potatoes notwithstanding.
How the hell did this paradoxical mindfuck happen? I'm not sure. But when you really find yourself loving an item at Taco Bell -- like when you watch a helmet-catch -- it's best not to ask questions, and just enjoy the moment.
18. Doritos Cheesy Gordita Crunch
The first item to include Doritos on this list, which is important.
By stuffing a Loco Taco shell inside the girthy Gordita, you essentially have what should be one of the most amazing fast-food experiences of your entire life. Instead, you have too much of a good thing -- Taco Bell excess to the ultimate extreme. It requires a specific mood. A certain mindset. It's like watching every Star Wars movie back-to-back-to-back-to-back (fuck the prequels). Basically, if you want a piece of this sucker, be ready to submit your entire day to it.
17. Spicy Potato Soft Taco
Aside from a certain stalwart dessert (that we'll get to momentarily), the spicy soft taco is the best vegetarian thing on the menu. Basically, it's a soft taco with same awesome spicy potatoes in the Fiesta Potato side dish swapped in for meat. Honestly, this might be the dish that gets your herbivore friends to finally embrace Taco Bell... or, a solid option for the contingency of people out there who like the Taco Bell taste, but just don't trust fast-food meat.
16. Crunchwrap Supreme
The Crunchwrap has quickly risen up the Taco Bell totem pole to become a modern day fast-Mexican classic. It's like a burrito, in Frisbee form.
The sole reason it's not higher on this list, is because there is a better version of the Crunchwrap, lurking low-key on the breakfast menu...
15. Fiery Doritos Locos Taco
Our second Doritos-laced taco-thing only falls because it's not as hot as it's advertised to be.
In fact, it's barely hotter than the regular nacho cheese taco -- which tastes better anyway. Look, if you pretend to be something you are not, people will see through the bullshit. Remember what happened to Lance Armstrong? And Stretch Armstrong? And Neil Armstrong... the jury is still out for him.
14. Hard Tacos
Generally, I believe the hard taco (in general) to be severely underrated in almost all regards. 
However. The Taco Bell hard taco has a propensity to get soggy, super fast (if you are getting these to-go, you should eat them in your car). And, when they are not soggy they are super sharp. Like, carve-out-the-roof-of-your-mouth sharp. And no one expects pain with their Taco Bell. Well, at least not at first. Bottom line: if you want a hard taco, opt for the Doritos shell. It's more worthy of your mouth pain.
13. Fiesta Taco Salad
It's like a party in my salad, and everyone's invited.
12. Rolled Chicken Tacos
The prodigal taco returns. These fan-favorite tubular tacos (which are essentially taquitos) were tested back in 2014 and made their triumphant comeback to the main, nationwide menu. If crunchy rolled chicken tubes aren't enough reason to opt into these suckers, they are designed to be paired with Taco Bell's reshuffled line of dipping sauces, including spicy ranch, nacho cheese sauce, and guacamole. I'm going to deliver a hot take here, and say these RCT's are Taco Bell's version of chicken nuggets -- now that the extremely good (but also temporary) Fried Chicken Nacho Chips have left the menu.
11. Cool Ranch Doritos Taco
This is definitely a more distinct taste than the Fiery version... it just doesn't hit the same notes as the original. But it works well enough to be within sniffing distance of the coveted top 10.
Fun fact: "Cool Ranch" is commonly referred to as "Cool American" in Europe. So technically, you're ordering a Cool American taco. Patriotic, right?
10. Double Cheesy Gordita Crunch
This is basically an extra-beefy, extra-cheesy rendition of the longtime favorite Cheesy Gordita Crunch (more on that later), and while it can be argued you can't have too much of a good thing, this thing is ALMOST a little much. It's still excellent, but the extra layer of beef lessens the crunch factor a little, preventing it from eclipsing the original.
9. Double Decker Taco
Ahh the Double Decker Taco. It's the perfect solution for the indecisive taco lover, and the best of both worlds: hard and soft. Overall, there's absolutely nothing wrong with what the Double Decker has going on -- but alas, it's just not the best thing going on, overall.
8. Nachos Supreme/BellGrande
The Nachos Supreme and Nachos BellGrande (basically, the Supreme soaked in melted cheese) are two of Taco Bell's big hitters.
Is there really any more Taco Bell-ish dish than the nachos? It's just a big old pile of everything you want to sloppily fill your face with, like its best burrito, de-constructed. If you want the quintessential TB experience -- with a little twist -- this is what you order.
7. Breakfast Crunchwrap
This was surprising for two reasons:
1. It is way better than the normal Crunchwrap.
2. It's definitely the best thing on the breakfast menu.
Again, this is another instance of the hash browns being a team player, and making something greater than the sum of its parts. The HB -- along with eggs, cheddar, bacon, and an absolutely stunning jalapeño sauce -- round out this angular, edible ode to fast, cheap breakfast. I'd eat one every morning if I could, but my doctor told me I definitely cannot.
6. Cheesy Gordita Crunch
While the flavor-blast of the Doritos Gordita is a little too overwhelming, the Cheesy Gordita Crunch is the ideal amount of culinary ridiculousness -- the kind of sideshow hodgepodge that made Taco Bell the rare fast-food chain that is still doing experiments that people care about for more than a news cycle.
5. Cinnamon Twists
When I was 6 years old, I did not like Taco Bell... for some reason. Who knows? I did like to eat dirt at that age, so my palate was obviously fucked. 
But what I did like were these Cinnamon Twists, which have been around basically as long as The Bell has. When I bit back into one during this quest -- my first in many, many years -- I remembered that Taco Bell can do dessert well. It's been doing it for years. They are like stale little churros. And I mean that as a massive compliment.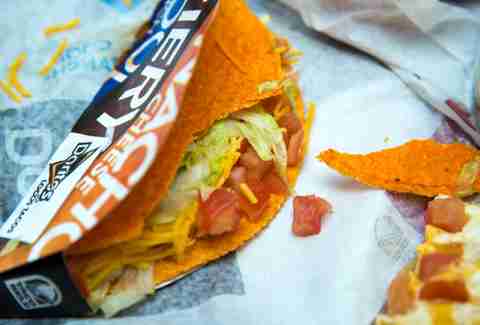 4. Nacho Cheese Doritos Locos Taco Supreme
Witness: the taco that launched at least 1,000 stony bologna trips to the Taco Bell drive-thru. This is fast-food experimentation at its absolute peak -- stunt food with some real, lasting value.
After the gimmick wore off, the truth shone through: Doritos and Taco Bell were just made for each other.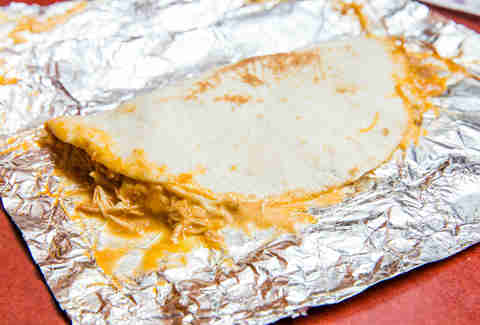 3. Shredded Chicken Mini Quesadilla

All you have to know about this thing is that it looks gosh darn horrible, but it is honestly one of the best things on the menu. A+ addition by Taco Bell. Blindfold optional.
2. Mexican Pizza
This is the true goddamn wildcard. A dark horse, soaked in fuego sauce. It's not very pizza-like, to be honest. But it is a direct display of Taco Bell's strengths. It's serving up a massive plate of cheese, meat, crunchy stuff (?), and liberally drizzled sauces in such a convincing fashion, you don't even bother to question what it is, or why you are eating it. 
The Mexican Pizza is Taco Bell, encapsulated in one little disc of pure fast-food bliss. And only one item could possibly top it.
1. Soft Taco
It's not Gordita Bell. Or Burrito Bell. And it's definitely not Hash Brown Bell. 
It's Taco Bell. And anything else in the No. 1 slot would be straight-up sacrilege. 
It's simple. It's uncomplicated. And it will be devoured by the time you leave the drive-thru. Small enough to snack on, but when multiplied, definitely worthy of an entire meal. It's like the girl next door of the Taco Bell menu -- like, everything you've ever wanted in fast-food Mexican, and it's been sitting right in front of your eyes this whole time. It's the Topanga of tacos. And the Topanga of anything deserves respect. Especially Topanga, herself. I wonder what she's up to now?
Sign up here for our daily Thrillist email, get Eatmail for more food coverage, and subscribe here for our YouTube channel to get your fix of the best in food/drink/fun.