We tried Yum! Brands' new banh mi shop
The company behind Taco Bell, KFC, and Pizza Hut recently opened an upscale version of TBell -- a concept called U.S. Taco Co. that's completely unrelated to that guy on The League. But they weren't done introducing new restaurants, as a few days ago, they opened up a completely new idea called Banh Shop.
We sent our Dallas-based writer to try out their banh mi and report back. Here's what he thought:
The concept and menu
Vietnamese sandwiches are delicious, and Taco Bell's parent company is betting everyone in Dallas -- and maybe the rest of the country, if they expand the concept -- will agree. They feature a small, focused menu of eight banh mi, a few wok bowls, soups, salads, and a smattering of side dishes.
I tested out three of the sandwiches and a side dish.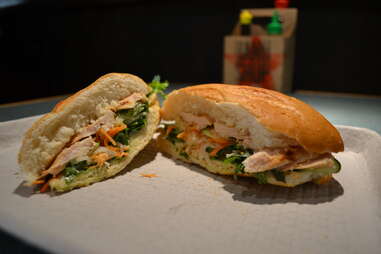 Coconut chicken breast
The complexity of this sandwich is best described as a burst of flavors all fighting to get noticed. First, the tender, sliced chicken marinated in chili-coconut stung my tongue, but then gently apologized by providing a sweet taste of coconut. The chargrilled smokiness left me with an earthiness just before cooling me off with cucumber aioli.
You're playing with my taste buds/emotions, coconut chicken breast, and I love you for it.
Grilled pork meatball
This reminded me of a Texas sandwich done "Vietnamese style", and I think the outcome is rather tasty. The black pepper gives the minced pork a bite, and the sweet Vietnamese caramel glaze has a certain BBQ sauce essence to it. The honey-garlic aioli adds a nice finish. I devoured the whole thing and needed a Wet-Nap to wipe the caramel glaze off my face. Worth the effort.
Grilled steak
This was my favorite sandwich on the menu. The marinated sirloin steak is slightly spicy, bold, and hearty. The chargrilled honey-caramel glaze gives it warmth, while the cucumber-cilantro aioli adds balance. A friend of mine referred to this as a "manwich". I have to agree (Tim Allen grunt).
Saigon "street stall" corn cup
Because side dishes can make or break a meal, I ordered the one that caught my eye. This corn in a cup is essentially Mexican elote, in a good way. The corn is served warm, and is covered in red pepper and Saigon sauce (coconut milk, butter, nuoc mam), which lends just the right amount of spiciness. Pairing a banh mi with this is a no-brainer, like when they ask you if you want guac at Chipotle.
And of course you want guac. You always say yes to guac.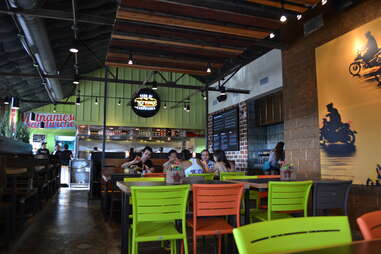 The verdict
This is a concept that could do some serious work nationally -- banh mi is a nice counterpoint to the Mexican and burger fare clogging our nation's highways, byways, and arteries.
Although sandwiches are their signature menu items, offerings like the wok'd bowls (filled with fried rice or drunken noodles) should keep the people behind Pei Wei up at night. To top it off, they have iced Vietnamese coffee, beer, and frozen drinks.
Most importantly, the price point is reasonable: the majority of their sandwiches are just $6.95, and offer plenty of flavor for the money. I'd put my money on there being more than just one or two Banh Shops opening in the next few years.
David Maez covers the Dallas scene for Thrillist and loves banh mi more than your Mom. Follow him at @davidfmaez because he's a righteous dude.