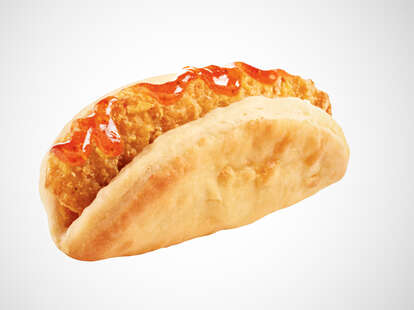 Taco Bell
Taco Bell
Taco Bell figured out it had a good thing going with their breakfast menu pretty quickly, which is why they've been expanding it with the zeal of a SimCity architect who hasn't slept in two days. The latest rookie on the slate is a new Biscuit Taco, which trashes a tortilla for a buttermilk biscuit that you can stuff with bacon, egg, and cheese or even chicken & country gravy.
Just as they did with the Waffle Taco, the TBell innovation team somehow managed to pound a biscuit into the shape of a taco shell. With that base you can build one of four tasty breakfast options: bacon, egg, and cheese; sausage, egg, and cheese; crispy chicken with country gravy; or crispy chicken with honey. No matter which you choose, you're also getting a side of jalapeño honey sauce for extra kick.
If that somehow doesn't appeal to you (traitor), they've also got two new A.M. Crunchwraps. On the A.M. California Crunchwrap side, you've got bacon, hashbrowns, eggs, guac, and pico de gallo. And on the A.M. Country Crunchwrap end, there's sausage, hashbrowns, egg, cheddar, and gravy, of course. The three new breakfast items are only available in select test markets for now, which means you'll just have to stakeout your local Taco Bell for any and all Biscuit Taco appearances.
Kristin Hunt is a food/drink staff writer for Thrillist, and is eager to see how Taco Bell inevitably molds a pancake into a taco shell. Follow her to fast-food innovation at @kristin_hunt.