The greatest Taco Bell in the world is smack on a beach in Pacifica, CA
We don't always go to Taco Bell, but when we do, we go to THIS one. Quite possibly the most badass of T-Bell's 39,000+ chalupa factories, this 20min-South-of-SF location is unlike any other you've ever been to (also: they're hiring!!). Beyond the fact that it even exists, here're six other things you absolutely have to know about this place:
1) This is the view from their porch
No, seriously, it's right on the beach, with stairs down to the sand.
2) Did we mention it's a wraparound porch?
'Cause it is.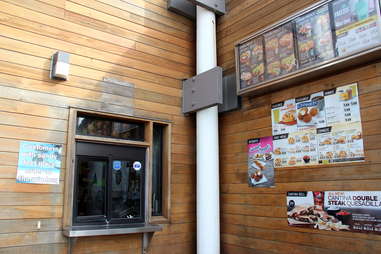 3) There's a walk-up window
Kinda like a drive-thru, this guy's designed for people who've been laying on the beach reading the much-anticipated sequel to The Devil Wears Prada surfing, and stuff, and don't want to leave the beautiful outdoors. (PS: There're tables out here, too.)
4) The inside looks like this
Crazy, right? You might even say it's... Locos?
5) This is the view from the other side
"Oh, well that's just the view of the beach from one side, I bet you the rest sucks", you say? BAM, Purple Mountain Majesty up in your grill.
6) The Fire Sauce is still funny...
... in the same way that that schoolyard bully was always optimistic and encouraging.