"On behalf of true love and tacos and true love for tacos"

| Courtesy of Taco Bell
"On behalf of true love and tacos and true love for tacos"

| Courtesy of Taco Bell
What It Is Like to Get Married at Taco Bell
When you think of your dream wedding venue is it a romantic castle in Scotland? Or maybe a sandy beach that lays adjacent to perfectly turquoise water in Mexico? Perhaps it's a rustic barn in the countryside or a stunning church rife with stained glass? What about the chapel on the second floor of the Taco Bell on the Las Vegas strip?
For newlyweds Erik and Breanna Peterson, and several dozen other couples, it turned out to be that last option. The fast food chain, most known for its ability to marry powdered Doritos with taco shells, is now officially in the business of marrying people -- and it's proving to be super popular. Taco Bell opened its chapel at its flagship Cantina in the summer of 2017, and since then, over 60 couples have been married within its blessed doors. The chapel is booked nearly every week, and there are already reservations well into 2020, according to a Taco Bell spokesperson.
While it might seem like just another marketing stunt from the fast food chain, Taco Bell takes its job as a wedding venue shockingly seriously. The restaurant was inspired by fans who incorporated the brand's famous sauce packets into the wedding proposals and decided to make Taco Bell weddings an actual reality. All of the weddings are held in the chapel, an elegant rectangular room located toward the back of the two-level Cantina in the heart of the strip.
While the downstairs level features a giant multihued wall of frozen boozy slushes and the noise of rowdy strip-goers, the chapel upstairs is unexpectedly zen. The room, which seats 25, features a large laser-cut metal cutout of wedding bells made out of Taco Bell's iconic logo, which is softly -- one might even say, romantically -- backlit. There are leather tufted benches for seating. The light fixtures look straight out of a West Elm showroom.
The chapel is unsurprisingly high tech -- there are two giant screens on each side showing the wedding ceremony for anyone having a hard time seeing it (or capturing it on social media), and nearly each seat has easy access to an outlet, lest your phone dies while trying to upload the wedding to your Instagram stories. The Taco Bell wedding package also includes an experienced officiant who works under the name of Flora Pop, who has performed hundreds of weddings through her own mobile wedding business that she runs out of Las Vegas. You will find no Elvis impersonators here.
The $600 dollar package allows you invite up to 25 guests, and includes a sauce-packet garter and bowtie, plus "Just Married" T-shirts. For refreshments, the venue provides champagne flutes, which you can fill with things like with the chain's proprietary Mountain Dew flavor, Baja Blast; a full-blown cake made with Taco Bell's Cinnabon Delights; and, of course, a 12-pack of tacos for the reception. It also includes a bouquet made out of sauce packets, but unfortunately that is the "something borrowed" element of the wedding and needs to be returned.
I met the Petersons just moments before their ceremony. The Portland, Oregon-based couple decided to dress casually for their wedding. The groom was in dark denim jeans and a blue button-down top that featured small embroidered tacos, while the bride donned a short, form-fitting mustard yellow dress that showed off her large, striking tattoos. There were no tuxedos, no veils, no flower girls. This wasn't the first time either of them had gotten married, nor was it the first time either of them had gotten married in Vegas.
"I just wanted to have a wedding that was non-traditional, but also wanted to top both of our previous weddings," explained Breanna when I asked her why they chose the Taco Bell chapel.
Breanna, who is now a tattoo artist, also had a special connection to Taco Bell. "It was my first job," she said with a laugh. She also isn't the first person to work at a Taco Bell to decide to get married at the chain's Vegas chapel. Flora Pop recounted the time a Taco Bell franchise owner also rented out the space for his nuptials, though it's unclear if there is an employee discount.
The Petersons booked the chapel two weeks in advance (though Taco Bell only really needs four-hour advance notification), and decided to only bring three of their friends with them for the actual ceremony, but they corralled random drunk diners on the bottom floor and invited them up for the wedding. "We wanted to Live Más," explained Erik, dropping the chain's slogan without anyone paying him to do so.
The ceremony itself is just a few minutes long and features a Taco Bell pun in nearly every line.
"On behalf of true love and tacos and true love for tacos."
"The chip to her guac."
"True love is about finding someone who knows you better than yourself… and remembers to get you Fire sauce packets for every taco."
"Eat tacos, drink Baja Blast, and be merry."
After the ceremony, every couple cuts the cake and is given at least 30 minutes for their "reception," where they can eat tacos and drink boozy Baja Blasts with their loved ones. (Any food beyond the tacos and cakes are additional).
It's a setup that works really well for couples who are serious about each other but don't take weddings too seriously, said Flora Pop. She has been officiating weddings at the chapel for the past two years and said that nearly every age range has gotten married at Taco Bell -- not just millennials eager to elope and eat Crunchwrap Supremes. For a lot of the people signing up for the wedding package, it's often not their first wedding, or often, it is a place where people renew their vows.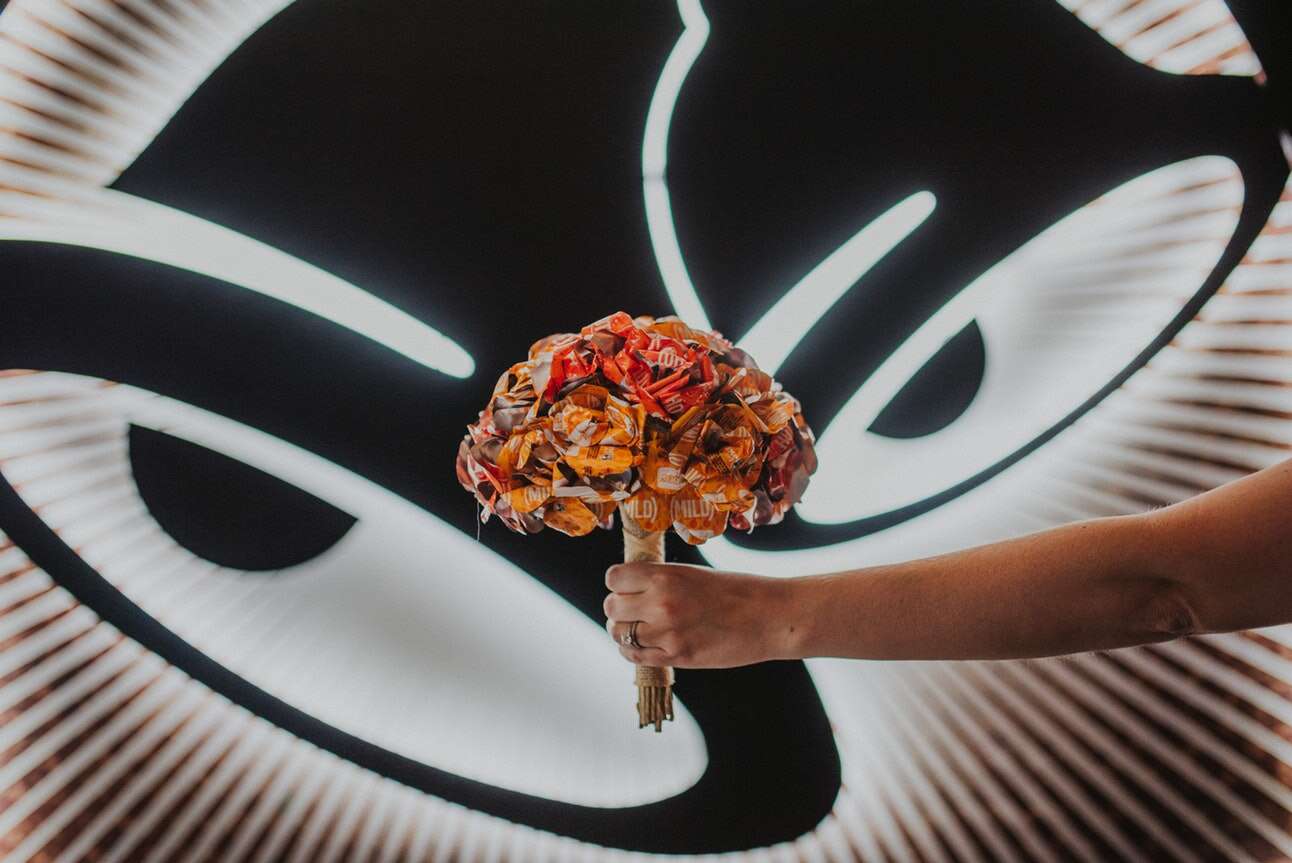 Weddings are an incredibly expensive endeavor these days, with an average cost of nearly $30,000. This makes Taco Bell's $600 package incredibly affordable. And it's on par with how much it costs to get married in Vegas. A wedding at the infamous A Little White Wedding Chapel, for example, costs a couple at least $300 and it doesn't come with tacos. Erik added that another reason they decided to get married in Vegas was so that they could use the money they would have used on a wedding to make a down payment on a house. And eat several meals at Taco Bell with money to spare.
Taco Bell isn't the only fast food chain to offering wedding services. Square-burger chain White Castle has also been the home of several couples' nuptials, where chicken rings are served alongside a burger-shaped cake. However, only Taco Bell has a year-round option for those looking to get married -- something that can just be booked through their website.
Though it might seem surprising that the Taco Bell chapel has already been booked in 2020 and even for some dates in 2021, according to a Taco Bell spokesperson, it's not actually too crazy, given just how much brand loyalty the chain has built. Taco Bell locations all over the country have been home to high school graduation shoots, as well as engagement shoots. One woman even made a Taco Bell-themed wedding dress out of discarded burrito wrappers.
And if a couple times it right, they could get married at the Taco Bell chapel and then head to Palm Springs for their honeymoon at the soon-to-open Taco Bell luxury hotel pop-up, where guests will be served Taco Bell breakfast in bed.
While the Taco Bell weddings might feel a bit like branded #sponcon, the couples who sign up for the package don't seem to mind. When I asked Erik and Breanna if they would get married at a Taco Bell again, they both looked at me sheepishly and said "hell yes," before stumbling out to a fancier dinner on the Vegas strip.
Khushbu Shah is a senior food editor at Thrillist. While she would not get married at a Taco Bell, she would like Taco Bell to cater her future wedding. Follow her on Instagram @khushandoj.
Sign up here for our daily Thrillist email, get Eatmail for more food coverage, and subscribe here for our YouTube channel to get your fix of the best in food/drink/fun.