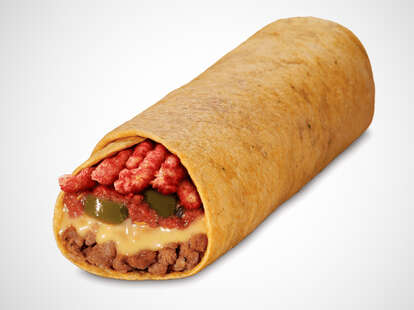 Continuing its bid to join cheese sauce as an essential element to Mexican fast food, Frito Lay is following up its partnership with Taco Bell by hooking up with regional chain Taco John's for the Flamin' Hot Cheetos Burrito.
Along with a padding of Flamin' Hot Cheetos, the burrito comes with spicy chorizo sausage, jalapeño slices, nacho cheese, and a chile de arbol salsa. The Chester-approved burrito, like all amazing fast-food creations, will only be available for a limited time. Still, if this trend keeps up, we're one step closer to our dream of a Funyuns Quesarito.
Kristin Hunt is a food/drink staff writer for Thrillist. She has sadly never been to a Taco John's, but hears he's a swell guy. Follow her at @kristin_hunt.