Indispensable Tailgate Tips From Some of America's Best Chefs
Shutterstock/Sean Locke Photography
Shutterstock/Sean Locke Photography
Just because you're armed with the perfect recipes, doesn't mean you can instantly crush the tailgate food scene. In an endeavor to up your game at the game, we enlisted a host of pros from around the country to give their ultimate tips for dominating the parking lot in more than just corn hole.
Chef Bobby Benjamin
Butchertown Grocery, Louisville
His go-to secret ingredient for tailgating? A #10 can of beer for poaching brats on the grill. It adds flavor and keeps them moist (he also uses the beer for his Kentucky Beer Cheese).

Mike Isabella
G by Isabella, Washington D.C.
Composed braises (like lamb chili) are perfect tailgate foods. They can be made ahead of time and reheated while tailgating & provide a full meal in one dish -- all starch, veg, and proteins you need to stay warm and full during cold games later in the season.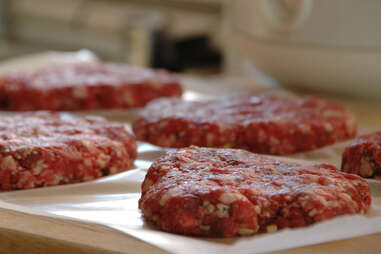 Jamie Schweid
Schweid & Sons, NYC
Don't cut into the burger to see if it's cooked. Instead, use "The Face Method" -- press on the patty with your finger and if it feels like your cheek it is medium rare, chin = medium, forehead = medium well.

Let the meat rest for up to 2 minutes once removed from heat. The burger is still cooking at rest, so don't cook to exact temperature.

Chef Salvatore Cracco
Trou Normand, San Francisco
Only light/heat one side of the grill. This way you can get good color on the items you're grilling and then move them to the cooler side, closing the lid of the grill will work as an oven, giving the meat more even heat. This method is ideal for larger pieces of meat that could burn on the outside before cooking through.
Richard Blankenship
CBD Provisions, Dallas
Don't forget the veggies! You'll have a much more impressive spread with some awesome grilled onions, corn or squash.
Have your own special salt -- whether to finish your grilled items with, or as part of a marinade. Create a spiced salt that goes great with most everything.

Bobby Palmquist
The Walrus and the Carpenter, Seattle
When you're tailgating, you want an easy-to-drink beer. Crisp lagers and oysters are the perfect combination.
Michael Mina
Michael Mina Restaurants, San Francisco
For beverages and drinking while tailgating, Mina's a wine fan. Bright, fresh white wines and rosé are always a good idea for tailgates. Since most tailgating happens in the earlier hours, start with a crisp Riesling like 2013 Leitz Troken Riesling from Rheingau, Germany. It's low in alcohol, crisp in taste and pairs with all kinds of flavors. Any rosé is going to work well, it's light and pretty, it pairs wonderfully with seafood and salads. And who doesn't love rosé?
For bolder tailgate dishes, go for a Syrah. BBQ and Syrah is a match made in heaven. They are making some great Syrah's in the California Central Coast that have just enough fruit but still have some of that old world funk.
Dimitri Moshovitis
Cava Grill, Washington D.C.
A few disposable chafing dishes to keep the food hot is always key.
Moshovitis also recommends half smokes -- steam the hot dogs first, then put them straight on a charcoal grill for a nice char.

Ron Pei
Chino, San Francisco
Have a plan for your dirty dishes. You should have two big plastic bins, one for trash and another for dirty dishes. It's nice to have everything in one spot so you can enjoy tailgating during and after. You don't want to be the only one stuck cleaning up, while everyone else is having a good time.
Annie Pettry
Decca, Louisville
Grilling your hot dog and hamburger buns for a few seconds before filling not only warms them, but brings out the flavor of the bun. It's the little, perfectly warmed and flavored things.

Bring a well-stocked condiment bar so that your guests can personalize their burgers, hot-dogs, and chili.

Pre-chill your cooler for a few hours before you pack it to help it stay cold for longer.