Taste-Test: The conquest of Arby's Meat Mountain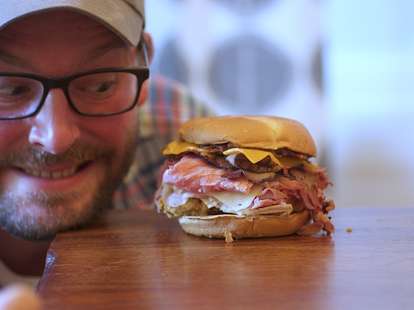 Andy Kryza
Andy Kryza
Since the dawn of time, Man has sought to conquer mountains, laboring to the summits in the eternal struggle to assert himself in the face of Mother Nature's most towering monoliths. It is the subject of many an epic poem, of scores of Led Zeppelin songs. Man has perished on the snowy faces of Everest, and has stood tall among the spires of the gods.
But Arby's Meat Mountain is a different beast. Spawned from the unholy depths of social media -- forged, it is suspected, by the wand of a marketing sorcerer of tremendous power -- it is as it sounds: a towering pile of every land-faring meat on the fast-food chain's menu. It is a secret item of such malice that it spawned from the dreams of warriors, eschewing vegetables in favor of a heaping mound of beef, swine, fowl, and glory.
Undeterred, we ventured to the nearest Arby's, plunked down $10, and began an ascent to glory... and the descent into madness. This is our tale.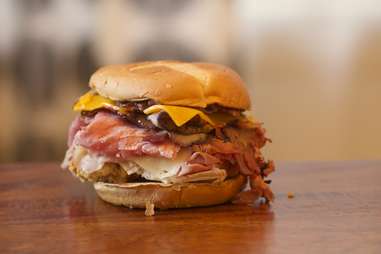 Prologue: A Mountain of Flesh
For those who have somehow ignored tales of this sandwich, it consists of every meat on Arby's menu. That includes two chicken tenders, three half-strips of bacon, and 1.5oz each of the following: roast turkey, ham, corned beef, brisket, Angus steak, and roast beef. Also, one slice each of cheddar and Swiss. It is not for the faint of heart. Literally. This thing will straight murder people with faint hearts.
Chapter 1: Elation
I have long bathed in the fountain of Arby's, and the prospect of eating everything the chain has to offer in one sandwich stirred emotions I didn't know I had. And on first bite, my dreams spring to life. Synapses I didn't know I had fire with ecstasy as the flavors dance across my tongue like a symphony of saline. A burst of turkey here. A crunch of chicken tender breading on the back end. Corned beef -- shredded and tattered -- as if fresh from the front lines of a Gaelic battlefield -- makes its cured presence known. The fatty, smoky flavor of brisket. Cheese, holding it together like a glue of pure ambrosia... all commingling gloriously, as if sent from the heavens to conquer my hunger. Bliss. Pure, salty bliss.
Chapter 2: Confusion
After three bites, things become troubling. My tongue, with flavors running roughshod across my palate, becomes slightly numb, likely due to the tremendous amount of salt taking hold. The taste of turkey, of all things, dominates. The flecks of pepper in the tenders fade into obscurity. The roast beef flavor is all but gone, save the faint smoke of the brisket. Looking at this panoply of meat, colors begin to merge. A drizzle of Arby's sauce disappears from the profile. This, friends, is a challenge worthy of my ancestors.
Chapter 3: Distress on Meat Mountain
Halfway through my ascent -- and subsequent descent -- my bun is crumbling into oblivion, much like my spirits. A small, furry Sherpa emerges from the darkness, eager to help me on my voyage. But this is my mountain to climb. I shall prevail, unassisted, lest I perish on this extremely comfortable couch, which is absorbing my meat sweats like a sponge.
Chapter 4: Lucidity
So. Very. Close. Hey, do you remember that Oven Mitt Arby's mascot, the disembodied hand that would talk to you about the roast beef? What happened to him? More importantly, what happened to the rest of him? I imagine the rest of his body: angry, bleeding, wondering why it decided it was a good idea to chop off its hand in exchange for a short-lived mascot job, and probably unlimited Arby's. I think I have unlimited Arby's. I think I've had enough Arby's. Should I have gotten curly fries? I probably should have gotten curly fries. Maybe a side of au jus. The Oven Mitt probably bleeds au jus. I can't feel my mouth. I don't care. How do chickens have such big fingers?
Chapter 5: Victory?
I have ascended to the top of Meat Mountain, and I have razed it to the ground, leaving behind a rubble field of shaved beef, crumbs, and dignity. My loyal companion is licking the juices from my fingers, and from the perimeter of my conquest. Was it worth it? Yes. For since the dawn of time, Man has sought to conquer mountains. It is in our blood. It is in our hearts.
Would I make this journey again? No. Hell no. Not on your life. As was prophesied in The Sandlot: heroes get remembered, but legends never die... unless they eat two of these things.
Andy Kryza is a senior editor on Thrillist's food and drink team. His lifelong love affair with Arby's has officially exited the honeymoon phase. Follow him to his first, and very necessary, kale smoothie via @apkryza.