For Valentine's Day, we taste-tested lubes, edible panties, and other adult "romantic aids"
Sure, E L James might have spiced up "vanilla" sex in the suburbs, but what about actual, honest-to-goodness vanilla-flavored sex? In honor of Valentine's Day, we braved an adult novelty shop (which was oddly crowded on a Tuesday) in search of a smorgasbord of edible "romantic aids"... because nothing says "sexy" like the word "smorgasbord".
In the name of science, we assembled a dream team of taste-testers, including exotic dancers (and former sex shop workers) Elle and Juniper from Portland strip club Lucky Devil, comedian Aaron Ross, Thrillist editor Andy Kryza, and unsuspecting normal citizen Alison to endure a highly lubricated day of eating erotica. The palate cleanser was whiskey. The scars are permanent.
GoodHead Watermelon Oral Delight Gel
General consensus: Like that old-school Motion Lotion stuff (which we couldn't find), GoodHead (made by a company called Doc Johnson whose medical credentials we seriously doubt) offers a warming sensation to the skin and mouth, but also coats your mouth with slime. It's like getting a wax rinse on your tongue... so we were very wary about what would happen downstairs.
Best comments: "I would rather use this as lip gloss;" "It's no worse than cough medicine;" "It's like squirting a bunch of melted-down Chapstick and plastic into my mouth."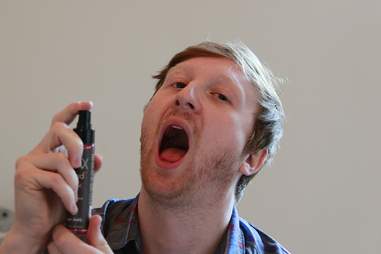 Max Head Sugar Daddy Oral Sex Gel
General consensus: The best thing on this entire roster was this slippery lube that's flavored like a Sugar Daddy. Not the kind that married Anna Nicole Smith, but the actual candy. The sugar content's pretty high, so it's mostly recommended for indoor use, unless you want to see what really happens when you get ants in your pants.
Best comments: "This has a terrible aftertaste;" "Oooooh daddy!"; "It totally tastes like the candies;" "It's good, and I'm afraid if I keep eating it I'm going to sh*t myself."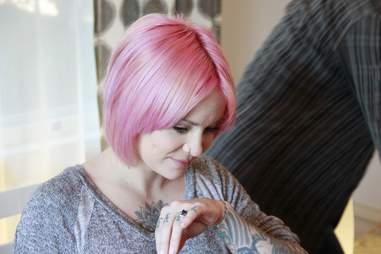 Swiss Navy Cooling Peppermint Lubricant
General consensus: We're a little confused here... this stuff looks like something hypochondriacs would keep in their car in case they touched something, but it's supposed to be used on the exterior and interior of bodies. It feels like baby oil, tastes like mild toothpaste, and generally made everybody gag, while also coating their mouths and ensuring the flavor would stick around.
Best comments: "Is this Purell? It tastes like it;" "It's just feels like lube, but more watery;" "Ugh… it's so lube-y and snotty;"  "I hate it so much. It's like [REDACTED DUE TO CLASSINESS] a dentist's..."
Swiss Navy Cooling Peppermint Lubricant(Round 2)
We couldn't help but wonder why anyone would want a peppermint tingle on their no-no spot, so in the name of science, Aaron put it to the test: "This isn't doing much. But you know what gets you going? Icy Hot. Icy Hot is wild! This is no Icy Hot. I barely feel this."
The more you know.
Kama Sutra Honey Dust Sweet Honeysuckle Kissable Body Powder (with Feather Applicator!)
General consensus: With its velvet pouch and dainty feather applicator (and the fact that it looks like a giant mound of cocaine), this is definitely the sexiest-looking product, but as soon as the box came open, we were all overtaken with a smell that evoked a mix of those weird-scented powders you pour on carpets to cover up pet odors, potpourri, and Grandma's bathroom. That it tastes exactly like it smells didn't stop anyone from putting a spoonful in their mouth and transforming into that Bob Marley poster you had in college when they immediately started choking.
Best comments: "It tastes like it smells, and it smells like it tastes. Which is like a cheap hotel room;" "It's like baby powder that's flavored like Bea Arthur;" "Oh grandma… you taste like those plates you collect."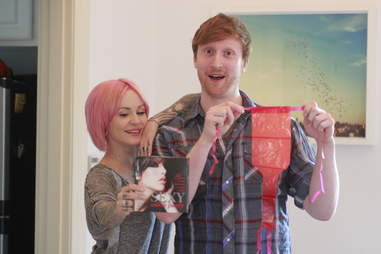 Sexy Edible Panty (Strawberry Flavor)
General consensus: Look, we get that people have very different definitions of "sexy", and that some folks might really be into strapping on this thing that looks like a cross between a blood-donation packet and a sumo thong (with edible ties that look like they belong on a garbage bag), but there's something inherently gross here, mainly the fact that it tastes like a cough drop and coats your tongue the minute it gets wet. We don't even want to know what it would be like when it touches a sweaty body.
Best comments: "It's like one of those Listerine breath strips, except evil;" "It's like cotton candy, if cotton candy was gross and smooshed and tasted expired and burned;" "This is what I'd imagine it would be like to eat pocket change."
LifeStyles Flavors & Colors Condoms (Variety Pack)
General consensus: No, they're not edible, but in the wide-world of flavored lubes, these are pretty inoffensive. The scents are more overpowering than the flavors, which range from blueberry to chocolate and banana. This is the first time we're going to recommend vanilla sex over the more exotic stuff, mainly because the vanilla will make your unit taste like cake batter.
Best comments: "This doesn't taste like banana, but really nothing that's banana-flavored does;" "Is it weird that I kind of like this?" "Who would wear these things... and I mean condoms in general."
Whiporice Edible Licorice Whip
General consensus: We didn't really see the need to include a photo of this stuff, mainly because it just tasted like a stale, generic licorice rope that was cut into two 18-inch pieces... a whip that even the LEGO version of Indiana Jones would laugh at. But in terms of its functionality? Yeah, it really, really works, as evidenced by the damage Juniper inflicted on a very shocked Aaron.
Best comments: "OW! OW! OW! THAT REALLY HURTS. IT FEELS LIKE YOU'RE USING A REAL WHIP! GODDAMMIT! OH MY GOD! I really... oh God. This is horrible. STOP!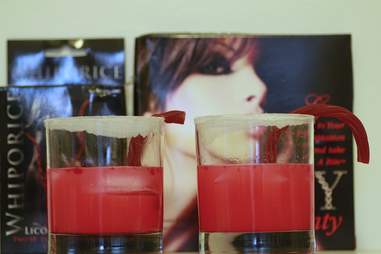 The Blood, Sweat & Panties Cocktail
General consensus: With the tasting done and enough leftover lube to grease the transcontinental railroad, Alison, a veteran restaurant worker, concocted a cocktail with all remaining ingredients. She started by dissolving the remaining panty in orange juice, then poured it in a Honey Dust-rimmed glass with the peppermint, Sugar Daddy, and watermelon lube, cutting each cocktail with 1.5oz of vodka and garnishing it with the remaining Whiporice. The result was a drink that felt warm despite its ice and was oddly thick and divisive in its flavor. Andy and Alison finished theirs. Juniper and Elle gagged. Aaron was split down the middle... just like his back.
Blood, Sweat & Panties Cocktail (Continued)
Best comments: "Oh my God! There's so much lube!" "As a shot, it wouldn't be that bad if I didn't know what was in it;" "Why don't they serve this at strip clubs?" "For a cocktail made of lube, it's good. It's kind of like bubble tea. But, you know. Lube."
Andy Kryza is Thrillist's National Eat/Drink Senior Editor, and has proudly lived vegetable-free since 2001. Follow his adventures/slow decline via Twitter at @apkryza.