Taste Test: I Ate Caffeinated Peanut Butter
On paper, it's really not a bad idea -- or on bread, for that matter. Most people drink coffee in the morning. Most people eat breakfast in the morning. Some of those people who eat breakfast in the morning probably eat peanut butter, so why not combine these two breakfast mainstays into one thing? Enter Steem: peanut butter with caffeine, electrolytes, and (DUH) protein for those who hate doing two things at once. After coming upon Steem on the glorious pulsating entity that is the Internet, I reached out to these guys to send me a jar. They sent me two, I tried some, and here are my findings. 
Rachel Kuzma/Thrillist
Unlike 99.9% of my prior taste tests, I actually did a little bit of research about the thing I was about to put inside my body. My jitters dissipated as I discovered Steem really lives up to its name by being surprisingly all natural. 
The ingredients read as follows: Natural peanut butter (peanuts, salt), organic agave nectar, peanut oil, natural caffeine (green coffee extract. Contains: peanuts.
Caffeine: 150 mg per serving. The serving size is two tablespoons.
150 mg is actually a good amount of caffeine, considering your typical cup of coffee contains around 95 grams. i ate two tablespoons generously slopped upon two slices of bread.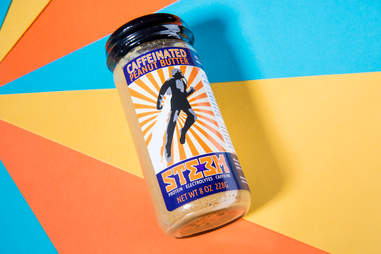 ?Rachel Kuzma/Thrillist
The verdict
Okay, so the taste didn't thrill me. Mind you, this is all-natural peanut butter—so it doesn't taste as sweet as Skippy or Jif. There was an aftertaste I couldn't quite pinpoint... something along the lines of coffee grounds or maybe green tea? It reminded me of puberty: confusing and intimidating. But really, the aftertaste was a real thing.
However, I felt the caffeine. As advertised, it wasn't the jittery kind of caffeine high that made Jessie Spano freak out and almost die, but rather the mellow high that coffee gives you. 
Would I eat this again? Naw, I like peanut butter like I like my women: smooth, sweet, and light brown. Scratch that last part, I literally can't go through another harassment training session.
Buy Steem if you've got a really tight morning schedule and can't afford to make coffee and peanut butter toast. Then reconsider what the hell is making your calendar so jam-packed.
Sign up here for our daily Thrillist email, and get your fix of the best in food/drink/fun.

Jeremy Glass is a writer for Thrillist and is wondering if anybody wants some free butter, because he has some.