We Tried the New Limited-Edition Brownie Batter Oreos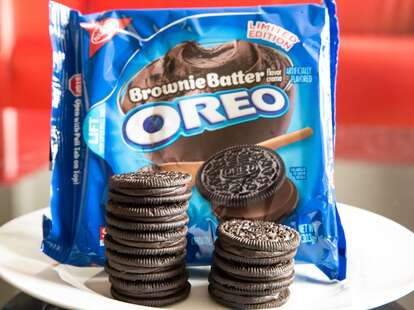 Because Oreo is the most restless snack company alive, it's gone ahead and created yet another limited-edition flavor. The new Brownie Batter Oreos just hit shelves nationwide today, and we got our hands on a pack of the chocolate-on-chocolate cookies to conduct an extremely vital taste test.
The verdict
For starters, this cookie REQUIRES milk. It's incredibly rich (far more so than the regular Chocolate Oreos). This may be the only Oreo flavor that you'll have trouble finishing an entire pack of in one sitting (which is maybe not a bad thing...?). But that's not to say it isn't good -- it's really just that rich. This cookie is definitely ideal for chocolate lovers, and it kind of had us missing the lighter sweet cream filling of the traditional Oreo, or even the cream cheese-flavored cream of the Red Velvet.
The brownie filling is creamy and flavorful, but it resembles those Entenmann's Little Bites your mom used to put in your lunch box more than actual brownie batter. Which is not a bad thing by any means -- we missed that brownie bite flavor of yore. Again, this cookie is definitely best when dunked in a glass of milk, so have that at the ready when you try it yourself.
If chocolate isn't your thing, stick to another flavor. These we're a little too rich for our taste, but that brownie-bite nostalgia did make us feel some feelings. In terms of batter, cookie dough is definitely a winner over brownie.
Lucy Meilus is a staff writer for Thrillist and a responsible adult who ate cookies for lunch. Follow her on Twitter at @Lucymeilus and send news tips to news@thrillist.com.