Every single KIND bar, ranked
Now in their 10th year of existence, KIND bars are kinda everywhere. What started as eight bars in 2004 being sold out of 1,000 stores, has turned into over 30 bars, sold in 80k retailers. And now that you see them in airports and Starbucks and Bikram yoga studios, I figured it was time I ate EVERY SINGLE ONE and ranked them.
My methodology worked like this:
1) Get all the bars. 2) Eat them. 3) Rank them according to taste, personal bias, and whim.
(Note: I left KIND Healthy Grains bars out of the taste-test, mostly because they are granola bars shaped in squares, and just didn't make any sense.)
Let's get into it, shall we:
29. Honey Mustard
As I was creepily wandering my neighborhood doing the photo shoot for this, I came upon two old ladies who were staring at my box filled with KIND bars. Apropos of nothing, one of the women told me how she tried the Honey Mustard one in a store, and "I was expecting there to be honey, but it was like hot mustard. Blech!" Then she told me she shouldn't eat food from strangers and walked away holding a Dark Chocolate Mocha Almond bar. Anyway, the moral of this story: this one is not very good.

28. Thai Sweet Chili
Points for the accuracy of almost having that sweet congealed texture of sticky-sweet chili sauce at the bottom of a leftover Thai food container. But, of course, not a lot of points.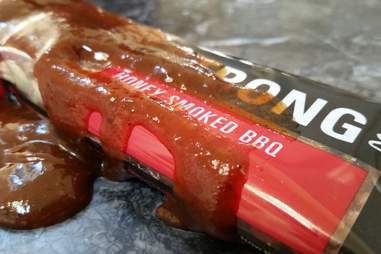 Kevin Alexander
27. Honey Smoked BBQ
I actually thought I'd like this more, as I enjoy BBQ smoked almonds, and ask for BBQ sauce with things that don't make any sense, like club sandwiches and waffles, but the BBQ flavor doesn't come through, it's almost just very salty, with a hint of garlic.

26. Hickory Smoked
You can really taste the hickory, for better or worse.

25. Roasted Jalapeño
While I clearly wasn't a huge fan of any of the "Strong" savory bars, I am a huge fan of jalapeños, and this one gave a little delayed kick in the back of your mouth. Like (INSERT ACTUALLY GOOD PLAYER ON THE JAGUARS), it's the best player on a weak team.

24. Almond Cashew With Flax + Omega 3
As far as I can tell, Omega 3s taste like sadness. AND SECRETS. And also maybe flax?
Kevin Alexander
23. Almond Walnut Macadamia + Protein
So, so very dry. I had to drink a glass of water mid-bite. I actually just considered mashing it into a glass of water.

22. Madagascar Vanilla Almond
Sadly, the movie featuring the voice of Ross from Friends is a lot better than the bar.

21. Cranberry Almond + Antioxidants
Despite the inclusion of molecules that inhibit the oxidation of other molecules, the cranberries were a bit sweet for me.

20. Dark Chocolate Cinnamon Pecan
The combination of dark chocolate and cinnamon seemed better in theory, like that supergroup with Dylan, Tom Petty, Roy Orbison, and at least two other people I can't remember.
Kevin Alexander
19. Dark Chocolate Mocha Almond
I am not a fan of coffee flavors, which is why this sits at 19, though one of my friends thinks I'm "the dumbest person alive for not putting this in the top five, and shouldn't be allowed to do this type of taste-test." Anyway, good almond flavor?!?

18. Pomegranate Blueberry Pistachio + Antioxidants
I can't figure out what pomegranates really taste like. All I taste is blueberry. And though I like pistachios, I don't think they have a strong enough taste to balance out the sweetened fruit flavor.

17. Nut Delight
CAN YOU IMAGINE IF THEY ADDED FRUIT TO THIS?!?

16. Blueberry Vanilla & Cashew
Like the movie Legends of the Fall, this one had many ups and downs. The high points (aka the part when Tristan freaks out and kills all ze Germans like a badass to avenge his brother's death, and fights the bear alone) are when you actually get a cashew mixed with the blueberry, but the low points (the Colonel's stroke, any time they show people playing old-timey tennis) are all the rest of the bites.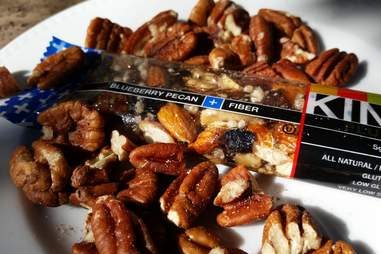 Kevin Alexander
15. Blueberry Pecan + Fiber
More consistent bites than that cashew one = higher ranking.

14. Fruit & Nut Delight
WAIT, THEY DID PUT FRUIT WITH THE NUTS! A delight, indeed.

13. Fruit & Nuts in Yogurt
Generally speaking, if you take a winning combo and cover it in yogurt, I'm going to be on board.

12. Cashew & Ginger Spice
Despite not actually including any part of Geri Halliwell as originally promised, this is probably the most uniquely flavored KIND bar I tasted, with a gingerbread element to it, quite possibly from... the... ginger? It also had a little spicy bite, much like Geri's first solo album Schizophonic.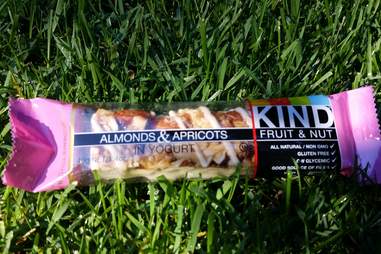 Kevin Alexander
11. Almond & Apricots in Yogurt
THE EXCEPTION TO THE YOGURT MAKES EVERYTHING BETTER RULE! RULES ARE MADE TO BE BROKEN! JA RULE'S NAME SOUNDS LIKE RULE! I'VE EATEN TOO MANY KIND BARS!

10. Almond & Coconut
It's like my mouth went on a trip to a tropical island, but then forgot to pack a swimsuit and had to embarrassingly buy one at the hotel gift shop, and now is stuck wearing Sandals Resorts board shorts to the singles poolside mixer.

9.Almond and Apricot
It's better without the yogurt because it's sweet enough already. Apricots are a delicious fruit, and don't get the same sort of street respect as peaches and nectarines, but they deserve it for the way they balance out the crunchy almond flavor.

8. Caramel Almond & Sea Salt
When I first read this one, I thought it said Caramel Apple & Sea Salt, and I ALMOST FREAKED OUT. But then it was almond, and though I wasn't as fired up, it was still damn delicious. Sea salt makes every single thing better.
Kevin Alexander
7. Dark Chocolate Nuts & Sea Salt
The title of this one alone pushes it into the top seven.

6. Peanut Butter Dark Chocolate + Protein
As Reese's Peanut Butter Cups discovered a long time ago, you can never go wrong with peanut butter and chocolate, and adding protein so you can get really, really jacked ONLY EATING THESE, is just icing on a cake made of peanut butter and dark chocolate.

5. Apple Cinnamon & Pecan
A surprise entry into the top five, because it is not covered in chocolate, nor is it flecked with sea salt. This tastes a little like a mini-apple pecan pie, and reminds me of wearing the same North Face fleece as every other person in my town on brisk fall days.

4. Dark Chocolate Cherry Cashew + Antioxidants
Fun fact about me: I am a huge cherry fan. Another fun fact about me: I once saw John Stamos in the gym at a resort in Hawaii when I was 15, and he said, "it's really fu**ing hot out, huh?"
Kevin Alexander
3. Maple Glazed Pecan & Sea Salt
VERMONT + THE SOUTH + SALT = THE PERFECT AMERICAN SNACK BAR. Er, the third most perfect.

2. Peanut Butter & Strawberry
As someone who ate peanut butter and jelly sandwiches every single day for lunch from the time I was 4 until I was 17, this was destined to be very high up. Also, now that I'm reading that back, is that kind of sad?

1. Dark Chocolate Chili Almond
To brag, I once ate seven of these on a plane ride across the country. They check all the right boxes: chocolate, spicy, nuts, fit in my really cool backpack that only sort of makes me look like I'm a 47-year-old step-dad. Now just imagine if they put sea salt on them.

Kevin Alexander is the executive editor of Food/Drink and is probably going to stop eating bars for a couple of hours. Follow him to discuss Brad Pitt's nuanced role in Legends of the Fall: @KAlexander03.