Ranking the Best Grocery Store Mac and Cheese
Dan Gentile/Thrillist
Dan Gentile/Thrillist
While restaurants around the world trick out macaroni and cheese with truffle oil or dumb it down into hamburger buns, true mac and cheese fanatics know there's no place quite like home. The mac that most people remember fondest came from a rectangle box with a powdered flavor packet that should never be tasted on its own, unless you've always wanted to ingest a neon orange lump of sodium phosphate. Mac and cheese has come a long way since then, as evidenced by the results of this taste-test of eight top national brands. This may shake your macaroni and cheese beliefs to their cheesy core.
The contenders: Velveeta, Kraft (Monsters University edition!), Annie's, Back to Nature (Crazy Bugs!), Quinoa, Mrs. Leeper's (...gluten-free), Trader Joe's, and Whole Foods 365.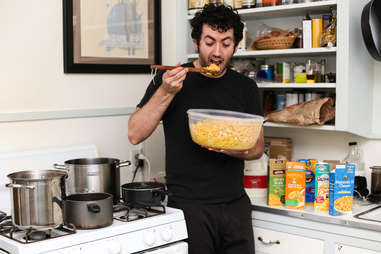 Half of the recipes called for added butter, while the rest listed it as optional. But everyone knows when it comes to butter, optional means mandatory. Mmm, a stick in every spoonful!
8. Quinoa Mac & Cheese
Cheesiness: 1 -- It doesn't even taste like cheese, it's more straight up pasta. It's as if the macaroni shampooed itself with cheese sauce and washed it off. All that's left is the smell.
Artificial flavor: 5 -- The flavor had hints of paper and sterilizer, but was so neutral that it earned average marks.
Pasta: 3 -- The sauce formed to the macaroni, giving it a rough texture that was pretty horrid. It didn't have an aftertaste; it had an aftertexture.
Overall flavor: 2 -- This is an embarrassment and shouldn't even be called mac and cheese.
Final score: 2.75 -- DON'T EAT THIS, EVER.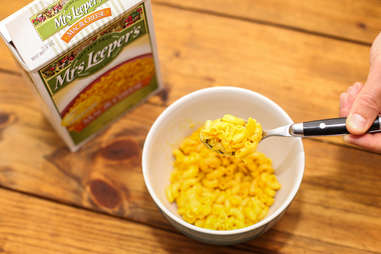 7. Mrs Leeper's Gluten-free Mac & Cheese
Cheesiness: 4 -- Creamy and full of flavor up front, but with highly diminishing returns. Each bite tastes less cheesy.
Artificial flavor: 6 -- Turmeric and paprika do a good job of masking the artificial flavors until the stainless steel aftertaste overpowers them.
Pasta: 1 -- Definitely the worst. Their slogan "keeping the taste in and the gluten out" is only technically accurate. It didn't keep consistency at all. Damn you, rice flour!
Overall flavor: 2 -- The fakeness of the pasta took center stage, detracting from a decent cheese flavor.
Final score: 3.25 -- GLUTEN, LIKE GREED, IS GOOD. DON'T EAT THIS UNLESS YOU HAVE TO.
6. Kraft Macaroni & Cheese Monsters University Edition
Cheesiness: 2 -- Not cheesy at all. The sauce doesn't envelop the macaroni, it just tastes like it's been dipped in cheese water.
Artificial flavor: 3 -- An overwhelming chalkiness that tastes like childhood, though it's nothing like those knuckle sandwiches you used to eat.
Pasta: 6 -- Cute, but you can't really tell what these are supposed to look like. The added surface area gives it a chewy mouthfeel that helps make up for the lack of creaminess.
Overall flavor: 3 -- Mostly water with a hint of cheese.
Final score: 3.5 -- THESE DESERVE TO BE IN A WATERY GRAVE, NOT YOUR MOUTH.
5. Trader Joe's Organic Shells and White Cheddar
Cheesiness: 3 -- Although this uses real cheese, it's lacking in full-bodied flavor and never reaches true creamy heaven. Also, white cheddar mac is the equivalent of Diet Coke.
Artificial flavor: 3 -- Surprisingly astringent and harsh given the organic nature. Bitter cardboard aftertaste.
Pasta: 6 -- Thicker, higher quality pasta. Nearly hearty enough to be a meal.
Overall flavor: 4 -- The pasta is really the main event, but when you do get a rare pocket of pure cheese it makes for a satisfying bite.
Final score: 4 -- WORTH EATING IF YOU'RE REALLY INTO SHELLS.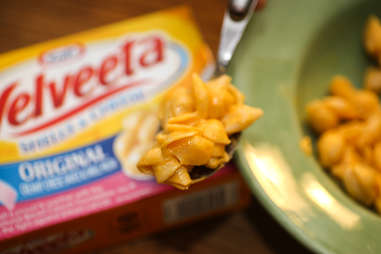 4. Velveeta Shells & Cheese
Cheesiness: 6 -- The only non-powdered cheese tested, Velveeta lived up to its reputation for explosive creaminess, making for several blissful bites. Downside: the thicker cheese was quick to harden and overburden the macaroni.
Artificial flavor: 6 -- You can taste a bit of the metallic packaging and an overwhelmingly synthetic dairy finish.
Pasta: 3 -- Way too flimsy a vessel for such a full-bodied sauce.
Overall flavor: 6 -- This is what your childhood tasted like on days when mom splurged at the grocery store.
Final score: 5.25 -- ONLY EAT IF YOU'RE INTO HAVING FLASHBACKS.
3. Whole Foods 365 Macaroni & Cheese
Cheesiness: 4 -- Strong mouthfeel with real hints of cheddar, but lacking a creamy spark.
Artificial flavor: 7 -- When you exhale (make sure not to wait, à la Angela Bassett), you don't get that metal feeling. It's smooth like a nice Merlot.
Pasta: 7 -- Soft, enjoyable texture. Lots of give.
Overall flavor: 5 -- Solid all around, but lacking that X Factor.
Final score: 5.75 -- THE PERFECT MAC FOR THOSE WHOLE FOODS BRAND LOYALISTS.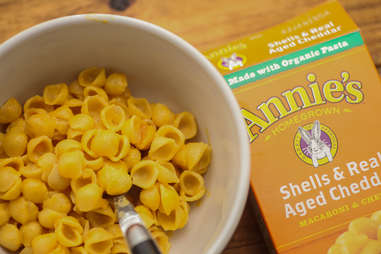 2. Annie's Shells & Real Aged Cheddar
Cheesiness: 7 -- The creaminess lights up your mouth. You can really taste the aged cheese, which will ensure this won't stay on your shelf for long.
Artificial flavor: 8 -- There's a bit of a sour, moldy kick that earns it high points for cheese authenticity.
Pasta: 8 -- The shells were just firm enough to support the powerful cheese flavor. Near perfect balance.
Overall flavor: 7 -- The real cheese is a game-changer, but some MSG would really take it to the next level.
Final score: 7.5 -- ALMOST FLAWLESS CREAMY GOODNESS.
1. Back to Nature Crazy Bugs Macaroni & Cheese Dinner
Cheesiness: 10 -- This is what you're looking for. So creamy and rich, you just want to keep it in your mouth for awhile before chewing. Tastes decadent. You could cover actual bugs in this and we would eat them.
Artificial flavor: 9 -- The box proudly boasts no artificial preservatives or flavors. This is like the white whale of mac and cheese.
Pasta: 8 -- Even the insect gimmick really works well here, giving the creamy cheese tons of extra pockets to hide in.
Overall flavor: 9 -- It'd be easy to walk right past this in the supermarket and think it's nothing more than a stale, eco-friendly mac alternative that only moms in Lululemon would buy. But think again! This is the total package. Perfect cheese, no harsh taste of science, and a cute-but-functional pasta vessel. The kicker? Proceeds benefit the Nature Conservatory, so your next mac and cheese dinner is basically a charitable donation.
Final score: 9 -- THIS MAC AND CHEESE WILL COMPLETE YOU.