We made ice cream floats with 14 different sodas, because that's what winners do
The root beer float is a classic explosion of cold refreshment you probably haven't thought about much since you started ordering those awesome alcoholic frozen drinks that spin on the walls of daiquiri bars. Well, not only am I about to put the RBF back on the top of your mind, I'm going to open up a whole new horizon of float possibilities by plopping ice cream into 14 different sodas. Prepare yourselves.
To keep the frozen half of the equation consistent, we employed the gold standard of vanilla ice cream: Häagen-Dazs. Bow to it. Now on to the contenders.
Good old Classic Coke is a great stand-in when root beer isn't an option because the cartels have taken over all the sarsaparilla fields. It's probably the closest you'll get to the traditional thing, with great foaming action and creaminess.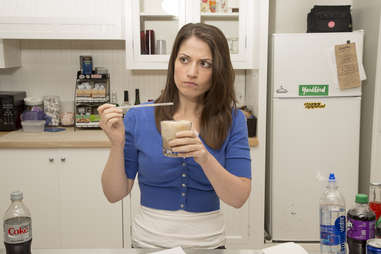 Diet Coke gives you the same texture, but while the ice cream minimizes the diet taste, it's definitely still there reminding you that you're not supposed to be eating ice cream.
Then there's Cherry Coke. Oh, sweet, nectar of the gods do these go well together. Even before you take a sip, the scent lets you know that you and Cherry Coke Float are going to be BFFL (Best Friends for Life, or Best Friends for Lent if you promise to give up not drinking Cherry Coke Floats).
Now let's crank up the exoticness with Pellegrino Aranciata Rosso. Blood orange soda, if you're nasty. This is a very grown-up ice cream float. It tastes like a creamcicle, but with a bitter, almost alcoholic after-taste. Very, very enjoyable -- something you'd look totally cool ordering at a Spago power lunch when less baller Hollywood producers are drinking their Pellegrino without ice cream.
Mountain Dew!!!!!!!!!!!!!!!!! Actually it tastes mostly like vanilla, with a hint of lime. You can't really taste the Dew, but rest assured you are still Doing the Dew.
Sprite, being the yin to MD's yang, has a very subtle lemon flavor in a float. The ice cream also really cuts through the sweetness of the soda, resulting in a float that's actually refreshing -- a rarity in this sea of creaminess.
If your parents gave you Dimetapp when you were a kid, then the Grape Crush float will make you think of that time you stayed home from school and spent the day fading in and out of consciousness while attempting to watch Dying to Belong with Hilary Swank and Sarah Chalke on Lifetime.
Jarritos Fruit Punch wasn't much better. It didn't conjure up memories of drinking cough syrup, but that's only because I didn't have cherry flavored cough syrup growing up. It wasn't terrible, but we can do better -- and we do! Keep reading.
Orange Fanta kind of tasted like a creamcicle, but less orangey. The Pellegrino's a better call, although this one still isn't bad.
Kombucha is BS in a bottle. Tea is fine and healthy on its own and doesn't need anything added to it, let alone fermentation. I've practiced yoga for years and even I've avoided this trend (so why am I trying it in the offices of a company that pushes Pizza Pot Pies?!).
Don't smell it before you drink it. That just prolongs the torture. I was encouraged by the good foaming action, but then when I actually tasted it…. It was very bitter, tart, and sour, and not in a Sour Patch Kids kind of way. Definitely in a spit-take way. We used Guava Goddess for this one. If you want to try your favorite Kombucha in a float, ask yourself why you have a favorite Kombucha.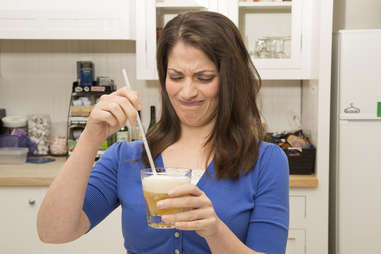 The Red Bull glass looked and tasted like a science experiment! Which frankly makes sense -- the stuff was designed to give you wings, not be a carrier for a dessert that takes your wings away and replaces them with droopy sub-triceps fat. But if you like your Bull stripped of some of its tart and sour flavor, put ice cream in it.
Okay, I have an absurd amount of sugar and caffeine pumping through my veins.
I saved the classics for last, but Dr. Brown's Black Cherry suffered a bit for that. It's freaking delicious, it just isn't as delicious as the Cherry Coke float and its spice blend. Sorry, doc.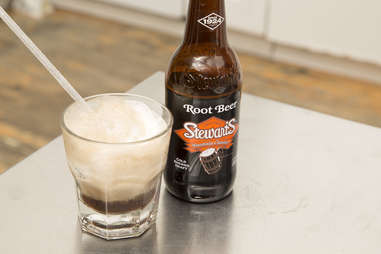 After consuming a kaleidoscope of sodas, float godfather Stewart's Root Beer doesn't quite hold up…
However, with its comforting caramel flavor, A&W Cream Soda is familiarly amazing. Surprisingly, the foam on this float wasn't as thick as on others, but it tastes so good it gets a pass.
So if I haven't made it clear, Kombucha is the worst thing ever. It sucks so much even the most perfect ice cream ever can't save it. When you want an ice cream float, consider a bottle of Cherry Coke. When you want a frozen daiquiri, consider your life choices.