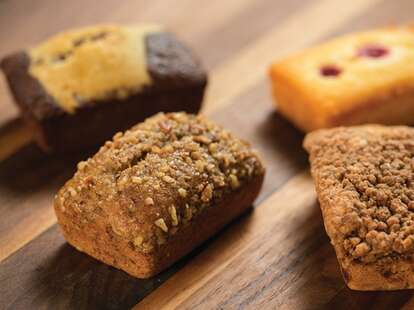 Whenever Starbucks rolls out a new menu item, caffeine freaks, anyone who enjoys the smooth sounds of John Mayer's guitar noodling, and people who are just trying to use the bathroom for free all listen up. But it's not a fancy coffee brewing machine or new sodas that command attention this time around: it's pastries from famed San Francisco bakery La Boulange. The Green Lady purchased the company, then tasked them with completely overhauling their food menu, adding pastries that you can score right now in CA (San Francisco/LA/Orange County), Seattle, Portland, Phoenix, Chicago, NYC, and Boston, with other cities being added soon. But which buttery deliciousness is worth your hard-earned cash? Find out below: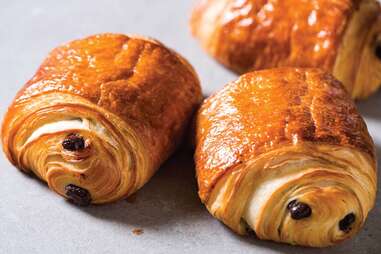 Chocolate Croissant:WE WOULD EAT THIS
Average Score (out of 10): 6.9
Price: $2.45
Tasting Notes: There is some high-quality chocolate buried in that buttery croissant. And while the croissant isn't the best we've ever had, the chocolate covers up any deficiencies. Also, it's fun to say croissant. Quoi-saaannnnn! You can't put a price on that.
Chocolate Marble Loaf Cake:WE WOULD NEVER EAT THIS
Average Score (out of 10): 3.3
Price: $2.45
Tasting Notes: It looks like they ran out of chocolate midway through making this, and decided to sell it anyways. But that's not even the worst part -- that would be the dryness. It's so dry, it almost tastes like jerky. Jerky we do not want to snap into anytime soon.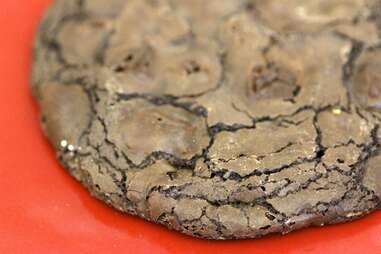 Chewy Chocolate Meringue Cookie:WE WOULD ABSOLUTELY EAT THIS
Average Score (out of 10): 8.8
Price: $1.95
Tasting Notes: By far the best thing we tasted from the new menu, we loved it so much we gave it a nickname: the Brookie (because it tastes like a brownie/cookie combo). Then we gave it an award: Brookie of the Year, even though it never broke its arm and developed an otherworldly fastball. It has a soft brownie consistency and rich chocolate flavors -- and all in cookie form!
Caramelized Apple Cake:WE WOULD SOMETIMES EAT THIS
Average Score (out of 10): 5.6
Price: $2.45
Tasting Notes: While we found the cake to be quite moist, and liked the crunch of the apple topping, these reminded us of pre-made pastries your mom buys at the supermarket and tries to pass off as homemade, the phony.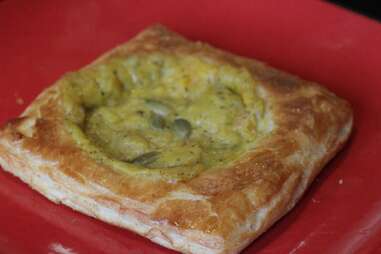 Butternut Squash and Sage Savory Square: WE WOULD OFTEN EAT THIS
Average Score (out of 10): 7.2
Price: $3.45
Tasting Notes: We were super-skeptical as to whether this would be any good, and it surprised us completely. For those who don't want a super-sweet option in the morning, this is a great choice. Tons of real butternut squash commingle with pumpkin seeds on flaky ciabatta-like bread. Pro Tip: if you want, they'll serve it to you hot and fresh out of the kitchen.