In a perfect synergy of two big brands and an ethnic food that has nothing to do with either of them, Subway has just unleashed the new Fritos Chicken Enchilada Melt. Their Super Bowl commercial claimed you've got to taste it to believe it, so we aimed our skeptical taste buds at this foot-long monster to see if it lived up to the hype. For even more revealing food investigations, be sure to check out these other Thrillist taste-tests.
The highlight of that Super Bowl commercial had to be the slightly stocky bald man in a suit exclaiming "cruncha muncha" before busting a dance move. This man's baby talk is accurate: There is some serious cruncha here, and maybe even some muncha. But after the first bite I did not feel like getting down with my bad self. I just felt a bit confused.
Recommended Video
This 2-Foot Slice Is Covered in Donuts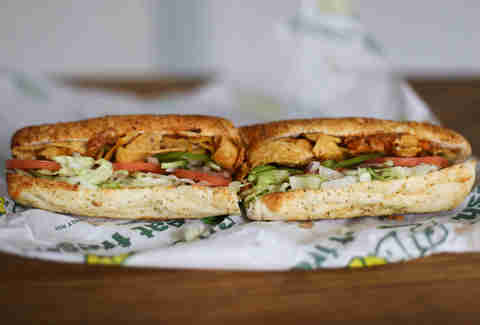 First off, Subway's "Eat Fresh" slogan should definitely be applied to this sandwich. The half-life of this thing is about 3mins after it pops out of Subway's high-speed toaster oven, so consume immediately or be prepared for a very lukewarm experience.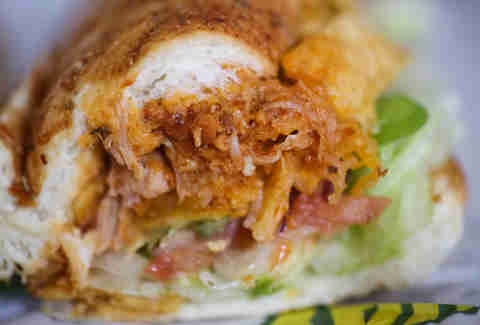 It isn't bad tasting when still warm. It's actually pretty satisfying. The savory enchilada sauce, pulled chicken, and Fritos combine into a dynamic texture that seems like the work of a skilled team of food architects. The Italian herb and cheese bread recommended by my sandwich artist was a nice complement, giving another round of spices on the exterior. But there's an undeniable dissonance you feel while cruncha munching this thing.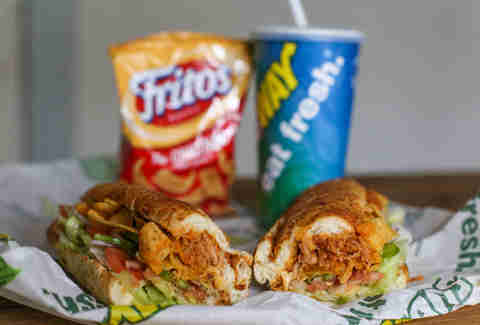 CONCLUSION
The Fritos Chicken Enchilada Melt has an identity problem: It's halfway to a Frito Pie Sub. Enchilada sauce is like the Mexican cousin of chili sauce, and combined with that familiar snap of a Frito, my brain immediately thinks Frito Pie, but is then let down by the lighter and more delicate profile of the chicken.
So if you're craving a Jared-ified Frito Pie sandwich, you've come to the right place.
Dan Gentile is a staff writer on Thrillist's national food/drink team who has taste-tested everything from the Big Mac to the Big King. He also enjoys hating mustard. Follow him to pots of gold/Twitter at @Dannosphere.