All photos by Liz Childers
Atoning for robbing us of the joys of the Grilled Stuft Nacho, Taco Bell has doubled down on cheesiness with the new Quesarito. Because what's better to mend a broken heart than a mash-up of Tex-Mex greats? Nothing. That's what.

What is it?
T-Bell's not the first to tackle the (genius) Quesarito concept, but they're the first to put it on the real menu. (To be fair, some 6-year-olds have probably also given it a go, and been quite pleased with themselves.) The item is a classic burrito rolled into a cheese quesadilla shell. The cheese explosion comes loaded with sour cream, rice, slightly spiced chipotle sauce, and a choice of chicken or steak. We tested both. Then took a nap.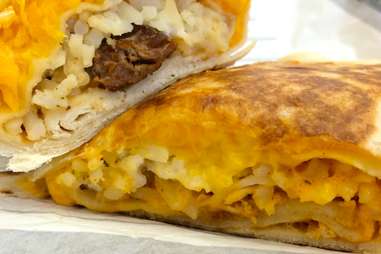 The Texture
The real plus of the Quesarito is, of course, the quesadilla vessel. The texture that comes from a double layer of tortillas insulated with a thick sheet of cheese is a huge improvement on the basic burrito. Whereas normal burritos fall limp under the heft and heat of their fillings, the Quesarito has a fortified and delicious shell, and you won't spend your entire meal wondering if the next bite will make the burrito collapse in your hands.
The Taste
There's actually more cheese in the chicken Quesarito than there is chicken and rice combined. On the obvious upside, that means spicy, creamy cheesiness fills every single bite. On the downside, though, the cilantro rice is the only other flavor -- the chicken didn't stand a chance against the cheese -- so the creaminess gets old fast.
The huge chunks of lightly seasoned steak hold up better than the shredded chicken, and, while it could be bad that the cheese on this one wasn't melted all the way, it actually worked in the Quesarito's favor by avoiding the ultra-creamy overload of the chicken variety.
Conclusions
If you are into Taco Bell burritos, you'll want to get down with the Quesarito, especially if you still take an all-cheese, all-the-time approach to the quesadilla. The flavors aren't that different from the regular bundles of Tex-Mex joy, but the texture and boost of cheese makes these totally worth sampling. Go the steak route for a slightly more balanced flavor profile, or, you know, just get them both. Because you were going to do that anyway.
Liz Childers is an editorial assistant on Thrilist's national food/drink team. She thinks Taco Bell is run by a bunch of cheese-loving geniuses and salutes their taste buds. Follow her at @lizchilders1.