Taste Test: We Ate the Gay Doritos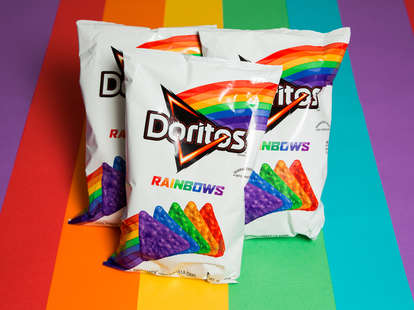 Whether you like it or not, the new gay Doritos, or "Doritos Rainbows," exist and, well, they're just as fabulous as you'd expect.
Last week, we fantasized about rainbow-colored cheese dust on our fingers when Frito-Lay first revealed the rainbow corn chips in partnership with the It Get's Better Project, a non-profit organization that supports LGBT youth. Now, we finally got our hands on a few bags of the bold and beautiful snacks, which you won't find in grocery stores and have already sold out via the organization's donation process online. Needless to say, eating them made all of us gay -- that is to say, happy. What did you think we meant?
They weren't, however, quite what we expected.
You might actually feel a twinge of disappointment when you open the bag, as the packaging and Doritos' promotional images show bright and vivid chips in colors of the Pride Flag. The real-life chips are certainly colorful, but a bit muted. Then again, this is probably a good thing, considering they're loaded with artificial colors.
Doritos Rainbows are also much smaller than the triangular cheese flavor vehicles you're used to. In fact, they're about the size of the Doritos you'd find in a bag of the Munchies Cheese Fix snack mix. We assume this is so you can grab more of the LGBT spectrum in every handful, which is commendable.
As for the taste, Doritos chose a flavor that everyone can love regardless of who they love: Cool Ranch. Well, actually, not everyone loves Cool Ranch so much, but, it works. You can't go wrong with Cool Ranch.
The verdict
If you love supporting LGBT youth and like to snack on Cool Ranch Doritos, then these are the chips for you. Hopefully, you were able to get some.
Needless to say, they'd be a great Pride party snack if Pride Month wasn't eight months away. However, these gay Doritos would be more fabulous if they were regular sized and just a tad more colorful (in a way that involves fewer artificial ingredients). That's not too much to ask, right?
Simply put, Doritos Rainbows are great, but they won't leave you screaming "YAAAAAAASS!" Unless, you know, you're really into small, Cool Ranch Doritos and screaming, "YAAAAAAASS!"
Sign up here for our daily Thrillist email, and get your fix of the best in food/drink/fun.
Tony Merevick is Cities News Editor at Thrillist and thinks everything tastes better when it's a little gay. Send news tips to news@thrillist.com and follow him on Twitter @tonymerevick.