Taste Test: We Ate the New Pumpkin Spice Peeps & Other Fall Flavors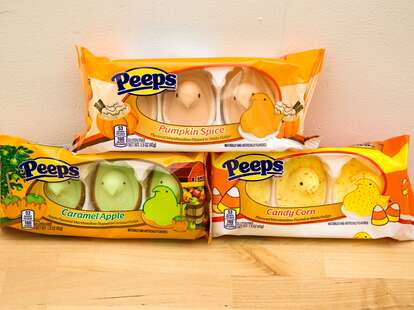 Laura Murray/Thrillist
Laura Murray/Thrillist
Just when you thought you were safely weeks away pumpkin spice lunacy (PSL), pumpkin spice Peeps have arrived — the most basic Peeps ever. The flavor, synonymous with Ugg boots and avocado toast, is one of three new Peeps just for fall, including caramel apple and candy corn. And because we're so damn basic, we climbed into our favorite yoga pants and tasted the sugar-covered marshmallow chicks.
They were surprisingly great.
Pumpkin Spice
Wow. Unlike your typical run of the clearance candy Peeps, these Peeps actually taste like something. In fact, the fluffy marshmallow component lives up to its pumpkin spice promise with powerful cinnamon and nutmeg flavors, and a slight hint of pumpkin. It all sort of tastes like how a pumpkin pie candle smells (which isn't exactly desirable), but the layer of white fudge at the bottom saves the day.
Caramel Apple
The first thing you'll notice is the smell when you open the package — it's that sweet, sour apple-flavored candy scent, reminiscent of those caramel apple Dum Dums or Jolly Ranchers. Unfortunately, the sour part isn't there (a disappointment), and the caramel flavored fudge coating is surprisingly salty and overpowering. It's caramel apple-like, but ends up being way too sweet.
Candy Corn
These Peeps smell like vanilla cake frosting, and taste like it, too. Despite the candy corn yellow marshmallow, orange sprinkles, and white fudge base, we couldn't detect the classic sweet/buttery/awful candy corn flavor, but that doesn't mean it's bad. Like the pumpkin spice Peeps, these little birds taste like how a Bath & Body Works smells come fall. And really, if you're into B&BW (who ISN'T?), or just vanilla frosting, well, there's a Peep for you.
The Verdict
We never thought we'd say this, but we were impressed… by Peeps. We didn't go into this with incredibly high expectations, but we found that the often polarizing treats were generally good, especially if you've got a quick-and-dirty sweet tooth.
Out of the three flavors, the pumpkin spice -- and all of its basic-ness -- is hands-down the best, and sure to please all the basic pumpkin spice latte slurping masses this fall. However, the caramel apple and candy corn Peeps are decent, as far as Peeps are concerned, for those who aren't into that pumpkin spice stuff. They'll all start hitting Target store shelves later this month, and the Peeps website. No need to wait until the day after Easter to nab these from the clearance rack.
Tony Merevick is Cities News Editor at Thrillist and can't wait for someone to build a festive diorama, featuring the pumpkin spice Peeps in all their basic glory. Send news tips to news@thrillist.com and follow him on Twitter @tonymerevick.