Taste Test: We Ate the New Pumpkin Spice Twinkies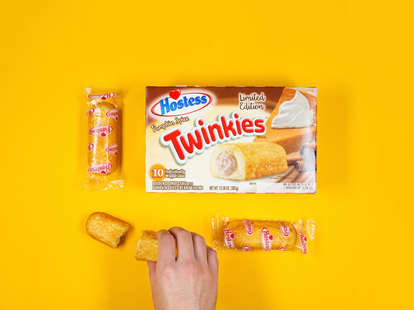 Rachel Kuzma/Thrillist
Rachel Kuzma/Thrillist
When the annual pumpkin spice insanity hits, nothing is safe. Not even our nation's greatest foodstuff, Twinkies.
Adding to the already bountiful harvest of pumpkin spice products this season, the ubiquitous packaged-pastry purveyors at Hostess have unleashed limited-edition pumpkin spice Twinkies, exclusively sold at Kroger grocery stores. And since we're drunk on pumpkin spice lattes and the prospect of fall weather, we got our paws on a box and tasted them. Like with most things "pumpkin" flavored, we were surprised.
At first, the pumpkin spice Twinkies taste just like the classic cream-filled yellow torpedoes that grace the shelves of junk food aisles everywhere -- almost to a fault. The only thing that's different about them is the cream filling, which packs some powerful cinnamon flavor, smells of fall spices, and appears light brown in color. You'll truly start to pick it up once you've taken a big enough bite.
It's not until your second or third bite that the combination of the pastry's spongey butteriness and powerful cinnamon filling makes for a flavor that somewhat resembles a slice of pumpkin pie... if it's been about 10 months since the last time you ate pumpkin pie. Which isn't exactly a bad thing.
The verdict
After eating several (no regrets), the pumpkin spice Twinkies didn't raise the bar in pumpkin spice insanity, but they certainly reached it. While the standard Twinkie yellow cake is a familiar cream-delivering vehicle, Hostess should build on this with more seasonal offerings. Pumpkin's not the only seasonal spice out there, after all. Christmas mint Twinkies, anyone?
That said, if you're already stuffing your face with Twinkies, this new flavor will certainly make your junk food binge a little more festive.
Sign up here for our daily Thrillist email, and get your fix of the best in food/drink/fun.
Tony Merevick is Cities News Editor at Thrillist and has already had three pumpkin spice lattes this year. Send news tips to news@thrillist.com and follow him on Twitter @tonymerevick.