Little Debbie oatmeal creme pies are pretty cool, and the Twinkie lends itself nicely to ungodly burgers, but you know what was around before either of them? Tastykake. The lunchbox pride of Philadelphia has been providing kids with their daily chocolate intake for almost 100yrs, so it's high time you sat down and got to know it a little better. Educate yourself below, and then just try not to throw some Tastykakes at pretend French people. (It'll make sense, we promise.)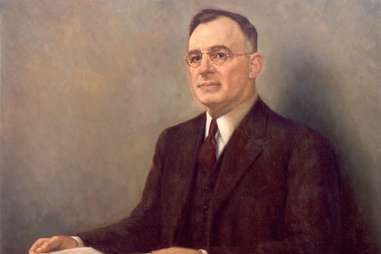 1. The snack cake world was forever changed in 1914, when Pittsburgh baker Philip J. Baur (pictured) and Boston egg salesman Herbert T. Morris began Tastykake operations in Philly. The cakes were a dime apiece, yet the dudes managed to rake in $300,000 by the year's end.
2. The straight-to-the-point name came from Morris' wife, who endorsed their early samples as "tasty". Morris and Baur named their enterprise Tasty Baking Company and then came up with Tastykake, shockingly not concocted by one of their 5yr-old kids, later.
3. Tastykakes might've started out as a PA operation, but they've expanded distribution drastically to include the entire East Coast and most places below the Mason-Dixon Line. Still, if you're in the Midwest or Northeast, you're pretty much screwed in the Krimpets department. Consider moving.
4. Tastykake made a serious factory upgrade in 2010, when it ditched its long-running plant in North Philly for a sleek, 345,000sq-foot bakery at the Philadelphia Navy Yard. They even bragged about being the world's largest green bakery, owing to all the low-chemical paint and reflective roofs. Hey, it didn't get a LEED (Leaderships in Energy and Environmental Design) Silver Certification for nothing.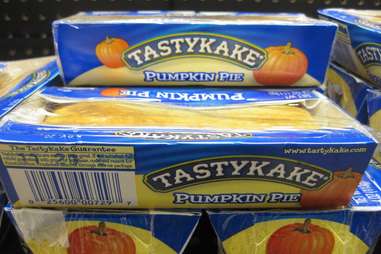 5. Though they might not get as much play as the Kandy Kakes and Krimpets, Tastykake bakes 250,000 pies every day.
6. When it comes to their ingredients, Tastykake is a real jetsetter. They bake with sugar cane and cocoa from Africa's Ivory Coast, vanilla from Madagascar, cinnamon from Indonesia, nutmeg from the East and West Indies, and banana puree from Ecuador.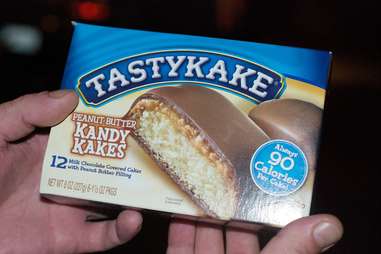 7. Like a Reese's peanut butter cup and angel food cake had a baby, the Peanut Butter Kandy Kakes are Tastykake's best-selling item. They're also delicious.
8. True Tastykake diehards go the extra mile. Philly's own culinary mastermind Marc Vetri once burned through $1,000 in shipping to get an adequate supply of snack cakes to his brother's 40th birthday party in Los Angeles.
9. One of Philly's more hilarious Summer festivities is the annual Bastille Day bash at the Eastern State Penitentiary. The party features a "Tricycle Tour de France" bike contest, tons of baguettes, and the main attraction: a reenactment of the storming of the Bastille. A bunch of costumed revolutionaries swarm the penitentiary and bring out Marie Antoinette screaming, "Let them eat Tastykake!" She is then pelted with 3,000 Tastykakes as she's led to the guillotine.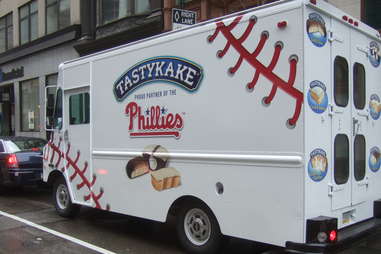 10. The Tasty Baking Company has dabbled in marketing partnerships with the Phillies and the Eagles, but ALSO the Pittsburgh Steelers, since the Tasty folks like messing with the football fans of Pennsylvania.
11. Before she invented the senior citizen prank show, Betty White spent the '70s selling America Tastykakes through commercials like these.
12. But Betty is far from Tastykake's only famous fan. Lest you forget, Ol' Dirty Bastard name-checked them in "Brooklyn Zoo".
Kristin Hunt is a food/drink staff writer for Thrillist. Before that, she ran a massive Dunk-a-roo cartel out of her college dorm room until the game got too rough. Follow her at @kristin_hunt.