If you've been paying attention to the most important burger news that has ever happened in October 2016, Chipotle just opened up its first burger shop in Lancaster, Ohio called Tasty Made. And while the company touted a super-simple menu of antibiotic- and hormone-free burgers, fries, and shakes, the menu had been weirdly under wraps. Until now.
Hondre McNeil, a super-ripped guy who looks like he could bench-press an entire cow if he wanted, visited that Tasty Made location, ate a meal (and enjoyed it!), and shared the menu with us below.
Recommended Video
The Best Fried Chicken in NYC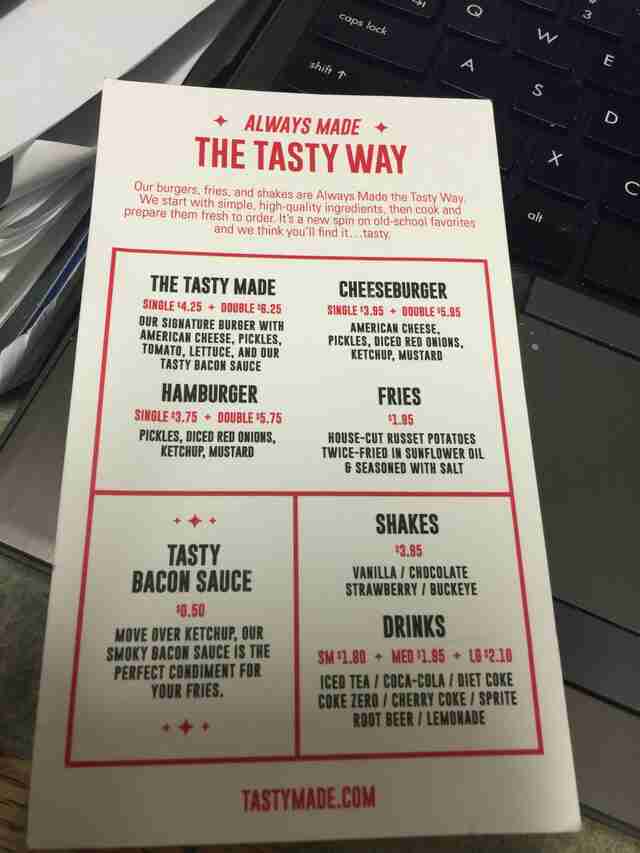 Here are the menu items that intrigue us:
Tasty Bacon Sauce: A smoky, dippable replacement for ketchup with your fries (which some people hate)
Buckeye shake: If this chain expands nationwide, this Ohioan favorite might come with, as it's a delicious peanut butter and chocolate combination that even non-fans of Ohio State can enjoy.
The Tasty Made: The signature burger includes American cheese, pickles, tomato, lettuce, and that Tasty Bacon Sauce… but no actual bacon!
Considering it took Chipotle a billion years to finally introduce chorizo to its burrito shops, we're guessing it might be a little while before bacon shows up on the menu.
Sign up here for our daily Thrillist email, and get your fix of the best in food/drink/fun.