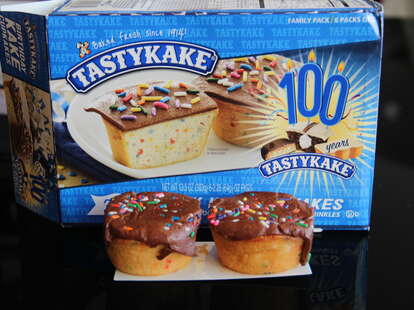 Kristin Hunt
Kristin Hunt
Philly institution Tastykake hit its 100th birthday this year, marking an entire century of fresh-baked, misspelled greatness. To celebrate this delicious milestone, the bakery pumped out some special, limited-edition Birthday Kake Cupcakes, which we decided to stuff into our faces, just as Benjamin Franklin would've wanted. These were our findings.

TASTING NOTES
We were expecting the funfetti to be the star player here, but the chocolate frosting is actually the dominant flavor. In the first bite, it smacks you across the face like Batman does to Robin after a particularly stupid question, before settling into a comfortable, cocoa-y rhythm. This chocolate emphasis isn't necessarily a bad thing: The icing is the rich, creamy kind that has street cred for days and might even require a glass of milk. But if you're only in this for the feted cake base, you're gonna have a bad time.
As for the cake in question, it does have the funfetti flavoring, but it's very subtle, more "notes of funfetti" than the sprinkle-blasted affair you probably devoured for your 7th birthday. It definitely deserves points for remaining moist and spongy in the journey from the Philly Navy Yard plant to mass-produced boxes, unlike some crustier snack cakes lurking in the corners of your grocery store. Plus, these'll play well with anyone who appreciates an old-fashioned yellow cake with chocolate frosting.
ARE THEY WORTH IT?
These puppies aren't going to sway you away from your beloved PB Kandy Kakes or Krimpets, but they're a pretty solid snack cake. If you're a card-carrying member of the cult of Tastykake, make sure to snap some up during their limited-run.
Kristin Huntis a food/drink staff writer for Thrillist, and broke her Pennsylvanian mother's heart by rejecting Tastykakes as a small child. She eventually saw the error of her ways. Follow her at @kristin_hunt.