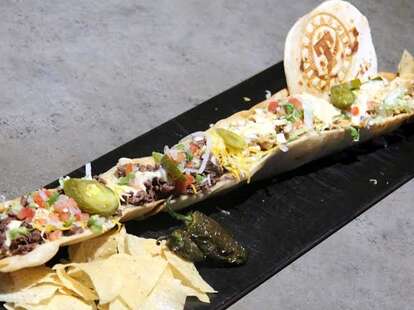 Delaware North Sportservice
The hallowed halls of America's baseball stadiums house many things. Peanut shells, overly defensive Cubs fans, and now, 2ft tacos. The "Tanaco" is a combination taco-nacho set to launch at the Texas Rangers' Globe Life Park on July 7th. Boasting 1ft of ground beef and 1ft chicken, the Tanaco also comes loaded with lettuce, nacho cheese, pico de gallo, sliced jalapeños, and sour cream. It should obviously be consumed with the most comically oversized cup of Deep Ellum Brewing Co.'s Wealth & Taste you can find... or Lone Star. Because Texas.
Kristin Hunt is a food/drink staff writer for Thrillist, and will be eating whatever not-Tanacos Yankee Stadium has this weekend. Follow her at @kristin_hunt.