Thanksgiving and pizza collide, form the Pilgrim Pie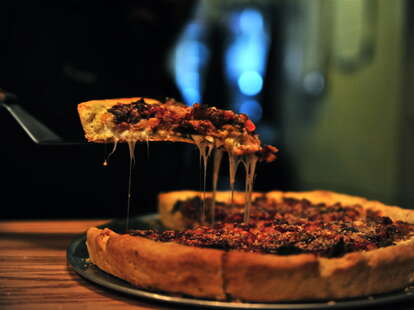 Lately there've been arguments about whether New York or Chicago pizza is better, but everyone will agree that pizza will always taste better when you throw an entire Thanksgiving meal on top of it. Thanks to the geniuses at Denver Deep Dish, a Mile High-based Chicago-style pizza shop, the Pilgrim Pie does just that.

But this isn't as simple as placing leftovers on top of a deep dish pizza. Behold the beautiful child born of Thanksgiving and pizza: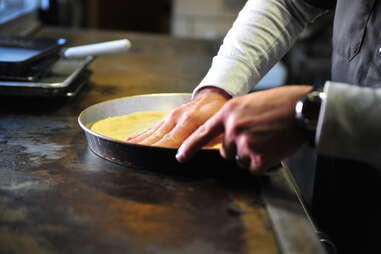 Rebecca Feder
This homemade cornmeal crust is standard on all their pies, and dovetails nicely with the fact that it's Thanksgiving and everyone will already be drinking corn whiskey by the gallon eating corn-filled foods.
Rebecca Feder
You'll certainly gobble up that smoked turkey. The gobble of the turkey itself is long silent, forever echoing in your ear. But seriously, that's some tasty turkey right there! There's also a layer of mozzarella underneath it, likely to remind you you're still eating pizza.
Rebecca Feder
And that's no ordinary canned corn, that's housemade corn souffle, an ingredient that adds a bit of lightness to the pizza.
Rebecca Feder
After a layer of sausage stuffing made with marbled rye is added, on goes the cranberry corn relish -- fitting, as you'll relish the moments you had this pizza in your mouth before you kept hearing those turkey gobble echoes again.
Rebecca Feder
It gets a dusting of Parmesan/Romano cheese before being popped in the oven.
Rebecca Feder
Oh baby. The Pilgrims wish they had this at the first Thanksgiving. They probably would've loved electric power too.
Rebecca Feder
If you're in the Denver area and want a slice of this sucker, you've got 'til Sunday, Dec 1st.