There's an Entire Thanksgiving Dinner on These Donuts, in Case You Hate/Love Yourself
Thanksgiving's great and all, but it takes forever to make and usually involves interacting with people you'd rather not talk to. More importantly, it seldom involves donuts... until now, thanks to the folks at Providence, Rhode Island's PVDonuts.
With ingredients sourced from fried chicken institution Bucktown, these brioche donuts are topped with cranberry glaze, fried chicken, mashed potatoes, stuffing, and gravy. It's the entire glory of your grandma's homemade Thanksgiving in the palm of your hand.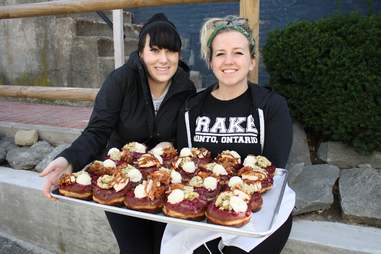 Courtesy of PV Donuts
What wrought this holy creation? Head baker Lori Kettelle (pictured above, right) said the dinner/donut mash-up is intended to bring different parts of the Providence culinary scene together, kind of like the first Thanksgiving at Plymouth, if the cornucopia were made of fried dough.
"Providence may be a tiny city, but we're fortunate to have an incredibly rich and lively food scene here. What better way to celebrate Thanksgiving than with a donut collaboration?" she said.
The only drawback of the donuts (aside from them only being in Providence)? They aren't really designed to share, so there's no need to include friends and family.
Just kidding, that's not a drawback.
Sign up here for our daily Thrillist email, and get your fix of the best in food/drink/fun.
Wil Fulton is a staff writer for Thrillist. He actually blames Gwyneth Paltrow for most of the world's problems. Follow him @wilfulton.